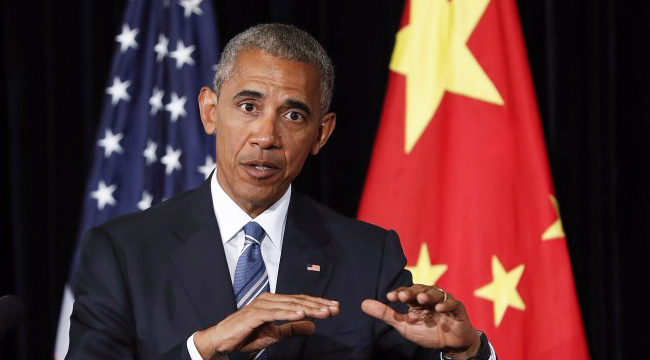 President Barack Obama's always portrayed himself as a very physically active person throughout his eight years in office. He's also been very outspoken about his geniune love and appreciation for music. Therefore, it makes logical sense for Obama to have a workout playlist he cues up when it's time to get the heart pumping and the blood flowing. What's most surprising it how good his selected songs happen to be.
The President is pulling double duty by moonlighting as the guest-editor of WIRED's November issue. With that in mind, the outlet had Obama put together a Spotify playlist of his favorite gym jams. The choices are diverse, ranging from Beyonce and Jay Z to Courntey Barnett and Bob Marley with hits by Sting and The Isley Brothers sprinkled in for good measure. Check out the full list of songs below.
Obama's Workout Playlist:

"Get Me Bodied," Beyoncé
"Live It UP," The Isley Brothers
"Sinnerman," Nina Simone
"Emergency," Icona Pop
"Let's Get It Started," Black Eyed Peas
"Perro Loco," Forro in the Dark
"Off That," Jay Z, featuring Drake
"Elevator Operator," Courtney Barnett
"Could You Be Loved," Bob Marley and the Wailers
"If You Love Somebody Set Them Free," Sting
Before anyone starts ragging on him, let's not forget that the President is 55-years-old so the list is fairly "hip" for his age. Furthermore, he's likely been inoculated with that Black Eyed Peas song while hearing it repeatedly while attending and/or watching various sporting events. Let's not hold that against him. Anyone wise enough to include Nina Simone's fiery "Sinnerman" to a gym playlist deserves a level of props.
Give DJ Obama's playlist a spin below.