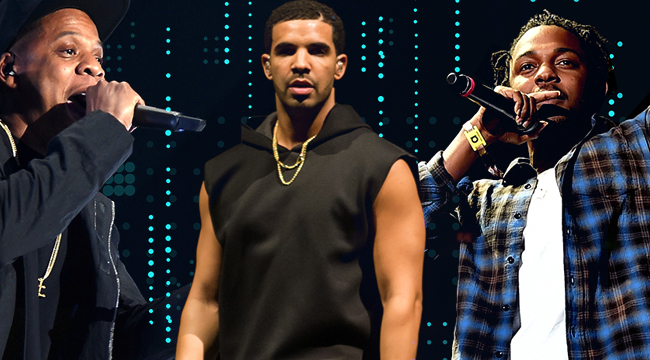 Earlier this year, I wrote about how the lack of a legitimate middle class in rap could lead to unforeseeable consequences for the genre of rap as a whole should interest in the biggest names ever begin to wane. Indeed, at the end of 2017, the biggest sellers were still the usual suspects, with Jay-Z, Drake, and Kendrick Lamar topping the charts with their respective albums. However, relative newcomers like Migos, Cardi B, 21 Savage, Lil Pump, and Post Malone are currently topping the singles charts for R&B and hip-hop, which means the game might be changing.
This presents some interesting prospects for the coming year. With the biggest names mostly releasing albums in 2017, the charts and our ears will be wide open for the next generation of talent. But where will this next boom of rap creativity come from, and what will it sound like?
With the repeal of net neutrality rules, modern avenues of music discovery, like Apple Music, Spotify, and especially Soundcloud are all threatened by the whims of internet service providers and their grudges and deals, both backroom and legitimate. Furthermore, with streaming services like Soundcloud and Tidal bleeding money seemingly by the day, and no workable strategies for monetization, the number of options for up-and-comers may soon begin to dwindle.
Depending on where you stand, that might be a good thing. Without Soundcloud to democratize the music distribution process, many of those dubbed "mumble rappers" or "cloud rappers" might face an impenetrable barrier to entry. That could mean fewer 6ix9ines, XXXtentacions, Kodak Blacks, Lil Pumps, and Lil Xans, but that also may prevent us from hearing another Lil Uzi Vert, Joey Badass, or Vince Staples. Remember how Chance The Rapper first made his name with the Soundcloud release of Acid Rap? He jokingly "saved" Soundcloud with an exclusive release earlier this year, but without an influx of cash, the service could be absorbed by a larger entity like Apple Music (with its iTunes Music Store download counterpart reportedly slated for a 2019 expiration date) that may make it more difficult for independent artists with smaller networks and less capital to break through to mainstream audiences.
As for the music itself, rap and hip-hop clearly exploded with potential this year, despite the protestations of those who weren't paying all that much attention. The variety of styles available for fans to choose from splintered and fractured into a dozen different directions from the clipped, rapid-fire dispatches from Quavo, Offset, and Takeoff to the lackadaisical monotone of 21 Savage, more rappers than ever have cooked up a diverse array of styles that hip-hop hasn't seen in a good, long while.
Many rappers took to harmonizing like Drake, with Jidenna, 6lack, Bryson Tiller, SZA, and others proving more and more difficult to categorize as they seamlessly blended the approaches of singing and rapping. With the last few years of increasing civil unrest (and the arrival of President Donald Trump's administration), a renaissance of conscious, politically-minded rap has begun to flourish, with Vince Staples, Vic Mensa, Oddisee, and even Rick Ross adding touches of current events and breaking news to their lyrics. The trend of politicized lyrics has taken such hold that Eminem was able to drive the entire promotion cycle of his latest album with a charged freestyle that openly challenged the President and became one of the most-viewed videos on Youtube literally overnight.
Ross and others rallied around Meek Mill, whose months-long probation ordeal turned into a heavy-handed prison sentence. This was contrasted by the repeated offenses and impending trials of XXXtentacion, Kodak Black, and Famous Dex, whose offenses against women were highlighted even more egregiously by the advent of the so-called "Weinstein effect" of women coming forward against men they say have assaulted them. Russell Simmons was one such powerful man accused of sexual misconduct, although he vehemently denied the allegations.
The biggest winners of the year, by far, were women in hip-hop, who scored a groundbreaking triumph through Cardi B, who became the first solo female rapper with a no. 1 single in nearly 20 years with "Bodak Yellow." A genre that had spent the better part of a decade wondering "where have all the female rappers gone?" received its answer, as Dreezy, Rapsody, and Kash Doll became household names, and blog-favorite underground stalwarts like Leikeli47, Princess Nokia, Kari Faux, and Nitty Scott released new albums proving that women could not only hang with men but push the boundaries of the genre in interesting new directions. The myth of the "one at a time" rule was put to rest when Nicki Minaj came forward to congratulate Cardi on her success, then squashed rumors that their collaboration was anything other than intentional.
All of which portends even more growth in 2018 as big names like Jay-Z, Kendrick Lamar, and Drake potentially sit the year out after their 2017 successes, opening the door for newer names to stake their claims. ASAP Rocky, J. Cole, Nicki Minaj, and Chance The Rapper will all have open lanes, and the anticipation of new albums from the likes of icons such as Nas and Kanye West should reach a fever pitch, which both are expected to take advantage of. No one can predict which new stars will experience Cardi-like meteoric rises, but they'll have staunch competition as many of this year's rookies like G Perico, 21 Savage, and Migos have proven to have insatiable work ethics, many releasing multiple projects this year.
The rap game lost both icons and neophytes this year; legendary Queens rapper Prodigy passed, as well as up-and-comer Lil Peep. The latter caused a reckoning with hip-hop's fascination with drug culture, with some rappers even claiming that they'll be swearing off the substance abuse in the future, while the voices of those straight edged MCs became amplified in the wake of tragedy.
Hip-hop as a genre will likely continue to flourish. As it evolves, there will be plenty of intergenerational conflicts — there always are. The comfort is in knowing that hip-hop is also as adaptable as it is. It will continue to be whatever it's needed to be, whether that's a blunt voice addressing the issues of the day or a fun-loving release from the stressors of everyday life. Hip-hop isn't just in a good place — it's better than it's ever been.