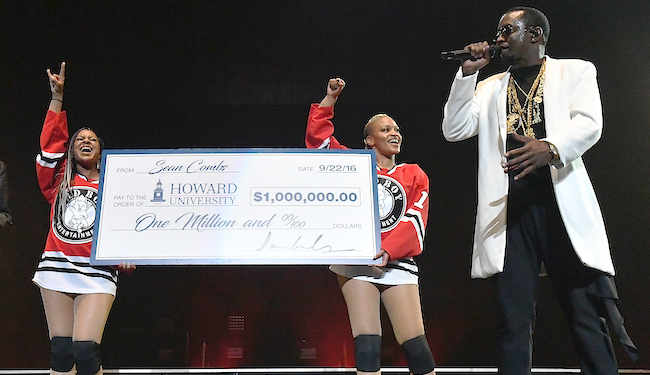 Sean "Diddy" Combs' one-man education initiative continues to give back in big ways. The music mogul announced his pledge of $1 million to Howard University, to support the establishment and operation of The Sean Combs Scholarship Fund at his alma mater.
Combs made the announcement as his Bad Boy Family Reunion tour made a stop in Washington D.C. on Thursday evening. The pledge goes to the School of Business at the prestigious HBCU where the Harlem native was a business major in 1990 before he set out to pursue a career in the music industry. Since, he's been recognized by the school on numerous occasions, including receiving an honorary doctorate degree 2014.
"I was blessed to received a great education from Howard University – one of the best schools in the world – and it helped to fuel my success in business and life," Combs said in a press release. "This scholarship will make it possible for the next generation of leaders to pursue their dreams and achieve greatness."
University president Dr. Wayne A. I. Frederick called the new scholarship "life-altering" for students whose finances may create a hurdle towards receiving a college education. "The University is grateful for Mr. Combs' ongoing efforts to open doors for talented, hard-working individuals and improve their chances of navigating the way to personal and professional fulfillment," he said via press release.
Combs has put education at the forefront of his recent moves. In late August, he opened doors to the Capital Preparatory Harlem Charter School, an institution he helped found in his home borough.