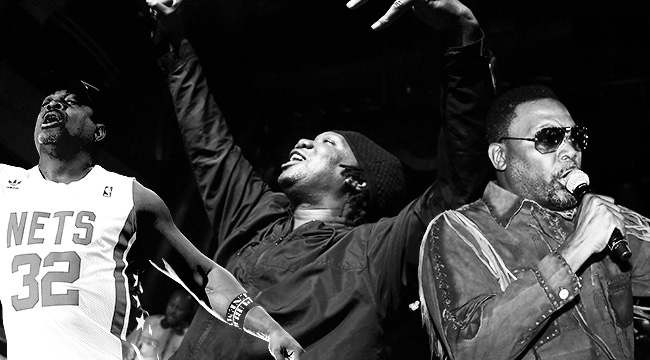 The most important day in hip-hop history is June 28, 1988.
On that day, implausibly, not just one, but two albums released that would change the trajectory of the nascent genre, spinning it off into multiple creative directions that ultimately still have a last impact on the culture today. Big Daddy Kane's Long Live The Kane and Public Enemy's It Takes A Nation Of Millions To Hold Us Back, both landed on the same day, and the rap landscape was never the same again.
Until that fateful Tuesday toward the end of the decade, exactly thirty years ago today, hip-hop still seemed, both to those outside of the culture and some within it, like more than a fad than the earth-shaking counterculture it was becoming. While the nascent genre had slowly expanded in scope and reach over the past decade, its progress hadn't yet allowed it to shake loose its stigma as a goofy diversion for kids, without deep artistic merit or an overarching message regarding the world around it.
The raps remained simplistic and largely confined to the realm of feel-good party rhymes. What few message songs existed still did so under the guise of party records that would play well to the park jams and basement bashes where rap music was still most prevalent, even as it began to surge out onto the mainstream stage with big shows and television appearances, introducing the trendy musical craze that centered Black kids and culture in a pop context for pretty much the first time in American history.
Then, in 1988, as summer broke, those two iconic albums shook up the world of hip-hop, and with it, the surrounding American popular culture that both indirectly birthed it and would come to circle it like the Earth does the sun. June 28 was the day hip-hop got serious and finally found its voice.
When Public Enemy debuted the year before It Takes A Nation with Yo! Bum Rush The Show, it was clear that they had greater intentions than simply cashing out on the strength of a hit record for hood fam. In fact, despite the acclaim that the groundbreaking debut later attained from critics with its Bomb Squad-produced, sample-heavy aggression, the album was largely overlooked by the hip-hop audience as a whole, selling only 300,000 copies. At the time, this was a disappointment when considered in context with the enthusiastic reception of other Def Jam artists like the Beastie Boys and LL Cool J. However, the group had noticed the emphatic response to their faster-tempo renditions while on tour and purposefully went into the recording of It Takes A Nation with the intent of not only making songs with a blatantly socially conscious edge, but also songs that translated well to the group's live show (and incidentally, to the tastes of radio listeners at the time).
The result was a commercial and critical smash hit, one that bridged that ever-present gap between serious-minded music writers and kids at shows, tapping into a zeitgeist of Black rage and empowerment while remaining thoroughly entertaining. In its first month of release, the album sold 500,000 copies without significant promotion from Columbia Records, then Public Enemy's distributor, and was certified platinum a year later, on August 22, 1989. Its singles also became huge successes, appearing in films and commercials even to this day, with "Bring The Noise" reoccurring throughout hip-hop and pop as a vocal sample and "Rebel Without A Pause" inciting riot-like energy in crowds wherever it played.
The record's success is all the more shocking given its overt political messaging, which by many conventional standards should have turned off hip-hop's largely youthful fanbase. With lyrics characterized by Black nationalist rhetoric, a stated intention to create a rap version of Marvin Gaye's What's Going On, and plain-spoken references to white supremacy, the material may have seemed too heady for broad appeal, yet that's exactly what it had, spurred by its driving drums and urgent, sample-heavy production that drew on inspirations as wide-ranging as thrash metal and live breakbeats played by group member Flava Flav. The chaotic, kinetic energy inspired by Bomb Squad's bombastic beats not only anchored MC Chuck D's rhymes, they lent them exactly the sort of urgency that made them resonate with that adolescent, "us against the world" mentality favored by urban youth of the Reagan era.
With It Takes A Nation, Public Enemy proved that "conscious" rap could not only sell, it could positively impact the hip-hop audience and unite them as a community, driving them toward social awareness and activism while shaking dance floors at the same time. Its influence can be felt through now the music of politically-aware but commercially-successful artists like J. Cole, Kendrick Lamar, Talib Kweli, Common, Big KRIT, Logic, and Joey Badass.
If It Takes A Nation demonstrated that messaging didn't have to be sacrificed for mass appeal, Big Daddy Kane's Long Live The Kane completely revamped hip-hop's delivery system. Kane's debut, produced by fellow Juice Crew member DJ Marley Marl, went the opposite direction from Public Enemy, fully embracing the openly boastful, braggart style then prevalent in the majority of the fun, danceable singles that the genre had spawned and turned it up to eleven and a half. Then, "Ain't No Half Steppin'" went all the way up to twelve, just for the hell of it. Where most rappers at the time had dabbled in more complex rhyme patterns, Kane made those patterns an art unto themselves, with awe-inspiring displays of breath control and sinuous wordplay that established that complexity could be the primary draw for a rap song.
Unwilling to settle for the slowed-down funk of EPMD or the simplistic drum programming of previous groups, Kane had Marley Marl lay down breathtakingly uptempo, boom-bap-heavy soundscapes, attacking them with the full force of his laid-back, smoothed-out energy. Where Run DMC had made a career of barking their give-and-go raps at maximum volume, Kane eased into the pockets of Marl's beats on Long Live The Kane with a practiced ease that belied the sheer magnitude of the densely-packed, cascading rhymes he crammed into each bar, spilling one after the other in such close proximity and with such dexterity that they require multiple rewinds to even begin to break down. The sparse production left plenty of space for Kane to maneuver through and he seemingly utilized all of it on tracks like "Raw" and "Set It Off," rapping at speeds that had yet to be attempted by anyone in rap until then.
Kane also pioneered the setup-punchline style that would later become a favorite of battle rhymers like Fabolous, Jadakiss, Cassidy, Lil Wayne, Skillz, and more, crowding his verses with rapid-fire collections of one-liners that weaved in and out of the internal rhyme schemes that would become his signature. "Is the real thing like the taste of Coke / So never sleep on me, better stay awoke / Like a gambler in Vegas, I go for broke / To make a long story short, yo I ain't no joke," may not seem like a revolutionary feat of wordplay in 2018, but that's only because so many rappers, from Jay-Z to Drake, have taken the style and run with it, borrowing liberally from the approach that he handcrafted at a time when no one had quite heard anything like it. Its departure from the standard of the day led it to have massive success as well, shipping gold and climbing to No. 116 on Billboard's top 200 albums chart at a time when hip-hop was still considered insular and underground.
Long Live The Kane is widely considered one of the most influential hip-hop albums of its era, and how could it not be? Kane's direct lineage of smooth, playeristic, baller-style raps can be traced almost directly through both the underground tradition of tongue-twisting, wordplay-wielding MCs like Black Thought, Big L, Mos Def, and more recently, Little Brother and The Foreign Exchange's Phonte Coleman, and through the mainstream work of flossed-out, big business rhymers like Jay-Z, Biggie, and Nas.
Both traditions combined in the latest incarnation of rap's current biggest and hottest commodity, Drake, who has both collaborated with and claimed inspiration from both Jay and Phonte, who've both collaborated with — you guessed it — Big Daddy Kane himself and counted him among their own influences. Dozens of releases have paid tribute to Kane since his debut's release, both through samples, overt vocal interpolations, and the use of his elaborate style.
From The Roots' "Boom!" which finds group MC Black Thought doing an outright incredible impression of Kane, to the militant political posturing of Kendrick Lamar on awards show stages, the influence and allure of the two albums released this day three decades ago cannot be overstated or overlooked. While 1988 was overall one of the most impressive and influential years in hip-hop — it also saw the release of Boogie Down Productions' By All Means Necessary, EPMD's Strictly Business, and NWA's Straight Outta Compton, among many, many others — no other pair of releases changed the direction of the music as music or underscored its potential as an artform like these two.
From June 28, 1988 forward hip-hop wasn't just party music, it could be political, it could be powerful, and it could be complex, serving both intellectuals and laypeople alike. More importantly, it could succeed from a commercial standpoint while being all these things. As hip-hop records, each is an unassailable classic, but as classics, they were the definition of game-changers and all of rap owes a debt to their impact. If hip-hop ever has its own national holidays, make July 28 the day rap realized it would take a nation of millions to hold back its reign.