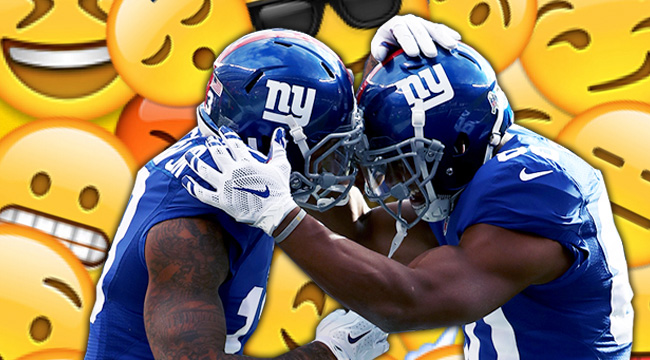 On Tuesday, I got five minutes on the phone with New York Giants wide receiver Victor Cruz. It should have been 10 minutes, but my phone was being an idiot. He's promoting Toyota Fanmojis, ‪which are "hyper-specific sports emojis," which is why he was available in the first place, which is why part of the five minutes was spent talking emojis. But Victor was great and gracious, and I look forward to the next time I'll get to speak with him for five minutes (or longer).
I also asked about the TV show Friends. Here's the entire conversation.
Odell Beckham already has his own line of emojis, so does this mean there's an emoji rivalry within the locker room?
Victor Cruz: Sometimes. We have a group chat with all the wide receivers and whatnot, and there are some emoji battles that go on there with our own emojis and whatnot. So we definitely have a fun time with it.
You're a young guy, a millennial, so do you all communicate strictly through the emojis?
Victor: We can. There are times when we had full conversations with just the emojis. They know exactly what I'm talking depending on the type of emojis that I use during the conversation.
My editor wanted me to ask you this — did you ever watch the TV show "Friends" when it was on?
Victor: I watched the show before, absolutely.
Do you think Ross and Rachel were on a break?
Potentially. I didn't watch it enough to know the intricacies of the show.
This year with the Giants, it seems like whenever the team has a late lead, you're able to close out the game, unlike last year, when it seemed like every lead would slip away late. What's the confidence of the team right now this year compared to last year?
It just feels better now because we're able to close these games out, because we're able to finish these games instead of, you know, giving the ball back and having the team score at the end. Our defense has been playing lights out football right now, and that's what's been helping us. And offensively, we've been putting up some points, scoring touchdowns, putting pressure on the other team to score points as the game goes on. I think if we continue that trend, we'll be just fine.
Roger Lewis had a rough game Monday night, had a drop, got benched. What do you as one of the leaders say to a rookie that's going through that?
I just let him know we've all been there. Everyone's been there as an athlete, as a competitor, as a professional. You just want to maintain your understanding that you belong, that you know that in your own mind and you continue from there. You have to understand there's plenty of game to come. There's a way to retool your mind to get things going in the right direction. Never waver. Never lose faith in your own ability and I think he'll be fine. He's a young kid, just a rookie and he'll have plenty of opportunities to be great.
Was there a moment like that for you when you were younger? Was there someone to get you through something like that?
Absolutely. I remember my first and second year, a guy by the name of Deon Grant coming up to me and saying don't worry about everything that's outside. Go out there and play without worry, without fear. Just go out there and play ball and catch everything that comes your way. Just him saying that positive reinforcement that I needed to hear really went a long way and it still helps me to this day. Just let go and just play football.
Is Roger Lewis part of the group chat? Does he get an encouraging string of emojis?
I just sent him a Toyota FanMoji with the ball going through the uprights.
My last question is have you thought about what you want to do after football?
I've given it a little thought. Given my thing with Ballers, I definitely would like to act at some point in my post-career. Ballers was getting my feet wet, seeing what it's all about and hopefully moving forward I can expand on that a little bit.
You worked with The Rock so maybe he can get you in a Fast & Furious movie.
At the rate things are going, it'll be No. 20 by the time I'm on that.