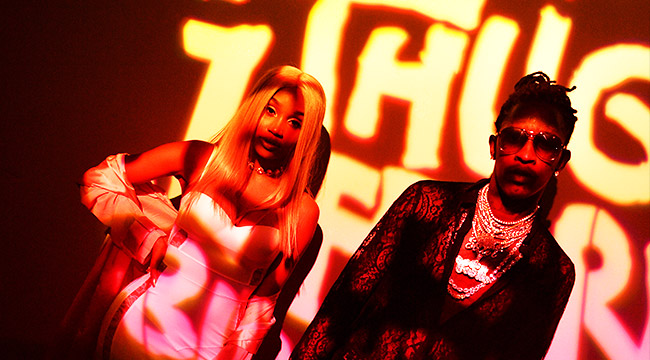 Young Thug is in love, clearly. It's all over his social media, his face when he's out in public and in interviews and most importantly it's all over his music. He seemingly can't go one song without a nod to his finance Jerrika Karlae.
Now, because he's Thug, some of these shows of affection are a little off-kilter and deviate from the norm. Only Jeffery could make the word "constipated" somehow be a display of his passion and devotion for his better half, but he definitely did it. For all the "you can't understand him" talk, these Young Thug lyrics of love, and the connection between him and Jerrika are as clear as day. So here's a ton of Young Thug lyrics that you can use when you're in love as well and just want to scream it to your significant other and the whole world.
"Raw (Might Just)"
I drop like ten thousands ones on her lil buns
I told her come on home hun
You can have my son
"Take Kare" (Feat. Lil Wayne)
I ain't Ray J but you can be my Kim K
"Webbie" (Feat. Duke)
I'ma keep her in a fresh car
And I'ma put on them shoes
I'ma keep her so froze up
Yeah I'ma keep her in some jewels
I'ma go 'head and n*t in my b***h
I'ma gon' and give her juice

"Beast (Makaveli)"
I call lil mama Makaveli she gon' ride with me
Mama booty thick as some bread I need some thighs with it
"Kanye West" (Feat. Wyclef Jean)
Uh, I'm a vet but I'm ready to settle down
I don't wanna know what's next
It don't matter what I do tonight
Cause I'ma know you the best-best-best, yes
"Flaws"
Baby I love you, in a house full of grown folks, baby I love you
Swear to God, you my bread & butter
You can get my all if the Feds destroy us
"Miss U"
Mwyah mwyah, give me kisses, baby
Youse a boss
Can't sh*t on you
Thugger constipated

"Harambe"
Go apesh*t, go Godzilla, bae, back it up
I just wanna have sex
I just wanna have a baby by you, girl
I just wanna go brazy about you, girl
Don't make a n***a act crazy, oh-ooh girl
"Never Made Love" (Feat. Rich Homie Quan)
(She never made love)
Well I'ma change that there
I just might wake up and buy you everything rare
I'm not cheatin' on you no more, I don't care
You wanna be with me, I'ma roll the dice now
Roll it, I buy a Rollie, I'ma buy that b***h a Rollie
That pack keep rollin', I'ma buy that b***h some more sh*t

"Worth It"
Damn, I broke her heart, now my heart hurt
I don't know why but I done cut down on that syrup
At least I got that lil b***h ballin', she don't gotta work
Oh-no-no, she ain't had no job, but she having purses
Sidenote, this lone bar had to be mentioned as well.
Yeah, I'mma give you a couple bands, want some more boobs on you
Usher – "No Limit"
You finer than wine, baby girl I ain't lyin'
Make my homie drop a dime
Commit a crime, jeopardize my lifeline
Just to see your vital signs
Rich Gang – "Tell Em (Lies)"
Baby girl spoiled and she spoileder than milk
And keep her on my side like a fuckin' hip
She gon' make sure I survive, she gon' do it well
Baby I just want them thighs right under that belt
She just want me to keep them lies all to myself
Word, she gon' help me like she's Santa's elves
She gon' look over these b***hes like terms and conditions
I'ma move her out the trenches and buy her a Bentley
I'ma f**k her then hold on to her like she gon' miss me
I'ma pull on that wavy hair cause it's Indian Remy
I grab the key, she wanna ride with me
She tied the knot so she can die with me
She say she can do the same thing as 5 bitches
(So what you do?) So I went and fired them 5 b***hes
She the B-E-S-T, best
(Yes, hook and verse because "spoileder than milk" and "Indian Remy" have to be mentioned because Thug's knowledge of high-end weave is impressive and "spoileder" is almost as good as Quavo's "discriminize" from "Pick Up The Phone.")
Jamie XX — "I Know There's Gonna Be (Good Times)"
Even in the summer time me and lil shawty cuddle
"Hey I"
Where the f**k you going girl? I miss you
I wanna bang like a pistol
I wanna bang like a crip do
"No No No" (Feat. Birdman)
I'm gone always say yes to my b**ch never no no
"My Baby"
I'ma stand up right beside my baby
If a p***y n***a play he might just die by my baby
Shoulda never tried my baby
No we don't die, we multiply my baby
"RiRi"
Me and bae Bonnie Clyde, everything we do right
Love her vibe, love her vibe, she make me feel so nice
She 100, the first day we met, she let me f**k all night
"Swizz Beats"
Love, love, love, love, love, love
Love, love, love, love, love, love
Love, love, love