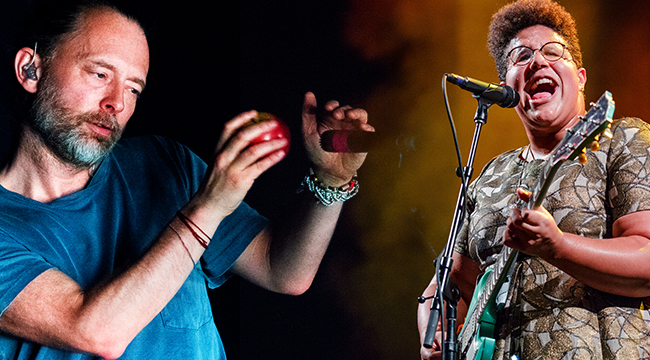 Indie music has grown to include so much. It's not just music that is released on independent labels, but speaks to an aesthetic that deviates from the norm and follows its own weirdo heart. It can come in the form of rock music, pop, or folk. In a sense, it says as much about the people that are drawn to it as it does about the people that make it.
Every week, Uproxx is rounding up the very best of the indie releases from the past seven days. This week saw The Black Keys release their first new album in five years, Thom Yorke return to his solo project with a new album and short film, and Brittany Howard break away from the Alabama Shakes.
While we're at it, if you want more music recommendations curated by Steven Hyden delivered directly to your inbox every week, sign up for the Indie Mixtape newsletter.
The Black Keys — Let's Rock

Five years after the moody curveball of Turn Blue after the mega success of Brothers and El Camino, The Black Keys have returned with their "back-to-basics" album that sees them doing what they do best: ripping blues guitars and bombastic percussion. But the "back to basics" principle is, as Steven Hyden writes for Uproxx, "a kind of coded apology. What it says to an audience is, 'Look, we acknowledge that you didn't like our last record, so now we're going to make something we think you'll like, because we know you definitely liked this sort of thing before.'" Let's Rock finds a band trying to return to their roots, with fuzzy guitar solos in tow.
Thom Yorke — Anima

Right when we had just done tearing through the OK Computer outtakes that constitute nearly a full 24 hours of content, Thom Yorke unleashed his best solo record in years, paired with a visually stunning short film from Paul Thomas Anderson. As with much of Yorke's work in recent years, Anima feels like entering a dream, in the best way. Red pill, blue pill, you know how it goes; all you have to do is allow it to envelop you.
Prince Daddy And The Hyena — Cosmic Thrill Seekers

Prince Daddy And The Hyena's second full-length is a three-act concept record that takes cues in equal parts from the grand scope of My Chemical Romance's The Black Parade and Green Day's American Idiot, while also channeling the best parts of Jeff Rosenstock and other indie punks of today. The record revels in the fall out after an acid trip, manic self-destruction, bottoming-out and recovering, and then slipping again, so it's not heavy at all! The New York band jam-packed this 14-track opus with huge riffs and thrashing choruses, making Cosmic Thrill Seekers one of the wildest rides of the year.
Horse Jumper Of Love — So Divine

Speaking of sophomore albums from bands that mention animals in their very long names, Horse Jumper Of Love's So Divine showcases the newfound fine-tuned sensibilities of the Boston-based three-piece in their first release with Run For Cover Records. (Sandy) Alex G's influence weighs heavily on this record, but so do The Beatles on a track like "Poison," which features a guitar line that evokes "Dear Prudence," but it if was played at a speed a little slower than 33rpm.
Brittany Howard — "History Repeats"
Best known as the vocalist/guitarist of the Alabama Shakes, Brittany Howard put on hold the band that made her famous in favor of exploring her past and personal musical interests. "History Repeats" is "insightful but still danceable, with a Prince-y guitar groove," writes Hannah Zwick for Uproxx, combining elements of funk, psychedelic, and disco, all united and accentuated by Howard's ever unique vocal stylings. It's certainly a promising first taste of her forthcoming solo album Jaime, which is out September 20.
Lucy Dacus — "Forever Half Mast"
Released just in time for the Fourth of July, Lucy Dacus's latest in a series of one-off tracks to correspond with various holidays throughout the year is far from celebratory. Slow and meditative, the track deals with the inherent guilt that comes with being an American, reaping the benefits of a world superpower while knowing the simultaneous destruction that it causes in other parts of the world, making for "a different perspective than just straight-up patriotism," Caitlin White writes for Uproxx.
Florist — "Time Is A Dark Feeling"
One of the most consistently satisfying young voices in indie rock, Emily Sprague is back with a new album that revolves around nothing more than a voice and a guitar — hence the title Emily Alone. "Time Is A Dark Feeling" is another promising taste of what we can expect from the forthcoming record, with deeply personal introspective lyrics and sparse arrangements.
Ghost Orchard — "Station"
The latest release from Orchid Tapes, the label that launched the careers of artists like Soccer Mommy and (Sandy) Alex G, Ghost Orchard is the project of Sam Hall, a Michigan-based artist practicing in the space of "bedroom pop." Combining dreamy folk with glitchy electronic, Ghost Orchard's new album Bunny (due August 23) is looking to be one of the year's most esoteric and strangely pleasing records.
Slaughter Beach, Dog — "Heart Attack"
We're all still trying to fill the void left by the disbanding of Modern Baseball, but Jake Ewald isn't as content to live in the past. While "One Down," the first single Safe And Also No Fear (out August 6) felt like it could have been a cut from a Modern Baseball LP, "Heart Attack" takes Ewald's solo project Slaughter Beach, Dog in a totally new sonic direction. Honestly, it almost leans into the realm of folk punk, stepping upon the foundation laid by bands like AJJ and The Mountain Goats.
San Fermin — "The Hunger"
What struck me right away about this song was the vocals. For "The Hunger," composer San Fermin and multi-instrumentalist Ellis Ludwig-Leone enlisted Samia on vocal duties, together crafting a track that, put simply, just feels sort of badass. It's a track about working up the courage to project an air of confidence, even while dealing with internalized insecurity and an overwhelming sense of disappointment. Plus, that video is great.
Some artists covered here are Warner Music artists. Uproxx is an independent subsidiary of Warner Music Group.