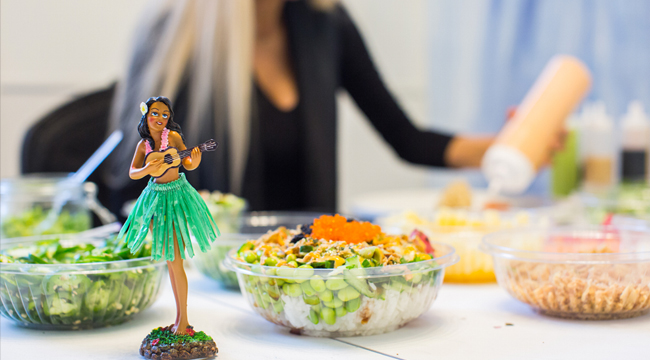 Food misappropriation is a rampant issue in the United States. There's a sense that anyone is entitled to open a restaurant, food truck, or fast casual from any indigenous culture of the Americas if they think they can make money. This is (more often than not) done with little to no consideration of the indigenous culture they're taking from. And a prime example of this has arisen over the last couple days when Zach Friedlander (and his Chicago-based fast-casual Aloha Poke Co.) came under fire for threatening to sue Native Hawaiians for using the word "Aloha" in their own poke business names.
In case you don't know, poke is a Hawaiian dish that has its roots in the seafaring Polynesian cultures of the Pacific. Traditionally, poke was made from the leftovers of fatty tuna or octopus and then tossed with sea salt, candlenut, seaweed, and limu (algae). Around the 1970s, the dish was heavily retconned by the Japanese with rice, ginger, soy, sesame, green onions, and other ingredients getting added to the simple mix of cubed tuna or octopus. Around five years ago, mainland Americans started craving the simple dish, and suddenly, there were poke bowl bars popping up from San Francisco to Savannah. Unfortunately, the whole "leftover parts of the tuna" got lost in translation and this is creating a whole hornet's nest of environmental problems. But that's another story.
Zach Friedlander's story is part and parcel of the centuries-old American Dream. Friedlander decided to jump on the poke bowl craze after his real estate buddy returned from a weekend trip to Hawaii, where he had sampled the delicacy. Said buddy floated Friedlander the cash to open up a poke shop even though, as admitted by Friedlander, he had no idea what it was. Now they're all rich and issuing cease and desists with the threat of lawsuits to anyone who uses the words "Aloha" and "Aloha Poke" because it might risk, in Friedland's words, "its brand."
Here's the thing: It's one thing to open up a food establishment from someone else's culture with zero connective tissue or even caring about that culture. It's another thing to sue the people from that culture to stop them from using their own words. According to the Chicago Sun-Times, "attorneys from Aloha Poke Co. have sent multiple cease and desist letters to sushi bowl joints across the country that have the word 'aloha' in their name." This tactic is working. A restaurant in Washington State was forced to change their poke bowl restaurant name to 'Fairhaven Poke' from 'Aloha Poke Fairhaven.' And they're not the only ones that were targeted.
Here's where things start to get a little bullshitty. Friedlander released a statement in reaction to all of this. It reads:
"Over the past 48 hours, there has been an incredible amount of misinformation shared throughout social media regarding Aloha Poke Co. and efforts taken to protect, as any business would, its brand. I am deeply saddened by the reaction that some have taken regarding this situation. I am truly sorry that anyone, especially native Hawaiians, have been offended by this situation. I want them to know that I have nothing but love and respect for them."
Aloha Poke Co.'s new CEO, Chris Birkinshaw, confirmed to the Chicago Sun-Times that "the company had not tried to restrict the use of the word 'aloha.'" You have to know what's coming, right?
Jeff Sampson, who owns the Aloha Poke Shop in Honolulu, received a cease and desist from Aloha Poke Co.'s lawyers which read, according to Sampson and the Chicago Sun-Times (which posted a copy of the actual letter), "… your use of the word 'Aloha' and 'Aloha Poke' is confusingly the same as Aloha Poke's … trademark." The cease and desist continues, "we, therefore, request that you immediately stop all use of 'Aloha' and 'Aloha Poke.'" That sounds a lot like they're trying to stop people in Hawaii from using the word 'Aloha.'
The Aloha Poke Co.'s team also told the Chicago Sun-Times they did not send these cease and desist letters to Aloha Poke restaurants with Native Hawaiian owners. Again, you have to know what's coming next, right?
Tasha Kahele, owner of the now former Aloha Poke Stop in Anchorage, Alaska, received a letter. She responded to the letter using Native Hawaiian to help make her case that she was, indeed, a Native Hawaiian. Kahele was forced to remove her native language from her business at her own expense. Her restaurant is now called Lei's Poke Stop. That's robber baron levels of soulless villainy on behalf of Aloha Poke Co. A company that, may we remind you, has claimed they are not targeting Native Hawaiians. Clearly, that was a lie.
Basically, what we have here is non-Indigenous Americans trademarking an entire group's words for their own profit while also using that same group's food culture, again, for their own profit. Look, we tried to find something redeeming about this company, so we dove into the Aloha Poke Co.'s Aloha Cares" charitable partnership page and not a single Hawaiian or Native Hawaiian group is represented or supported by the company. Which, come on, besides the deep irony that something called "Aloha Cares" has nothing to do with anything Hawaiian, you have to know that even Dan Snyder isn't that out-of-touch.
Aloha Poke Co.'s trademark excuse is valid in theory. But that validity has to come into question when you're forcing a people to give up their very culture and soul for your own profit. How else are we ever going to move past the vitriol of settler colonialism unless non-Indigenous Americans stop using and abusing (for profit) the Native people of the United States?
Native Hawaiian state legislator Kaniela Ing summed it up on his Twitter account, "This is the next level. To think that you have legal ownership over the most profound Hawaiian values is just something else."
In the end, Aloha Poke Co. is targeting people who have less money, visibility, and power than them. People who have historically been silenced in the mainstream conversation, and now, are being silenced from even using their own language. And Aloha Poke Co. and their team of gaslighters are winning. Places selling their own food and using their own words are being forced to change. That's not okay. So unless we all finally take a stand against allowing the theft of Indigenous foods, cultures, and words, people are going to find ways to profit off of them. And the continued abuse against native peoples will never stop.