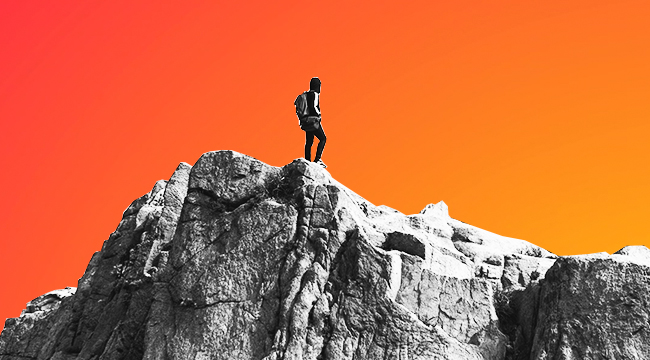 For the next month, Uproxx GPS is zeroing in on "microadventures" — day trips, quick jaunts, and small-scale explorations that will notch neatly into your busy life. As part of this initiative, we're counting off the best day trips in five different regions of the country. Today we're in the Midwest, where surprising shorelines and expansive prairies abound!
Two weeks ago, we started this journey on the West Coast as enthusiastic adventurers, and our fervor to get the hell out of the office grows daily. The Southwest had us dreaming of rock climbing and hot, dry hikes. This week has us longing to kayak along the shore of some Great Lake.
That's the beauty of microadventures — one or two day mini-trips with a night spent in the open air: You don't have to hand in your notice. You can get out in nature for a night or two, get that itch scratched, and be back typing your little fingers raw the next day. And, you don't have to spend that much to do it. A tank or two of gas, food, water, beer, and one campsite fee later and you've spent less than you would on a bar crawl. Those tiki drinks add up.
There isn't a single adventure on this list that doesn't make up passionately love the Midwest. Even if you never get to Nebraska or a Dakota, reading about these places will make you wish you could. And — if you have been to these places — tell us in the comments and we can bond over our shared experiences. Nothing connects people via the internet like a shared love of caving in the Ozarks.

North Dakota: Maah Daah Hey Trail
Maah Daah Hey Trail is often called North Dakota's best-kept secret, but as it is also called the longest and most grueling single-track mountain biking route in the country. Point being: It may not be so much secrecy keeping the crowds at bay but fear. If you are new to microadventuring, you likely aren't looking to mountain bike the 96-mile trail over a weekend, and believe me we totally empathize. That's not what we are suggesting. We want you out along the trail just long enough to tell people you biked or hiked through the badlands. That's class A bragging rights.
Unlike a lot of our suggestions, Maah Daah Hey Trail doesn't date back to the early 1900s. It's a relatively recent addition to North Dakota's parks and recreation scene. Construction was instituted in 1995 and was completed in four years, thanks to help from the United States Forest Service, North Dakota Parks and Recreation Department, and Theodore Roosevelt National Park. The name comes from the Mandan Indian language for "grandfather."
With a trail this long, there are bound to be multiple camping sites (there are eleven total), but we are partial to the Magpie Campground — and not just because of the fun name. It has a lot going for it. With only 11 sites, it's not going to be overrun with tons of people. Plus, in addition to being only a single short, scenic walk away from Maah Daah Hey Trail, it's also on the Ice Caves Trail, which takes you to a series of cliffs and caves that remain icy and snowy into July. So, should the biking not work out, you have a solid natural backup plan. The campground is only $6 a night.
When you're making your way down Maah Daah Hey Trail, you're sure to see spectacular plateaus, jagged peaks, low valleys, huge swaths of rolling prairies, and a series of rivers. Fair warning: Seventy percent of the activity on the trail is made up of mountain biking, with 25 percent horseback riding and five percent hiking. Be prepared to be outnumbered if you are walking the trail.
Given the opportunities for wildlife photography and bird watching, if you do opt to bike, give yourself permission to stop pedaling and take in the sights. It's a shame to zoom right past them.
South Dakota: Custer State Park
If you've been reading along with this series, you'll note that we have mad love for wildlife sightings. Nature and game preserves get us pumped. For South Dakota, we are going with Custer State Park — which was established as a game preserve in 1913. Then-governor Peter Norbeck had a dream to establish a large area in the Black Hills that would act as an optimal environment for supporting the reintroduction of many of the species eliminated by early gold seekers. Today, that means 1,300 bison, bighorn sheep, elk, mountain goats, and pronghorn antelope. And, that number doesn't even include all the mule and white-tail deer or prairie dogs kicking it in the state park.
Because this is a state park, you have the option of really modern campsites with flush toilets and showers. In fact, electric hookups are available in most campgrounds. But, we would like to suggest committing fully to outdoor living and setting up camp in French Creek Natural Area, a primitive campsite. The area is a 12-mile backcountry hiking trail established to both protect the natural resources of the area and invite people in to experience the pristine exquisiteness of the French Creek Gorge. You can camp anywhere in the canyon bottom, but you have to be at least 50 feet from the stream and you can't have a campfire. It's true primitive camping, so you have to pack your water in and your trash out. But, that will seem like a small cost when you spot your first bighorn sheep scaling the cliffs.
If you camp at French Creek, you can spend the day wandering around without having to hike out and find a specific trail. If you are the sort of person who gets impatient listening to a docent at a museum and finds crowds oppressive, skip all that trail nonsense and make your own way by following in the wake of other travelers or follow the creek.
If you opt not to rough it fully, we urge you to try the Prairie Trail, which is a sweet little 3-mile lollipop that works for people of any skill level. It's accessible year-round and takes you through some of the areas favored by bison, deer, and pronghorn — thanks to all the tasty grasses and plants in the area. In the summer, this is also a great way to see landscapes blanketed in wildflowers.
Minnesota: Nerstrand Big Woods State Park
In 1854, a group of settlers were taken aback to discover an oasis of trees dead in the middle of the vast oak savanna prairie. That island of sugar maple, basswood, oak, aspen, hickory, ash, elm, and ironwood trees is now Nerstrand Big Woods State Park. It's also home to 200 varieties of wildflowers, making it absolutely gorgeous in spring. Plus, there is a small waterfall and plentiful wildlife: fox, raccoon, deer, red and hoary woodland bats, red-bellied garter snakes, scarlet tanagers, indigo buntings, and seven species of woodpeckers. But, because the state park doesn't back up onto water or have a major historical site, people don't go there with the frequency seen at other parks. This is great for you because it will allow you the space you need to really get away from it all.
Nerstrand has plenty of camping options (as most state parks do). But, the walk-in ones are the most fun. The farthest site is 200 yards from a parking area and they are all an easy walk, so don't be intimidated. Be excited. There are four walk-in rustic camps, and they all are near drinking water and primitive toilet facilities; plus, they have fire rings and picnic tables. For $15-$19 a night, you can get the complete outdoorsperson experience.
The walk-in campsites are on the White Oak Trail, which you can easily hike. We suggest you take it a third of a mile east to the Hidden Falls Trail, a loop that traverses a hardwood forest ecoregion. You will travel over a boardwalk constructed to protect the endangered Minnesota dwarf trout lily, which grows here, and see the "hidden" falls for which the trail is named. Though the 20-foot falls aren't exactly hidden, they are graceful and perfect for photos.
Michigan: Pictured Rocks National Lakeshore
If you live in Michigan and haven't been to Pictured Rocks National Lakeshore, the time has come. Hugging the Lake Superior shoreline for more than 40 miles, Pictured Rocks is home to forest, beaches, sandstone cliffs, sand dunes, and waterfalls. The Anishinaabe or Ojibwa people who have lived in the area for thousands of years assign great spiritual significance to these rocks, and they also feature prominently in Longfellow's 1855 Song of Hiawatha, an epic poem about an Ojibwe warrior and his love of a Dakota woman. Since the 1940s, the coastline has been the subject of boat tours, though the area did not fall under the governing eye of the National Park Service until 1966, when it was designated the first national lakeshore.
If the weather is sublime, you are going to want to arrive early to grab a campsite because they are first-come, first-serve, and you can't make any reservations. Every campsite offers a fire ring with grate, picnic table, and tent pad. Vault toilets are generally in full effect, and water is provided by solar-powered wells. There are three campgrounds, but we recommend you try to get into Little Beaver Lake Campground if possible. It hosts eight tent sites along a beautiful inland lake and one is accessible to disabled adventurers. The sites themselves are clean and level, with incredible views.
If you want to take a leisurely stroll, White Pine Trail is a super easy .7 -mile loop along Little Beaver Lake Campground, but we really want to hype kayaking the shore and exploring the caves along the pictured rocks. Three different companies offer kayak tour along the lakeshore and any one of them will help you experience the otherworldly rock formations along the coast. Most skill levels can be accommodated, and you get to see falls and sea caves (this is the coolest part) and gorgeously stained rock walls. Different tours highlight different landmarks along the shore, but they all load you up with information about the history and geology of the area.
Wisconsin: Rock Island State Park
Door County sits on a peninsula between Lake Michigan and Green Bay, and it is 3000 miles of coast that boasts five state parks and 11 historic lighthouses. It is superlative for real. People who camp in this area typically do it at Peninsula State Park, which is awesome with its selfie stand at Eagle Panorama, its golf course, and its summer theater performances. But, if you want to step away from the man's amenities and embrace what nature has to offer, it's all about Rock Island State Park. It's so remote that you have to ride a ferry to get there and no cars or bicycles are allowed on the island.
Rock Island State Park features 40 walk-in, primitive tent sites. A couple of them are designated group sites, in case you want to roll with a whole gang of people. There is drinking water near the dock and firewood for sale at the park in season. Vault toilets are available, so it's not a situation where you have to dig a pit. You do, however, have to pack everything in on the ferry, so be prepared. First, you have to ferry to Washington Island, which takes about an hour, then drive or bike across the island to the Karfi Ferry dock, which only takes about 15 minutes. It might seem a little complicated, but it's totally worth the trouble.
There is a lot to do on the island, including hunting and trapping; fishing; boating, canoeing, and kayaking; swimming; lighthouse tours and hiking. You should absolutely make time for the 5.2-mile Thordarson Loop Trail, named for Chester Thordarson, a wealthy investor, who bought 775 acres of the island in 1910. He built a summer estate and a large boathouse decorated with characters from the Norse Runic alphabet (it's still open to the public). There are also carvings around the island that were made by workers who helped build the Thordarson property, perfect for an informal scavenger hunt. When you hike the trail, you will spot historic cemeteries of early settlers, the Pottawatomie Lighthouse, scenic overlooks, and a historic water tower. We can't emphasize how cool it is strongly enough.
Illinois: Cave-In Rock State Park
There are a lot of truly outstanding state parks in Illinois, but we went with a bit of a micro park for this microadventure. The Ohio River flows majestically along the south-eastern border of the state, and over the course of centuries, it carved and shaped the limestone bluffs that line the shores of the gorgeous Shawnee area. Among the many attractions thus shaped is the historic cavern for which Cave-In Rock State Park is named. And, it's not just some hole that you can squeeze into. This is a big ass cave that is 55-feet wide, 50-feet tall, and 120-feet deep. And — wait for it — it was home to sea pirates. Sea. Pirates. First mapped in 1739, by M. de Lery of France, who called it "caverne dans Le Roc," the cave reached the height of its notoriety in the early 1800s when it housed bandits, fugitives, pirates, and murderers. But, since 1929, it has simply been the primary attractions at a tiny state park.
Cave-In Rock State Park has 34 class A camping sites, which means they are equipped with electricity and close to the showers, But, you are better off with a Class B/S tent site, where you won't be surrounded by RVs or next to a playground. Plus, these sites are only 10 bucks a night. Regardless of which you choose, you will have access to restrooms, showers, grills, and dumping stations.
Obviously, we don't expect you to spend all your time in the cave. You should make time to take one or both of the two established trails: Pirate's Bluff Nature Trail and Hickory Ridge Trail. These moderate trails wind along the Ohio River and you may spot raccoon, opossum, deer, and bald eagle. Then, hit the cave and allow your inner pirate to take over. As long as you don't force people to walk off the cliff above the cave to their deaths, you should remain in good standing with the Illinois Department of Natural Resources.
Indiana: Turkey Run State Park
https://www.instagram.com/p/BV2WiQAl8KW/?taken-at=1805186746460307
We have been trying to go with smaller, slightly less popular locales so that you get a microadventure that truly allows you to get your nature on. It can be really hard to do that in outdoor areas designed to resemble villages or theme parks. But, sometimes, things are popular because they are really freaking cool, and Turkey Run State Park is the coolest. Located in the west-central part of the state, this 2,382-acre park was the second established in Indiana. People surmise wild turkeys used to hang out in the gorges (or runs) and early settlers would lead them to dead-ends where they could be easily hunted. Luckily, you aren't a wild turkey, so you get to explore a seriously otherworldly landscape unscathed. It's some straight Lord of the Rings Middle Earth looking stuff.
There is a curious camping situation at the park. If you want to go primitive, you have to be in a scouting group and under 21 (or an adult leader), so forget about those. This time, you have our full approval to enjoy one of 213 Class A campsites with electrical hookups, picnic tables, fire rings, drinking water, modern showers, and restrooms. The bummer is that these spots run $30-40, depending on the days you plan on adventuring. But you would pay those same rates for a comparable site at any state park in Indiana, and Turkey Run is totally worth visiting.
Okay, you are going to want to wander around, and the park provides 11 established trails to help you do just that. They range in difficulty from easy to very rugged. We don't think that you need to necessarily pick one and be done with it. You will probably have time to walk quite a few of them. Consider the very rugged #3, which includes some steep ladders and the Punch Bowl, a pothole carved out by glacial erratics caught in the eddying backlash. If it gets too difficult at any point, turn back and try one of the many other trails. One of the best parts of walking around Turkey Run State Park are the many historical features, like the 200-foot long suspension bridge that spans Sugar Creek; it was built in 1919. There is also a Log Church that was originally constructed in 1871 and the Narrows Covered Bridge, built in 1882.
This is seriously one of those parks you will come back to over and over.
Ohio: Kelleys Island State Park
We recognize that a few islands on a list of 12 states might feel like island overload, but we also think it's important/rad to challenge the assumption that the Midwest is a bunch of flat prairies. There are shorelines here, yo. For people in Ohio (and those in northeast Indiana and southeast Michigan), a drive to Kelleys Island State Park for some camping and hiking is totally worth it. Before the 19th century, the island was primarily occupied by Ottawa and Huron (Wyandot) Indian tribes with occasional visits from European settlers. But, there are prehistoric mounds and earthworks that serve as evidence that ancient civilizations inhabited the area. And, petroglyphs carved into a boulder of limestone known as Inscription Rock date back to the 1600s or earlier. The island was not declared a state park until 1956 after it changed hands and purposes a large number of times.
The island offers a range of camping possibilities. There are 43 non-electric sites, 46 electric, and 35 that have both electricity and water. We suggest (and you won't be surprised by this) that you go without electricity in order to get a site right on the shore of Lake Erie. You will still have access to flush toilets, showers, and fire rings.
Because the park is on an island, you do have to ferry over, so be prepared. But, once you arrive and settle in, it's time to explore. There are private vendors who rent both bicycles and kayaks, so keep those options in mind if hiking and nature watching aren't enough to keep you busy. There are only three established trails: North Pond Nature Reserve, North Shore/Alvar Loop, and East Quarry Trail. The third option is the one that will give you the most time in the wilderness, as it is a five-mile network of both hiking and biking trails that twist around the abandoned limestone quarry. The quarry offers the best fossil hunting on the island, and if the idea of finding fossilized cephalopods, brachiopods, corals, and more isn't exciting, we don't know what to tell you.
Iowa: Decorah
We know that you have read this far and are becoming pensive about the lack of waterfalls. Based on the other lists, we are big falls fans, so why hasn't there been one yet? We were waiting for Iowa. This is also a little bit of an urban entry, as all of your trail walkings will be around the perimeter of the city of Decorah. Now, the city's population is only 8,109, so it's hardly NYC. But, it's worth noting.
The Upper Iowa River runs along the eastern and northern borders of the city feeding into some stunning falls. That's right, more than one waterfall. This trip gives you the opportunity to cruise three of the best in the state: Dunnings Springs, Siewers Springs, and Malanaphy Spring Falls.
Because you won't be adventuring in a state or national park, it might feel harder to find a campsite, but Decorah Parks and Recreation runs Pulpit Rock Campground. In truth, Pulpit can get a little noisy if your neighbors are rowdy, and RVs tend to make things louder and brighter than you want for a night under the stars. We recommend staking out a tent site along the river at the Twin Springs side of the grounds. If you opt to do tent camping without electricity, it's $15 per tent per night. If you go with electricity, it bumps up to $18 for the first tent per night and $15 for every additional tent.
You can walk out of the campsite and along the river until you connect up with the Trout Run Trail, which will take you right to Dunnings Springs Park where you can check out your first falls. At this point, you are really close to Decorah Ice Cave State Preserve as well, so take some time to see one of the largest caverns containing ice in the Midwest. Formed in 450-million-year-old dolomite and limestone, the cave maintains ice deposits until well into the summer and it's pretty freaking chill (see what we did there?). Stay on the trail and you will arrive at a spillway in Siewers Springs Park. Relax and take in the energy of the rushing water, or kick it to the nearby fish hatchery and/or bald eagle nest in the park. A further hike will lead you right to Malanaphy Spring Falls — the most attractive of the three and the perfect conclusion of your microadventure.
https://www.instagram.com/p/BWAeBaxlztQ/?taken-at=33415525
Nebraska: Long Pine State Recreation Area
Microadventures can lack a sense of completion when you stay in a giant park or put too many things on the itinerary, so we kept this one completely doable. Long Pine State Recreation Area is only 153-acres of Pine Ridge land that straddles Pine Creek. It is most well-known for the trout fishing in the area, but hiking, archery, and hunting are also options.
The recreation area is close to the city of Long Pine, which now has a dwindling population of less than 300, but it used to be one of the coolest towns in the state. In the 1880s, the city's position as a railroad hub drew people to it, but it was the opening of the resort Nebraska's Hidden Paradise in 1912 that cemented it as a must-visit. Sadly, the resort shuttered. Then, in 1992, the railroad stopped service. Still the tallest bridge in the state remains as a souvenir of better times. You might want to drive through on your way to or from your microadventure or take the Cowboy Hike Bike Trail from the recreation area to the town.
Long Pine State Recreation Area offers primitive camping. There are only eight camping pads with electricity and 21 non-pad sites without any juice. While there are no showers, there are pit toilets. The area is beautiful, and going a couple days without a shower won't undermine that or challenge your standing as an attractive person. The pads are $9 and the sites without are a mere $7. And that's a real deal when you consider the deep sense of escape the recreation area's isolation will foster in you.
There is a one-mile scenic hiking trail that you can access from your camp, but you can also just wander around on your own, provided you are cautious and don't have a wounded bumblebee's sense of direction. If the weather is nice, bring an innertube and join people in floating lazily down the river. If you haven't been tubing, you must. It is absolutely the most fun you can have on a river without having to exert yourself in any way. And, if you are a fishing enthusiast, hook some trout and cook them over the fire as part of your adventure. Also, there is an archery range in the northern section of the recreation area, so consider going full Robin Hood.
Kansas: Clinton State Park
https://www.instagram.com/p/Bc5vH5Wnjou/?taken-at=235327621
Can you design an entire microadventure around a sunset? Damn skippy. Clinton State Park has a lot to recommend it. Clearly, the lake points to swimming, boating, and fishing. But, people often overlook how spectacular the reflection of a sky streaked with oranges and purples looks reflecting off of the water of an evening. But, not you. After a long day hiking, you will settle into camp with a full belly and the bevvy of your choice and watch the sky come alive with vibrant color.
Plus, the 1,500-acre state park is home to a lot of wildlife and sunrises (also stunning) are backed by numerous species of songbirds. You might even see wild turkey, white-tailed deer, waterfowl, and bald eagles. Between the wildlife and the sun rises and sets, your Instagram will be lit.
The park maintains 383 camping sites, and 169 are our favorite kind: primitive. If you want water and electricity at your site, it's totally an option. But, why not go for something a little more adventurous. If you get overwhelmed, you still get to walk to the showers at other campsites, so it's not like you are stranded in the backcountry. Seriously, campground #3 has frost-free hydrants, heated shower houses, and laundry facilities, so a short hike could be all that stands between you and convenience if you are overcome with outdoor panic. A primitive spot will run you $13 a night, which isn't bad.
One of the coolest things about Clinton State Park is that it is set up to work year-round. In the summer, you can go to the beach and use the changing stalls to slip into your suit before splashing about. In the winter, you can pull on your skis and cross-country ski on the five-mile ski trail. During any season, you can opt for the Prairieview Nature Trail or Northshore Trail. The latter is divided into three parts and geared toward mountain bikers, as well as hikers, so there's yet another activity for you to get up to. And, if all of these sweaty endeavors call for too much exertion, hit the disc golf course. Just be sure to be ready for the sunset when it drops.
Missouri: Jacob's Cave
There are pirate caves and then there is the Ozark's largest and most scenic cave. People come from all over the world to experience Jacob's Cave, so we know it's not exactly a hidden gem, but it is a stunning natural beauty and that's cool af. A visit will show you why the cave is famous for its reflective pools, depth illusion, ceiling sponge-work, and prehistoric bones. Who doesn't want to see mastodon, bear, and peccary bones? Plus, they have the world's largest geode. If you are a cave junkie, you can expect to see every possible type of cave formation. You won't go in jonesing for helectites and leave unsatisfied.
Unlike a lot of independent tourist cave operations, Jacob's Cave has great camping on site. They let you camp at the lakeside and enjoy the scenic acreage. There are water and electric hookups, shower houses, and a dumping station. And, you are welcome to use the lake for fishing, swimming, and boating. And, if you want to go primitive, there are 60 wooded acres and 90 of meadowland. You can literally take a sleeping bag and throw down for the night.
When you are done taking in the sights on the vast property, hit the caves for a tour. It's $18, takes an hour, and is an accessible, easy walk. This is a great microadventure for people with limited mobility, who often aren't accommodated by outdoor adventures. You will see evidence of six ice ages and three earthquakes, which is astounding. And, it's a constant 53 degrees down there, so though it's a little chilly, it's warmer than the weather in winter and cooler than the weather in summer. That's awesome when you are sweltering or freezing outside. And, your pictures will be unmatched by your homebody friends.