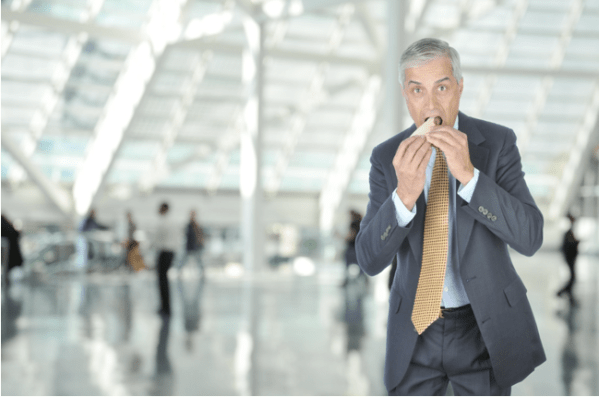 "Back in the day" airports were culinary wastelands. Fast food joints, sad looking bars, and plastic-wrapped sandwiches littered the landscape. You ate Cinnabon, not because you wanted one but because it was the only thing available.
Now, those days seem to be coming to an end. Airports are actually making a serious effort to rank above the dentist office on the list of "places people hate spending time." Part of that means brighter and better designed spaces, but the key component? Stepping up their food game.
Famed screaming person and collector of Michelin stars, Gordon Ramsay, has an airport restaurant now. So does Cat Cora. Minneapolis St. Paul Airport (MSP) has a "food truck alley" in the works. Why the switch from insanely priced turkey wraps to world class wine bars and gourmet steaks? Because no one wants to Instagram a photo of their greasy Big Mac. Also the whole captive-audience-with-corporate-cards-who-fetishize-food thing might have something to do with it.
If you want to eat well as you travel, check out these eight airport dining experiences.
Los Angeles (LAX)
Not only does terminal five's Farmers Market feature fantastic food, it also dishes up a cool slice of American history. The interior replicates the famous Farmers Market at 3rd and Fairfax in Los Angeles down to the pictures of the clocktower and the green wooden carts. Managing to capture the historic venue's charm is a big feat in an airport terminal. Within the space, Lotería Grill serves Mexican classics including their fantastic shredded beef tacos and beloved ceviche. Monsieur Marcel offers spectacular cheese boards and a craving-worthy grilled-cheese with ham, among other things.
A nice perk here is the chance to buy the artisan/small batch foodstuffs that made the original Farmers Market so legendary.
Chicago O'Hare (ORD)
As America's third busiest airport and one of the worst for flight delays (more than 25 percent of flights leave late), chances are you'll find yourself at Chicago O'Hare with some time to kill at one point or another. Spend that time wisely by grabbing a seat at celebrity chef Rick Bayless's Tortas Frontera, which serves up favorites like beer-braised beef, chipotle chicken, and short rib stuffed Mexican tortas (grilled sandwiches) at its locations in terminals one, three and five. Pair a sandwich with some guacamole from the guacamole bar and a margarita from the actual bar and you'll feel happy all flight long.
Minneapolis-St. Paul, Minn. (MSP)
While you may be traveling through the heart of the Midwest, take your tastebuds on a trip to Tokyo with a stop at Shoyu in terminal one's concourse G. Browse the iPad menu, which offers everything from sushi to pork belly bao buns, but go for one of Shoyu's big bowls of ramen which are made with high-quality ingredients like duck confit. For a post-dinner drink, head over to Surdyk's in terminal one's "The Mall" for a wine flight paired with a selection of cheeses.
Austin, Texas (AUS)
If you didn't get your BBQ fix while in town, no trip through Austin's Bergstrom International Airport would be complete without a stop at Salt Lick BBQ. Famous for their two locations outside of Austin which have been serving up smokey and saucy goodness for decades, Salt Lick is consistently ranked among Texas' best BBQ. And while their location in the airport's west terminal near gate 10 lacks the atmosphere of their country restaurants, you'll find the same fall-off-the-bone meat that the locals love. Pro tip: go for the Salt Lick brisket and a side of potato salad. #Merica.
Denver (DEN)
Just like Chicago O'Hare, chances are your travels will one day bring you through Denver International Airport. This massive airport in the shadow of the Rocky Mountains isn't short on places to eat, so you'll want to choose where to refuel wisely. To ensure satisfaction, head to concourse C's Root Down, the airport outpost of the beloved Denver eatery that's lauded for their fresh farm-to-table fare. Grab a Colorado-brewed beer and a burger and you'll be left hoping your flight gets delayed so you can stay a little longer.
Portland, Ore. (PDX)
Beer lovers already know that Portland is heaven on earth. But for those craving just one last beer (or three last beers — we won't judge) before leaving the Pacific Northwest, grab a pint of Dead Guy Ale or Brutal IPA at Rouge Ales Public House in Concourse D. When hunger strikes, make your way to Pok Pok Wing, the airport outpost of Portland's wildly successful Pok Pok restaurant, for delicious and crispy fish sauce chicken wings served out of a tiny indoor food cart located pre-security in the International Terminal.
New York City (JFK)
New York's John F. Kennedy International Airport is the port of entry and exit for millions of travelers from around the world every year. Be one of the few who makes their time there worthwhile by stopping to dine at Terminal 5's La Vie, a French brasserie run by former chefs from NYC's Balthazar and Pastis (that means they've got serious food-cred). Celebrate your departure by arriving early for a glass of wine, duck and pistachio terrine, moules frites, or escargot with garlic butter.
Atlanta (ATL)
Rib joints are all about the process. Mustard Seed brings that commitment to Hartsfield-Jackson airport. Their ribs (and other meats) are slow-cooked for eight hours — an almost unbelievable feat in an airport setting. This, mixed with some tangy rub, is what makes this spot special.
Between Mustard Seeds's "fall off the bone" ribs, marinated chicken, pulled pork and heavenly sides, there's a lot to choose from for juicy flavor. American Born Moonshine disguises itself as a blistering bottle of traditional white lightning, but it's actually smooth and does a great job complimenting Mustard Seed's meats.