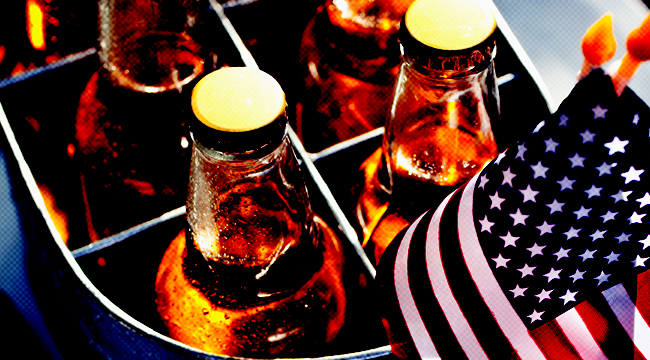 It's important to remember what really matters on Independence Day. The food. Grilled meats, crisp summer veggies, dips, chips, and ridiculous red, white, and blue-themed desserts make the day. After the food, the second most important aspect of the Fourth of July is the drinks. And if you're going to celebrate America's independence from England you have to drink American beer.
That's why we asked some of our favorite bartenders to tell us their favorite American beers to sip while they play yard games, eat burgers, and watch fireworks explode in the evening sky on the Fourth.
Montauk Summer Ale
Joshua MacGregor, mixologist at db bistro modern in New York City
A great beer to celebrate the holiday would be the Montauk Summer Session Ale. While most may seek out a lager, this session ale will keep you cool and refreshed for all barbecue and firework-related activities.

Saranac Shandy
Sean Stangle, bartender at Estiatorio Milos in Las Vegas
Summer Holidays for me always end up involving shandies/radlers when enjoying a few at a barbecue or on the boat. A few of my favorites include Stiegl Radler (grapefruit), from Austria, and Saranac Shandy from Utica, New York. Shandies and radlers are lighter styles of beers (pilsners, hefeweizen, etc,) with a nice bit of citrus and light spice/sugar added.
These style beers are perfect for summer months as to they are lower in alcohol content.
Kelso Pilsner
Josh Cameron, head bartender of Boulton & Watt in New York City
Ah, 4th of July, here we come. Pass me a cold Kelso Pilsner. It's so smooth, and the flavor never gets in the way. On the fourth, I am partying on rooftops or at fireworks with friends, and the last thing I want is a beer that gets in the way.
Just want good, cold, smooth, quality beer and a rainless night.
Wasatch Apricot Hefeweizen
Jason Banks, bar manager at Krause's Cafe and Biergarten in New Braunfels, Texas
On the 4thof July, I will be drinking Wasatch Apricot Hefeweizen. This great beer from Utah that pours yellow-gold and cloudy with a giant nose of apricots and stone fruits and drinks the same with more apricot, peach and pear spice. This beer is great for the Texas Summer Heat because it's not a heavy beer and it's super refreshing.
Miller High Life
Daniel Condliffe, bartender at JSix in San Diego
For 4th, I'm probably going with something session-able that's crisp and light. Go back to my roots and enjoy the champagne of beers, Miller High Life.

New Belgium Voodoo Ranger
Alyssa Miller, bartender at Hazel, Ravines & Downtown in Birmingham, Michigan
On the 4th, I go IPA all the way. Voodoo Ranger is always a good one because of the tropical fruit refreshing summer taste. It's sweet yet bitter.
Samuel Adams Boston Lager
Thomas Merolla, bar manager at Blackbird Ordinary in Miami
My favorite beer to drink on the 4th of July is Samuel Adams. In my opinion, it is one of the best American Lagers. It's light and flavorful, and certainly fitting for Independence Day.
Saint Arnold Orange Show
Shane Deforest, bar & support manager at The SPOT in San Marcos, Texas
There is no better Independence Day-drinking beer than Orange Show from Saint Arnold. A blonde brewed with blood oranges, this beer is light and refreshing with a perfect citrus kick. Plus, at 5.3% it's not a waste of time like most lighter beers.
Pabst Blue Ribbon
Alex Greg, bar manager of Curadero in San Diego
If I were to be by a lake, river, beach or in uncle Jimmy's backyard grilling up some hotdogs, I'd opt for a cold crisp Pabst Blue Ribbon — I heard they're coming out with a pale ale, I'd definitely give that a swirl.
Ballast Point Sculpin Habanero
Justin Monell, general manager of BLVD & MAIN Taphouse in Las Vegas
For the Fourth of July, I like to turn up the heat. That's why I picked Ballast Point Sculpin Habanero. This provides a perfect level of spice to pair with a BBQ.

Stone Go To IPA
Erick Castro, co-owner of Polite Provisions in San Diego
For the 4th, my go-to beer is definitely a session IPA, such as the Go To IPA from Stone Brewing. It's perfect for all day drinking at only 4.5% ABV, but still has all of the flavor from one of their heavier beers. I love IPAs but when you are engaging in some holiday drinking like on the 4th of July, you won't make it very long if you are drinking your standard IPA or Double IPA.