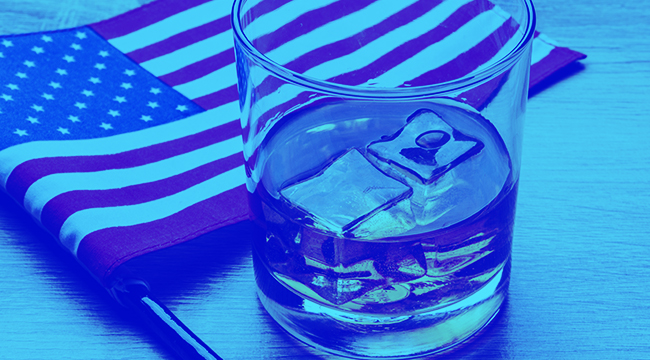 The Fourth of July is the unofficial start of summer for those places where the weather is still dragging. And to kick off a season this hyped, you're going to need to have (or attend) a rowdy, loud, over-the-top, giant pool float-filled party. That's not enough though. There'd better be grilled foods, fresh fruits, tasty beverages, and a whole lot of American whiskey, too.
We can't think of a better way to pay tribute to the U-S-of-A than by sipping on some sweet, rich, American-made whiskey. It's what one of our first distillers, George Washington, would have wanted. That's why we asked some of our favorite bartenders to tell us their favorite American-made whiskeys to help celebrate the rocket's red glare.
Basil Hayden's Dark Rye
Alyssa Miller, bartender at Hazel, Ravines & Downtown in Birmingham, Michigan
Easy. Basil Hayden's Dark Rye. It's made in Kentucky. With notes of black cherries and plums, it really pulls out the perfect pinch of fruit, for me to happily sip on after any long day.

Russell's Reserve 10-Year-Old
Erick Castro, co-owner of Polite Provisions in San Diego
America's birthday naturally calls for some bourbon, but not just any bourbon, it has to be able to hold up on ice, as July is already hot enough & what kind of animal drinks whiskey neat when it's 100 degrees out. I would generally go with some Russell's Reserve, as it is perfect for sipping on the rocks, but still makes a killer Mint Julep if I feel like getting fancy.
Booker's Bourbon
Daniel Condliffe, bartender at JSix in downtown San Diego
Well, I think few things are more American than bourbon and I'm not a big fan of the sweeter style American whiskeys, so I'll probably go for something with a little more heat like Booker's. Distilled out of Jim Beam, Bookers' has a ton of flavor and spice and is just as good to mix or drink on its own.
Very Old Barton Bourbon
Melissa Carroll, head bartender at Fisk & Co. in Chicago
Very Old Barton goes great in mixers, as shots, or on its own. It's affordable, and most people have access to picking it up at a store.
Basil Hayden's Bourbon
Sean Stangle, bartender at Estiatorio Milos in Las Vegas
Basil Hayden's is the lightest bodied of the Jim Beam Small Batch whiskeys. This is a perfect complement to the days of summer, being lower in ABV than its counterparts while still competing as a premium Bourbon. Typically found at around $40, it is readily available at any reputable liquor stores. Serve over light ice with a pair of Ray-Bans.
Bulleit Rye
Thomas Merolla, bar manager at Blackbird Ordinary in Miami
What's my go-to whiskey on July 4th? That would be Bulleit Rye, as it has hues of vanilla, honey and spice, and a long smoky, sweet finish. It's also very versatile; sometimes I drink it neat and sometimes with a mixer. One of my favorite summer drinks is simply Bulleit Rye with either Fever-Tree Ginger beer or Fever-Tree Spiced Orange Ginger Ale: easy to make and delicious!

Firestone and Robertson TX Whiskey
Jason Banks, bar manager at Krause's Cafe and Biergarten in New Braunfels, Texas
TX Whiskey from the Firestone and Robertson Distillery is what I like to drink on the fourth of July. I like to sip whiskey but everyone else in my group likes to have mixed drinks. I enjoy the honey and caramel flavors that come out over an ice cube or two, but it mixes well with Old Fashioned ingredients and colas as well. My signature drink with TX is a Whiskey smash, where I literally smash slices of lemon and lots of ice together pour a little simple syrup over of the crushed lemon and ice that I shape in a cup like a snow cone and top it with a few ounces of TX Whiskey and some fresh berries.
Jack Daniel's Tennessee Whiskey
Justin Monell, general manager of BLVD & MAIN Taphouse in Las Vegas
If I could only pick one American whiskey to drink on the Fourth of July, I'd have to go iconic. What's more patriotic than Jack Daniel's. Nothing, that I can think of.