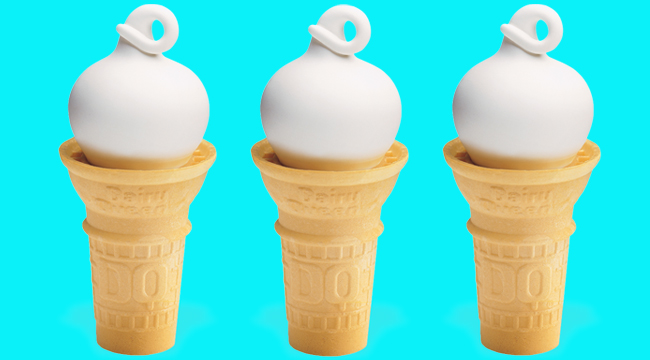 Is there anything better than ice cream on a hot summer day? Doubtful. A silky smooth vanilla ice cream captures the nostalgia of childhood summers spent counting loose change in hopes of scoring a sweet, cold treat. It's riding bikes under the summer sun, creating your own breeze as you race down the blacktop towards a Dairy Queen, Tastee Freez, or even McDonald's.
The best fast food ice cream cone isn't too hard to define. We all had our go-tos back in the day and most of us still do. Part of finding the best ice cream cone is knowing what you want. Some of us like our ice cream dense and creamy, while others go for the fluffy, almost neutral-flavored stuff. To each their own, we say.
Of course, that doesn't mean that we won't poll our team and crown the best of the best. We respect your palate, but we trust ours. So what's the winning ice cream cone on the fast food market? You're about to find out. We're ranking standard vanilla ice cream from fast food chains that also serve food (so no ice cream only spots). Some of them are soft serve, some not. Deal with it.
10. Burger King Vanilla Soft Serve, $1.00
Burger King's Vanilla Soft Serve is good for what it is. We mean, come on, this costs just a dollar. That's not really a big price to pay for ice cream. Still, this is a little too on the airy side and the vanilla is only just barely there.
9. McDonald's Vanilla Cone, $1.00
McDonald's Vanilla Cone is a great standard cone. Again, it's only a buck. Still, the vanilla is more present here with a nice silkiness to the overall soft serve experience. The blandness of the cone is what really holds this one back. Plus, the cone is too often stale.
8. Jollibee Twirl, $1.00
Philippino fast food chain, Jollibee, has a pretty solid soft serve option across the U.S. on the menu to go with your plates of fried chicken with a side of spaghetti and red sauce. The one-dollar soft serve has a nice vanilla kick with a slight sweetness and is fairly creamy.
The sugar cone tends to have a nice crunch, but it can wilt under the weight of the ice cream.
7. Sonic Drive-In's Vanilla Cone, $1.99
This is sort of like taking a decent cone with a nice crunch and hint of sweetness and amping up the McDonald's soft serve a notch or two. Is it transcendent ice cream? No. But it certainly scratches that ice cream itch.
6. Tastee Freez Soft Serve Cone, $1.29
Old-school hot dog and burger joint, Tastee Freez, is still slinging quality soft serve cones. The ice cream is surprisingly dense with a nice, sweet vanilla flavor. You feel like you're getting a full-bodied treat with this one. The cones are pretty standard with a good bite that holds up to the melting soft serve inside.
5. Chick-Fil-A Icedream Cone, $0.95
We're getting into the good stuff now. Chick-Fil-A's Icedream Cone is hard to beat for less than a dollar. The ice cream is dense, yet light. It's full-on vanilla with a rich creaminess. The cone tends to be hefty with a killer crunch and ever-so-slight sweetness. This is a delightful cone.
4. Culver's Fresh Frozen Custard Cone, $2.29
Culver's frozen custard is pretty freakin' delicious. The ice cream is rich, thick, and full of sharp vanilla. The only reason this isn't ranked higher is the insane calorie count. Over 600 calories for a scoop of ice cream is just asking too much, no matter how good it is.
3. A&W Signature Soft Serve, $1.29
A&W's Signature Soft Serve hits a lot of marks really well. It's creamy and silky. There's a real sense of vanilla here that leans more savory than sweet. naturally, there's a sugar sweetness at play but it's dialed back. The cones are standard and hold up well. The real treat is when you drop that soft serve in a spicy root beer. That, folks, is the way to go.
2. Shake Shack's Frozen Custard, $3.69
It feels like Shake Shack looked at Culver's frozen custard and said to themselves, "Hey, let's do that but with, like, a third the calories, k!?!" And they did. This ice cream is lush, full of fresh vanilla, and pure bliss. It's a little on a spendy side at nearly four-dollars but worth it in our estimation.
1. DQ Soft Serve Cone, $1.99
The winner of the ice cream cone wars is Dairy Queen. Their classic vanilla soft serve hits this balance of super light yet fully rounded ice cream. It packs a nice balance of sweet and vanilla with just the right amount of light creaminess. The cones are always fresh and full of crunch that lasts until the last bite.
This is the ice cream cone all others should be judged by. Facts.