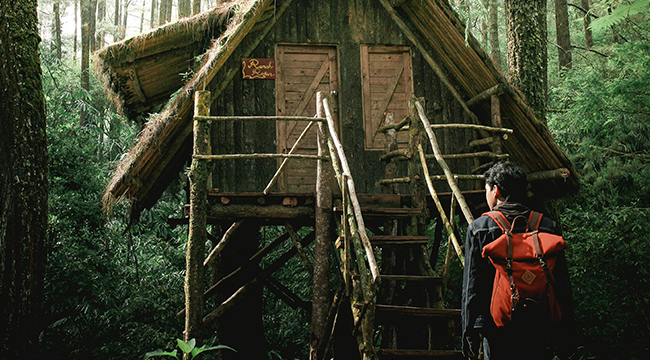 It's less than two weeks until the start of fall and already the Halloween decorations are filling stores and the pumpkin spice latte tweets are out in full force. So, though the last remnants of summer linger and the leaves haven't hit the ground yet, it's not too early to get psyched about autumn and all the awesome vacation options it brings with it. While summer travel means beaches and pool parties, fall is the perfect time to take a break from crowded nightlife, work responsibilities, and scheduling family holidays. Instead, turn your back on hustle and embrace the slow speed of cabin life.
Think about stretching out in a soft bed with a piece of tawdry fiction or enjoying a dram of whiskey or a quiet evening with someone whose company makes you smile. Days can be spent kicking up leaves on winding trails and photographing once in a lifetime landscapes. Nights are for fires and simple, hearty dishes. This is the kind of trip where your phone remains in your luggage and you don't spend hours searching for outrage online.
To make your transition into shoulder season easier, we've gathered a variety of stunning cabins you can lock in reservations for right now. Because everyone deserves a little rustic downtime.
Jude at CABN Life: Adelaide Hills, Australia
Michael Lamprell, CABN Life's creator, began a journey when he discovered transcendental meditation in 2016. While on a meditation trip to the United States, the journey continued to deepen via a greater understanding of minimalism and a desire to alleviate the stress and anxiety that permeated his life. He desperately wanted to live a simplified, authentic life and positive memories from a childhood spent outdoors spurred him to create off-grid, sustainable and eco-friendly tiny houses in the heart of South Australia's most stunning landscape. One visit gives guests an opportunity to break with a life spent online and to reconnect with the things that truly matter.
The first CABN in Lamprell's project, Jude, is Scandinavian in aesthetic and set in 180 acres of natural scrubland adjacent to a conservation park. That means, not only do you have everything you need to stay comfortably for a few days, you also have chances to spot kangaroos, bandicoots, and… maybe even a few drop bears?
Red A-Frame at Far Meadow: Sierra National Forest, California
We are all about National Parks, but we also understand that it can be hard to appreciate the outdoors when you can only see witness nature's wonders through a sea of fellow tourists. Pausing every few feet on a hike to avoid photobombing someone's selfie gets old. That is why Far Meadow is so wonderful. Just 12 miles from Yosemite in the Sierra National Forest, the retreat features five cabins, as well as teepee tents and a trailer. Although every option is a stunner, we are partial to Red A-Frame on the Sierra Vista Scenic Byway. Surrounded by secret swimming holes, gorgeous meadows, and a ton of hiking trails, it is essentially your own little park while you stay there. When it comes to fall escapes, the foliage rivals the famed Technicolor offerings of New England.