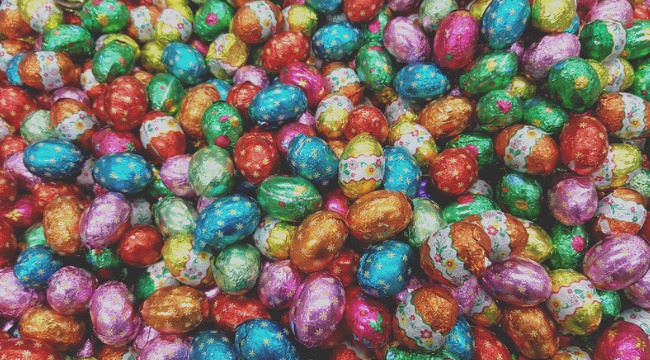 It's Easter weekend and that feels like the perfect time to rank some candy. If anything, Easter is a great excuse to live a little and eat a couple extra pieces of chocolate and sugary treats. We know it's not the best for us but it sure does make us smile. Still, if we're going to indulge and live a little this Easter weekend, we'd better eat the best sweets we can.
Over at Ranker, they asked their users to vote on the all-time best Easter candy. Nearly 13,000 votes later and a clear list of ten great Easter treats emerged. It's a well-rounded list of crunchy treats, chocolate delights, and creamy eggy goodness that we're sure Willy Wonka would approve of. It's also pretty mainstream, as per the Ranker MO (so get in the comments and tell us your local stuff!).
Get your blood sugar tests ready and let's dive into a world of pure imagination … and Easter candy.
10. Butterfinger NestEggs
Buttery, crunchy butterfingers in tiny egg form? Sounds good to us. Butterfingers are delicious and bite-sized butterfingers are even better. It's good to see the classic candy bar get some love in this ranking.
9. Jelly Bellys
Jelly Bellys are an innocuous choice for any candy bowl. There are so many flavors that there's sure to be one just for you. The sugary beans are a great Easter snack all around. And, hey, if you don't like one flavor, there's like a million more to tempt you. So these feel like a solid choice.
8. Snickers Egg
Snickers is another classic candy bar that suits the oval form of an egg. The nougat, nuts, caramel, and chocolate go damn well together making a classic. Snickers is probably the most filling of any treat on the list, which may inhibit you from binging on them. We're not exactly sure if that's a plus or a negative.

7. Hershey's Chocolate Eggs
Hershey's chocolate might not be the best chocolate ever turned into a bar or a kiss or, in this case, an egg. But it does hit a sweet nostalgia spot taste-wise that's milky, sweet, and chocolatey. Plus, we've all eaten way too many of these little eggs without noticing before. They just go down so easily.
6. Easter Pastel M&M's
Peanut M&M's are dope. Pastel colored peanut M&M's are just as dope. The color is a nice touch, but there's little that can be done when the candy is already damn near perfect. Just try not to eat the whole bowl.
5. Cadbury Caramel Egg
Here comes the sweetness. The sugar bomb of a super sweet caramel locked in a chocolate egg is a high-octane sugar delivery system. Pop some of these eggs over ice cream and you're headed for a heady sugar rush that's borderline sinful.
4. Lindt Gold Bunny
Lindt does make pretty good chocolate all things considered. Their hollow chocolate bunnies are a stone-cold classic of the Easter season. The milk chocolate has a great balance of creamy smooth cocoa with a nice hint of chocolate bitter still in the background. It's sweet, but the sugar is a highlight, not the main attraction.
3. Cadbury Creme Egg
We're pretty shocked that this old-school classic didn't make it to number one. The creme egg is one of those candy anomalies that shouldn't work as well as it does. On paper … madness! White and yellow sugar "creme" encased in a hollow chocolate egg just sounds kinda weird. Yet, once you bite into one of these messy treats, there's no going back. You'll be hooked for life.
2. Cadbury Mini Eggs
Interesting that the mini eggs beat our the bigger, more classic version. Maybe it less mess that gives the mini eggs an edge? Either way, the size of these are perfect for mindlessly eating the whole bag like those Hershey's eggs above. Maybe keep the bag a safe distance away if you don't want your blood sugar to spike too hard.

1. Reese's Peanut Butter Egg
Reese's Peanut Butter Cups are the perfect candy. You can argue all you want with us. You'll be wrong. The marriage of milk chocolate and peanut butter is close to the divine. Cup form, egg form, piece form, bat form, tree form … it's all great.
Deep down, we all know the eggs beat all other Reese's shapes, though. The chocolate-to-PB ratio is just perfect. The chocolate is a little thinner and that works. Let that peanut butter shine!