It's November. This means three things:
It's peak football season.
Thanksgiving is fast approaching (time to get those specialty dishes ready).
And the Holiday season is almost upon us.
All three things combined mean that you might be feeling like this is a prime time to save as much money as possible. And what better way to do that than to pick up your favorite fast food on the cheap?
If you're going to be spending your time glued to the TV or driving around town trying to get some early shopping done, the convenience of fast food is your greatest friend right now, allowing you to save time and energy. So to help you out, we've compiled all of the best food deals you can take advantage of right now that'll get you fed and full and won't cost a ton. Whether you're looking for a solo meal or a group combo, we've got you covered.
Here are all the best fast food deals to take advantage of right now.
Arby's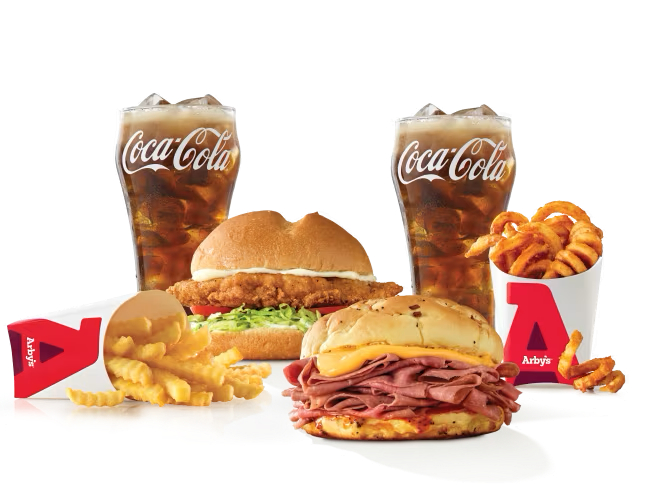 If you have a friend who loves Arby's just as much as you, you're in luck! Right now Arby's has a 2 Can Dine For $9.99 deal which allows you to choose any two sandwiches from the menu and comes with two small fries and two drinks.
That's just $5 a person!
Find your nearest Arby's here.
Carl's Jr
Users of the Carl's Jr. App have access to some great deals right now. If you've never signed up before, new users will receive a free Salted Caramel Pretzel Shake with any purchase.
New members will also receive a free Guacamole Bacon Burger at signup and existing members get their first Guacamole Bacon Burger for half-off.
Find your nearest Carl's Jr. here.
Domino's
Domino's has a few national deals that'll get you lots of food on the cheap. First up is the Mix and Match deal, a $6.99 deal that gets you any combination of two medium two-topping pizzas, bread orders (including Domino's stuffed cheesy bread), loaded tots, boneless chicken, pasta, sandwiches, salads, or desserts. Please note that bone-in wings, bread bowl pasta, and pan pizzas will incur an extra charge.
If you're up for a carry-out order, right now you can pick up any one-topping medium pizza, dip and twist combo, or 8-piece wing order for just $7.99. Aside from that, your Domino's will have local deals exclusive to your area that are probably worth checking out.
Find your nearest Domino's here.
McDonald's
Every Friday pick up a free order of medium fries with a minimum $1 purchase when you order in the app. Let us help you out here: order a soft serve ice cream, get the free fries, and you have the best french fry dip of all time with fast food's greatest french fries.
From now until December 3rd you can score a free Double Cheeseburger or 6pc Chicken McNuggets when you buy one. Or if you're feeling super hungry, pick up a free Quarter Pounder with Cheese, Big Mac, or 10 Chicken McNuggets order BOGO too. Both deals are exclusive to the app.
Find your nearest McDonald's here.
Kentucky Fried Chicken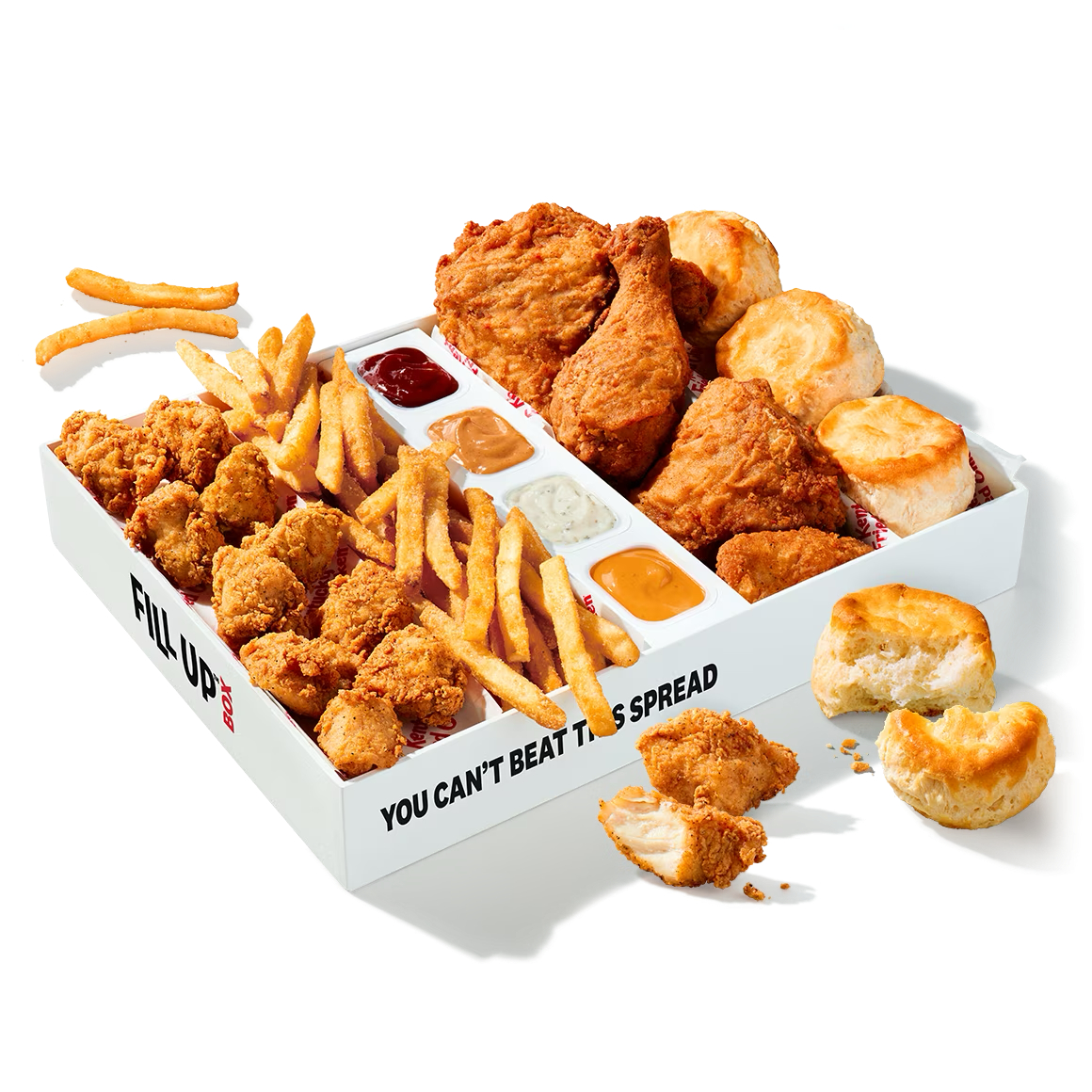 A couple of notable deals here. One is the Fill Up Box, a $20 box that includes four pieces of chicken, 12 chicken nuggets, an order of Secret Recipe French Fries, 4 buttermilk biscuits, and 4 dipping sauces. It's the perfect game day meal for two!
If you're not in the sharing spirit, you can also order an 8-pc of KFC's new Hot & Spicy Wings for just $4.99.
Find your nearest KFC here.
Papa John's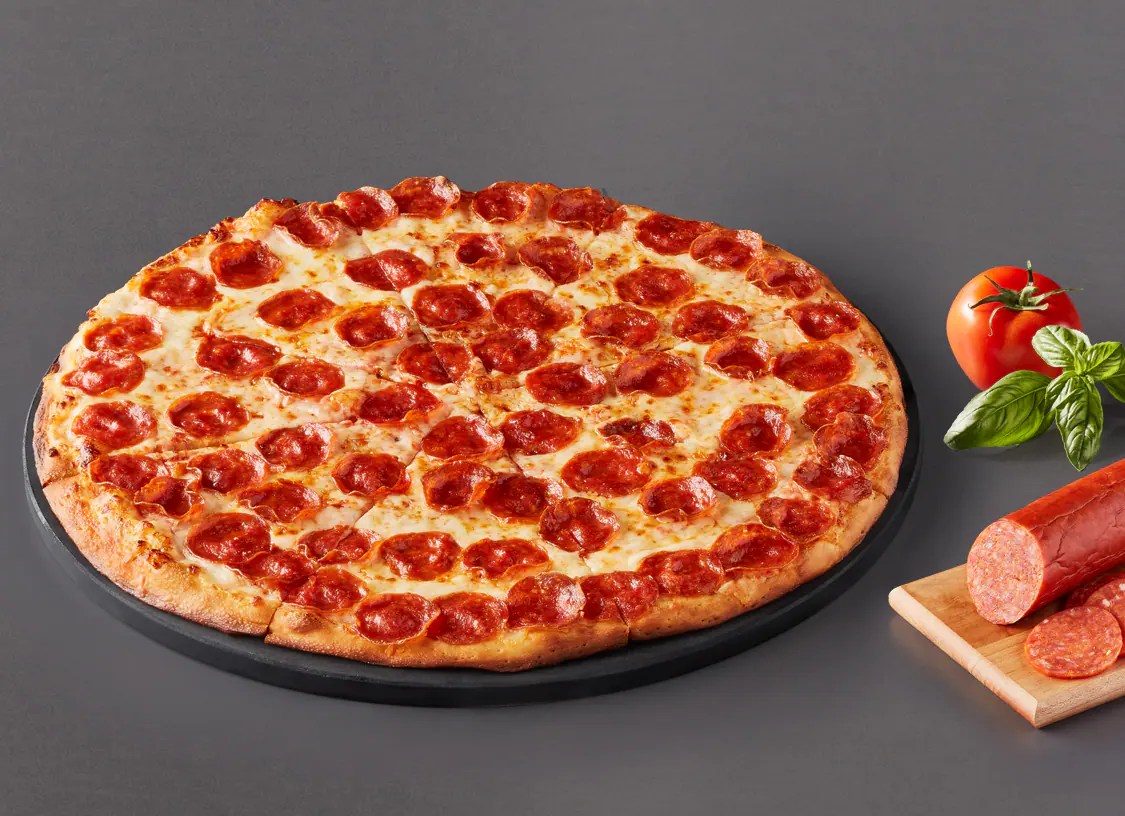 For just $13.99 pick up an extra large Shaq-A-Roni pizza, which features eight big foldable slices loaded up with extra cheese and sixty pepperonis that extend onto the crust.
Papa John's is also offering free delivery on orders above $35.
Find your nearest Papa John's here.
Popeyes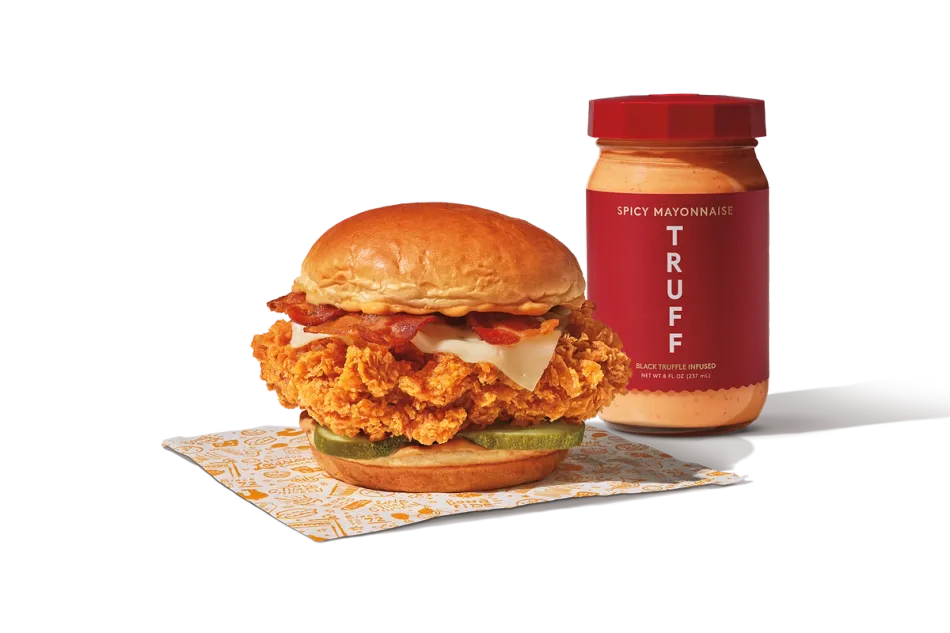 Right now you can get a free chicken sandwich with the purchase of any chicken sandwich combo via the Popeyes mobile app. That includes the spicy, classic, blackened, bacon & cheese, and new spicy TRUFF chicken sandwich — so if all you've had is the original, now is the perfect time to try one of the may variations free of charge.
Find your nearest Popeyes here.
Pizza Hut
A lot of Pizza Hut deals are going to be dependent on your location, so definitely check those on-site before you place your order. As for the national deals, right now you can get a Stuffed Crust Pizza for $12.99, a Large 1-Topping for $9.99 (delivery only) and Pizza Hut's new Melts for just $6.99.
Find your nearest Pizza Hut here.
Wendy's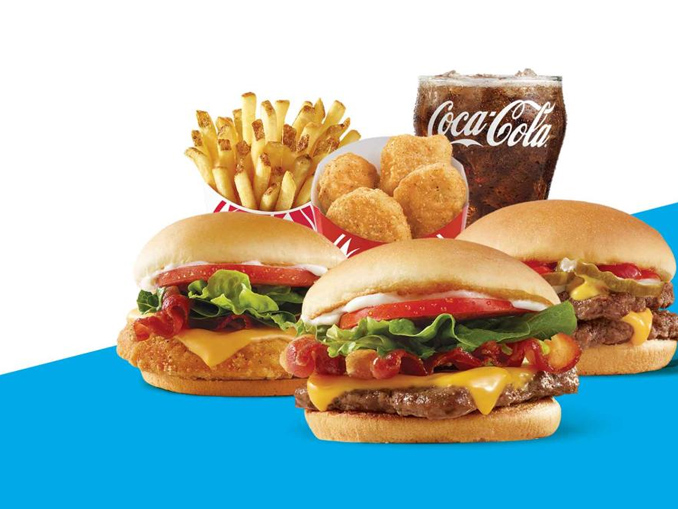 Right now you can pick up a junior bacon cheeseburger or chicken sandwich, a four-piece order of nuggets, fries, and a drink for $5 with Wendy's Biggie Bag Meal. Considering it's only a junior bacon cheeseburger and not a bacon cheeseburger, we suggest you opt for the chicken sandwich, which is full-sized!
Or just take your spicy nuggets and shove them in the burger to get the best of both worlds.
Find your nearest Wendy's here.
Wingstop
At Wingstop, you can pick up an order of 20 Boneless Wings in any four flavors with a large order of fries and two dips for $16.99
Find your nearest Wingstop here.
Taco Bell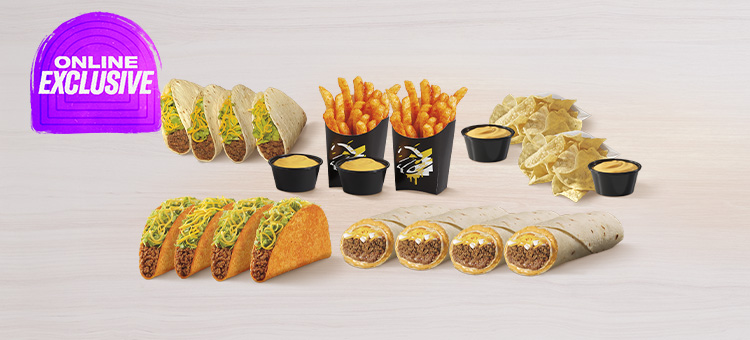 Taco Bell has a handful of Digital Exclusives that seem specifically geared toward football season group snacking. First up is the Build Your Meal For Four deal, a $24.99 deal that allows you to choose three orders of four soft tacos, four crunchy tacos, four Doritos Locos tacos, four spicy potato soft tacos, four bean burritos, or 4 beefy 5-layer burritos, and two orders of sides that include a Cheesy Roll Up, Chips and Nachos Cheese Sauce, Cheesy Fiesta Potatoes, Nacho Fries or cinnamon twists.
If that sounds like a meal for three…agreed! But it's still a solid deal! Taco Bell's other Digital Exclusive is the Drinks Party Pack which will cost you $4 and includes any combination of four medium fountain drinks. Both deals together get you a full-blown meal for several people for under $30. Not bad!
Find your nearest Taco Bell here.