If fried chicken has taken over fast food, the spicy chicken sandwich is the reason. A perfect spicy chicken sandwich is crunchy, packed full of flavor, and drool-inducingly spicy. Not only is it alluring visually, but that winning combination of flavors and textures pulls you in, bite after bite. It's a feast for the senses! And even though Popeyes was crowned king long ago, it seems like the food brands are still in an active race to make the tastiest chicken sandwich in all of fast food.
Who are we to stop them from trying?
This week, I declared Shake Shack's new Hot Chicken sandwich as "the best spicy chicken sandwich of 2023." This got me thinking — "Am I just being wooed by the latest hot (pun intended!) new thing?" If I put this spicy-come-lately up against the best of the best, would it hold up?
Honestly, I wasn't sure. I try so much fast food on a regular basis for work that I haven't actually tasted a spicy chicken sandwich from our old favorites in recent memory. So in order to definitively name the best spicy chicken sandwich in fast food, we put four of our current favorites to the blind taste test.
The results actually managed to surprise me. Which was fun. And tasty. Let's talk methodology.
Methodology:
As with all the other fast food blind taste tests we've done this year, time is the biggest enemy of flavor. That's why I had to limit this taste test to just four spicy chicken sandwiches from fast food restaurants that were in relative proximity to one another (and where I live).
Luckily, I think a chicken sandwich holds up a bit better than something like a cheeseburger, which really goes south past the 20-minute mark.
Altogether, it took me 35 minutes to collect all four chicken sandwiches and make it back home. Normally that's longer than I'd like, but each sandwich was delicious and while all would've been better hot, I don't think it had a major effect on my decision.
Once home, I photographed all four sandwiches and then gave the bag to my girlfriend who shuffled each sandwich and gave me one at a time at random to taste test while I rocked a blindfold.
Here is our tasting class:
Chick-fil-A — Spicy Deluxe
Dave's Hot Chicken — Chicken Slider (Hot)
Popeyes — Spicy Chicken Sandwich
Shake Shack — Hot Chicken Sandwich
For each sandwich, I took into consideration the flavor and spice level (which I scored 1-5), and while I think a spicy chicken sandwich being, you know, spicy, is essential, the flavor takes precedence over heat.
Part 1: The Spicy Chicken Taste Test
Taste 1:
More of a mix between gentle smokey paprika and black pepper than anything "spicy," though I do taste a hint of cayenne pepper in there. This chicken is moist and topped well, I'm getting tang from pickles a hint of creamy cheesiness, and some juicy tomatoes, but there is some greasy lettuce in here as well which sogs up the experience a bit.
The chicken itself is very dense and thick, but tender. Overall this is good, but I feel like the chicken could be improved.
Taste 2: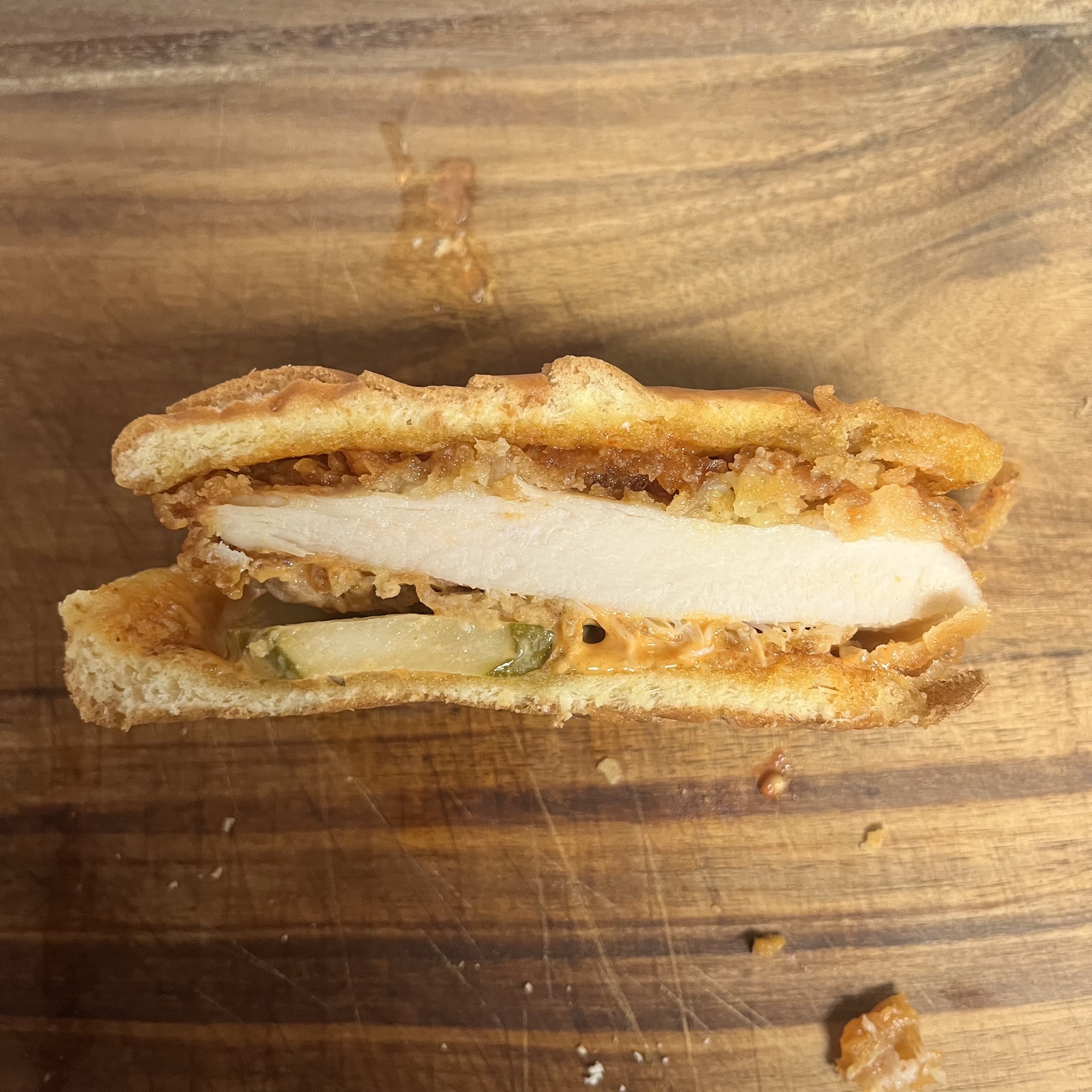 The spice is a little more pronounced here, I can really taste the cayenne but it seems to me like it's coming entirely from the sauce and not the chicken itself. The chicken is the real star here though — it's tender, juicy, crunchy, and has a hint of sweetness to it that pairs really nicely with the spicy sauce.
Pickles help balance out the sandwich with some brine-y tang, overall I think this one is simple but really well put together. With just a few ingredients it checks all the boxes: spicy, flavorful, with an earthy counterbalance that keeps the spice in check. Food doesn't have to be a dare to be delicious, and this is one of the most approachable spicy chicken sandwiches I've ever had.
Taste 3:
What jumps out immediately with this sandwich is the amazing mouthfeel. It's highly textured and the chicken is incredibly crispy, with an airy cornstarch (or panko) like breading paired with some crisp toppings, on a super soft small unobtrusive bun.
The chicken is tender and juicy and the heat is pronounced, building in intensity the more you bite into it. It's delicious but slightly flat compared to the last tasting.
Taste 4: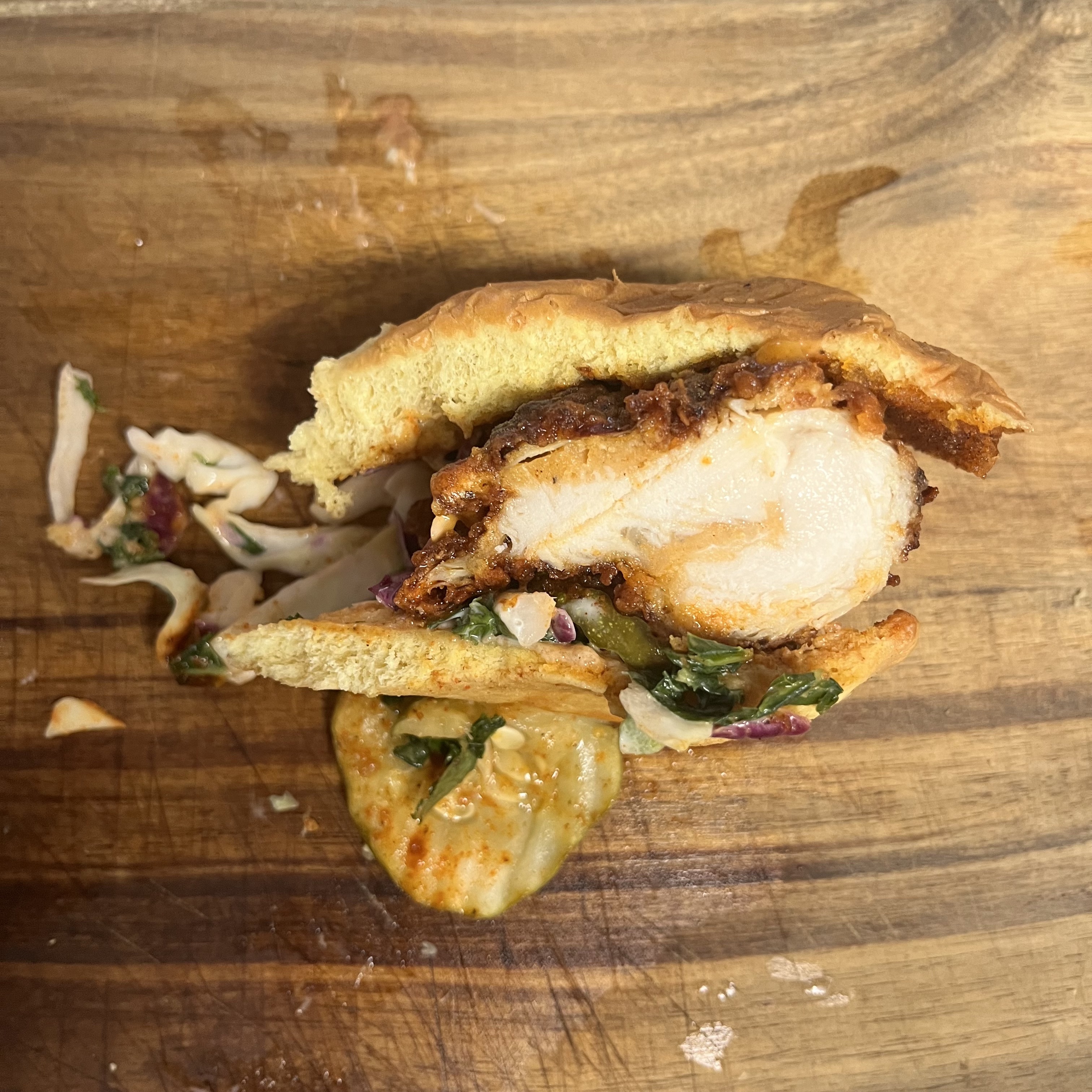 My first bite was bread. My second bite was bread. Finally, I got some chicken on the third bite and was immediately attacked by intense levels of heat. I already know which sandwich this is, it's Dave's — it has that unmistakable Nashville hot chicken seasoning.
The slaw in this sandwich is great, a mix of cabbage and kale, and the sauce adds a mixture of tang and sweetness, but once you have the chicken it's all you can taste. It completely overtakes the sandwich.
Part 2: The Spicy Chicken Ranking
4. Chick-fil-a — Spicy Deluxe
Spice Level: 3
Chick-fil-A was once the gold standard of fast food chicken sandwiches, but we live in a world where you can now find a great chicken sandwich at so many different restaurants that now. In 2023, this sandwich just comes across as a bit boring.
It's delicious, don't get me wrong, but it feels a bit too clean. Too manicured. The lettuce is a terrible addition, it gets soggy and ruins the sandwich, and most of the heat comes from the pepper jack cheese, not the chicken itself.
In terms of how Chick-fil-A could improve this sandwich — I'm not sure it can or needs to. The best thing to do is pick your favorite Chick-fil-A sauce (maybe buffalo) and start dipping your sandwich in it, or just add bacon!
The Bottom Line:
A great sandwich, but a bit tame and boring compared to the competition.
Find your nearest Chick-fil-A here.
3. Dave's Hot Chicken — Hot Chicken Slider
Spice Level: 5
Part of me thought Dave's might take the top spot. It is without a doubt the spiciest chicken sandwich in this lineup, and if you're so inclined, you could order it up to two heat levels above hot (Extra Hot and Reaper). But where this sandwich fails is the build.
Putting a chicken tender between two pieces of bread and calling it a sandwich is a stupid move — look at the cross-section cut, most of the meat in this sandwich is in one tiny little spot. So why have the bread in the first place? All it does is make the heat a bit more bearable, it doesn't really add anything to the experience of eating this chicken tender.
The Bottom Line:
A great flavor, and the spiciest sandwich we tried today, hands down. But the build holds it back. It's better as a tender than a sandwich.
Find your nearest Dave's Hot Chicken here.
2. Shake Shack — Hot Chicken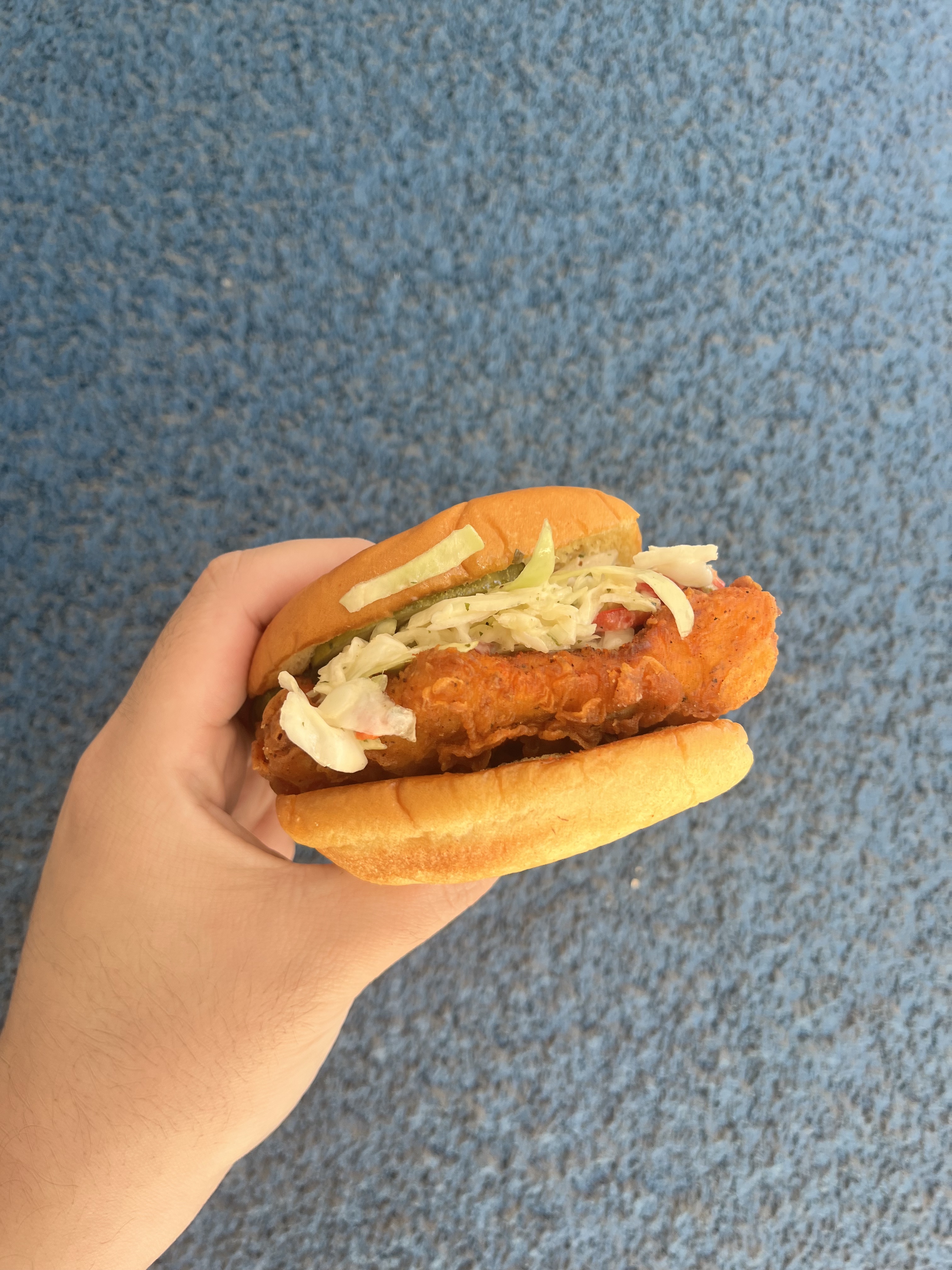 Spice Level: 4
I still stand by what I wrote in my full review of this sandwich — it's the best spicy chicken sandwich to drop… in 2023. The Hot Chicken sandwich is easily Shake Shack's best chicken sandwich on the menu but when compared side by side to our number one choice, it just didn't offer an as enjoyable eating experience.
It's spicier than our number one choice, so if you hold heat above flavor, this will be your best choice. But our number one had a better flavor and more tender chicken, and in my book, you can't beat that.
The Bottom Line:
I was rooting for this one but the king is king for a reason.
Find your nearest Shake Shack here.
1. Popeyes — Spicy Chicken Sandwich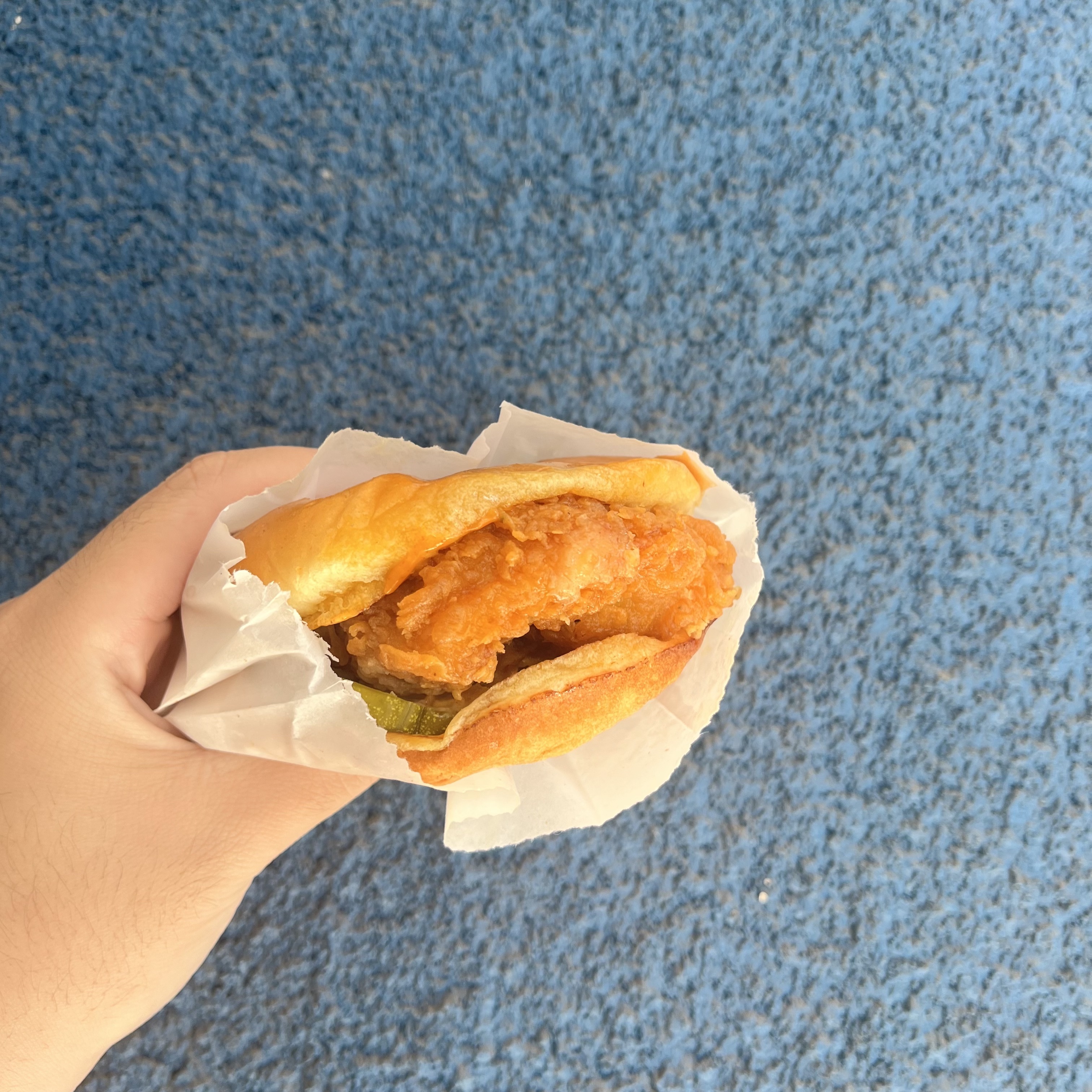 Spice Level: 3.5
It feels entirely predictable to say Popeyes has the best chicken sandwich in all of fast food but… it is. It's not the spiciest sandwich you'll eat, hell, it's definitely not the most attractive, it looks less appetizing than all of the other sandwiches, but Popeyes really did knock it out of the park with this sandwich. It's perfect, from the flavor of the chicken to the simple build (meat, pickles, sauce).
The chicken here is tender and melts in your mouth but what really sets it over the edge for me is that tinge of sweetness. It's not too sweet like honey chicken, but that hint of butter and sweetness that this sandwich is working with is the perfect counter to the spiciness. Together, the flavors combine to make something greater than the sum of its parts.
It took actually having this sandwich once again to help me realize how delicious it truly is. If you don't remember how good Popeyes chicken sandwich is, do yourself a favor and order it for your next lunch break.
The Bottom Line:
Popeyes retains the crown. The heat is accessible and inviting but present enough that it doesn't disappoint, and the chicken, from flavor to texture, is perfect. Popeyes spicy chicken sandwich isn't overrated — it's properly recognized as fast food's best chicken sandwich.
Find your nearest Popeyes here.