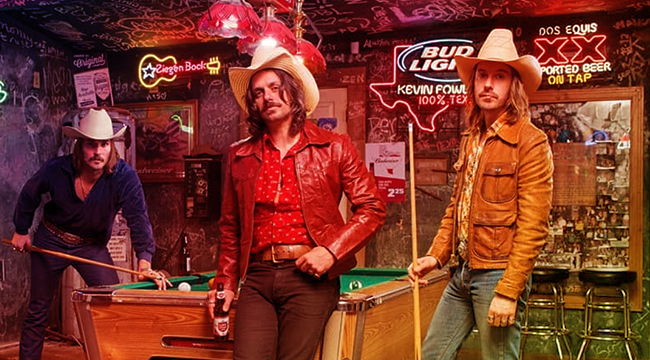 Here at Uproxx, we love a good ol' honky-tonk almost as much as we love summer itself. And the two fit together as naturally as, well… beers and twangy country tunes. But honky-tonk knowledge is like a centuries-old cooking technique: It's either handed down or discovered through trial and error.
With this in mind, we thought, "who better to tip us off to some of the nation's best honky-tonks than Midland?" The Texas-based country trio only got together in 2013 (after a decade of friendship and some late nights jamming), but they've quickly made a huge splash. Their sound combines old-world country with a laid-back, almost yacht rock-ian chill. Cowboy-chic and wildly photogenic, bandmates Mark Wystratch, Cameron Duddy, and Jess Carson exude a good-natured vibe and sense of humor that evokes laconic film heroes of the silver screen. Like three different versions of Paul Newman in Hud.
The neo-traditionalist band is currently on tour in support of their Billboard-charting album On The Rocks. Check their recommendations below but be warned: This list is dramatically weighted toward the Lone Star State. What else would you expect from a crew of Texas-based troubadours?
Poodie's Roadhouse – Driftwood, Texas
Poodie's is where we cut our teeth, it's our local spot and will always have a special place in our hearts. Just the fact that they let us play there, in the beginning, was such a privilege.
It's no wonder that playing Poodie's was a big deal for Midland. Having hosted music legends like Willie Nelson and Billie Joe Shaver, Poodie's has a rich history of providing a platform for some of Country music's favorite performers. This is a legendary Texas dive that serves expectation-defying American classics amongst Tex-Mex inspired appetizers in a rowdy setting that's always loud and never boring.

Billy Bob's – Ft. Worth, Texas
It's America's largest honky-tonk and it's been one of country music's Mecca's for decades. We've now played there twice and shot our Burn Out music video there. It's a part of our story.
Billy Bob's is another legendary Texas spot that has a long history of legendary performers gracing their stage. Housed in what was once an open-air barn built in 1910, Billy Bob's is home to live pro bull riding and has been seen a number of times across the small and big screen — showing up in Walker Texas Ranger and Over the Top, the beloved Sylvester Stallone arm-wrestling-trucker-movie.
Broken Spoke – Austin, Texas