Switching Scenes is brought to you by Boost, a brand that knows the best experiences come when you change things up.
There are those who claim playground basketball has died. That the days are gone when streetball icons like Rafer "Skip To My Lou" Alston, Larry "The Bone Collector" Williams, Ed "Booger" Smith, Billy "The Kid" Harris, and Earl "The Goat" Manigut could make huge names for themselves because of their stone cold talent and show-stopping style. But true hoopers know that the game is very much alive and well. All over the country, there are courts that preserve the creativity and spirit of the game for future generations.
The top-flight streetball runs are all cut from the same cloth and the energy is still as switched on as it always was. Players bring style plus skill and season the mix with trash talk. Crowds pack the sidelines — practically in bounds when the action is heated — letting players know when they're on and when they're not.
Watching these games is to witness true freedom on the basketball court. There are no coaches barking play calls and no need for organized sets. Players run pick and rolls, back door cuts, lobs, and above all one-on-one showdowns. Above all, it's about the love of the game.
So while scoring tickets for Madison Square Garden and Cameron Indoor are a must, seeing a run at these free venues should also be on your #HoopGoals list. These are the courts that show basketball at its roots — with players who simply battle for bragging rights on a daily basis. Watching these games, you'll be reminded of basketball's soul and fall in love with the game all over again.
Venice Beach Courts — Los Angeles, CA
Venice is the signature outdoor basketball experience. With its picturesque SoCal beach setting, the area is a classic tourist checkpoint. But while these courts have made cameos in movies, the games are for real. In its heyday, Venice was the proving ground — not only for LA hoopers — but players from all over. Don't let the palm trees and seabreeze fool you, these games had as much grit and intensity as they did style and showmanship.
Organized games and an abundance of gyms have hampered the quality of the regular runs at this court. But the recently formed Venice Basketball League (VBL) offers up a new forum that should get you excited to catch games there this summer.

Angels Gate — San Pedro, CA
One thing streetball does well is stoking the imagination. From the free-wheeling play to the animation of the environment — you get an experience that just doesn't happen in a gymnasium. It makes you dream. And few courts offer as beautiful a setting as Angels Gate Park in San Pedro. It lives up to its name. If the basketball Gods constructed theater for the game to be viewed from the heavens, it would be here.
Watch players fiercely compete while the evening sun sets into the Pacific. There is no more visually cool place to play….or watch.
Mosswood Park — Oakland, CA
Historically, Rucker Park in New York is deemed the epicenter of playground basketball. But not far behind in the sport's lineage is Mosswood Park. From the college days of Bill Russell to the formative years of Gary Payton and Jason Kidd, all the way to Damian Lillard, "The Wood" has a remarkable legacy of greatness.
The game there is played with pride. You must be able to put the ball in the hole, and yes, you'd better D up. Oakland players are cut from a different cloth, where basketball has served as an escape from the tough streets of the area. Make your way to Mosswood and you'll find games played with a spirit that has endured for generations.
Jackson Park — Chicago, IL
Chicago has a rich history of basketball — beyond the championships that the Michael Jordan-era Bulls brought to the city. And on the Chitown blacktops, there were players like Tim Hardaway, Derrick Rose, Anthony Davis, and even a young Barack Obama, honing their respective games.
At Jackson Park, aka "The Cage", hard crossovers and called bank shots are a staple. Perched beside nearby Lake Michigan, these two courts offer regular runs whenever the Chicago weather warms up.
MacGregor Park — Houston, TX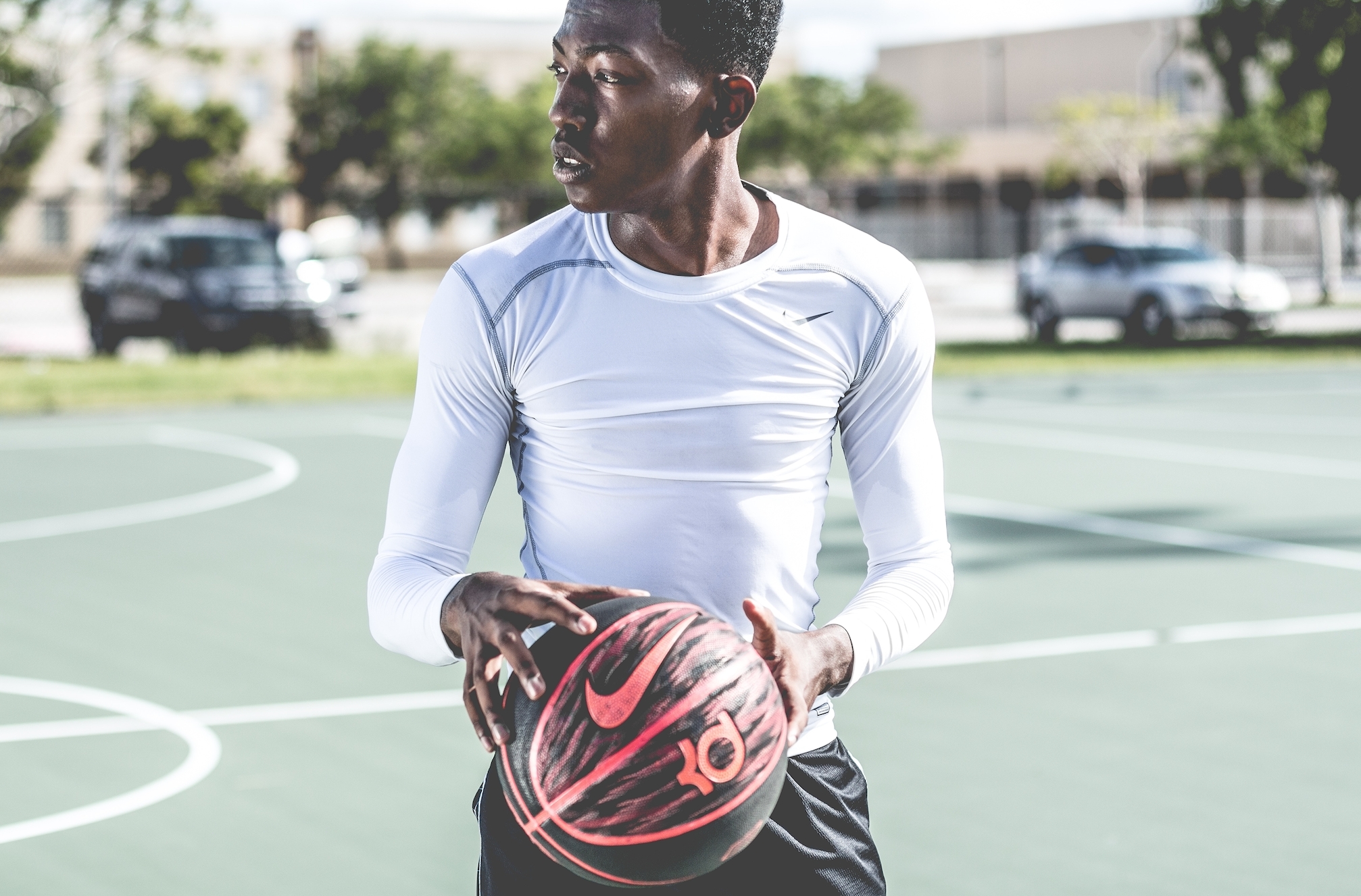 Head down to Texas and you'll find much more than football. Basketball has been a way of life way back to when Hakeem Olajuwon and Clyde Drexler put H-Town on the map with Phi Slamma Jamma. For decades, the best games and best players made their way to Macgregor Park.
As playgrounds go, Macgregor is truly unique in its layout. Set just across the street from the University of Houston, there's no shortage of talent. Open air courts, covered with a tin roof, with signature arches that line the perimeter give it an old school fieldhouse vibe, while you watch new players kill it on the court.
Rupert Bell Rec — Winston Salem, NC
North Carolina has had a deep and passionate love for basketball that spans across generations. With blue blood college programs like Duke and North Carolina (along with North Carolina State and Wake Forest) cultivating a bevy of wildly athletic, masterfully skilled players like David Thompson, Chris Paul and yes, the GOAT himself, Jordan, the game is in the region's DNA.
In Carolina, ball is life, and names are made at the Rupert Bell Rec Center in Winston Salem. The game is a family affair — at Rupert Bell you'll find bbq's and fans, young and old, lining up to watch players show off their game.
Barry Farms — Washington DC
A pillar of basketball culture is the treasure box of talent that comes from the DC/Maryland/Virginia area. From one of the greatest prep programs ever at Dunbar High School to a pipeline of truly gifted players (see Reggie Lewis, Steve Francis, Carmelo Anthony, Kevin Durant, Rudy Gay, and Victor Oladpio), there's something special about the area.
The place to go to see raw talent in the region is Barry Farms — home of the Goodman League. The surrounding community rallies together to support the game and the players who play in it. Hoopers from high school on up to the pro level come through to Barry Farms to test their merit. Here you'll find some of the finest summer games played anywhere in the country.
16th and Susquehanna — Philadelphia, PA
There's something about Philly players, they play every game with supreme confidence and approach every possession like it's do or die. For years, the place where it's gone down in Philadelphia is at the 16th and Susquehanna court.
Like so many streetball outposts, 16th street isn't what it once was. At one point, every Philly great from Wilt to Sheed came out to hoop here, at times with whole city watching. But as a place to witness the history of the sport, 16th and Susquehanna deserves a visit.
Dyckman — New York, NY
Dyckman is the current torchbearer representing the deep tradition of streetball in New York. The spirit of the city is on display in Dykman league's games. Even with the rise of organized ball and travel teams, the neighborhood streetball game is still alive and well here in Washington Heights.
Dyckman in the summertime is flat out electric. That's when the who's who of players come out to ball. For hoopers, these runs demand super slick handles, man up defense, and the ability to finish above all else. You never know who will show up at Dyckman, but one thing is for sure, all will show out.

The Rucker — New York, NY
All conversations about street ball begin and end with The Rucker. Holcombe Rucker, a local teacher, started a neighborhood basketball tournament there in 1950 to keep people out of trouble. And The Rucker was, in large part, where the story of basketball was written. Heroes of the game were born and raised at The Rucker. Crowds filled up bleachers and spilled out into the surrounding area. Summertime at The Rucker was a quintessential New York experience of the sixties and seventies.
Titans of the game, Kareem and Dr J along with Connie Hawkins and Manigut, would roam these courts. If Madison Square Garden is "the world's most famous arena," the Rucker is the most legendary. The true art of the dunk was seen here. The crossover was unleashed here. Generation of stars got their starts on this blacktop.
This spot represents everything the game was and everything it can be.