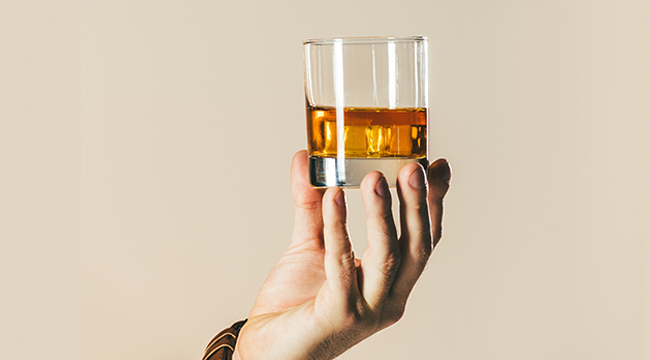 Game of Thrones fans have been muttering, "winter is coming" for a decade now. But this time of year, there's another phrase on everyone's minds: spring is here. Even though it seems like Punxsutawney Phil lied to all of us about an early spring, it won't stop the warm weather from arriving (eventually). The days where we can slowly sip whiskey and take full advantage of the three S's — sweatpants, slippers, and Snuggies — are waning.
Since this winter has seemed longer than sitting through every Avengers movie back-to-back-to-back, you've probably already had your fill of rye and bourbon and maybe even single malt Scotch. Let's finish the season strong with peated whisky (and whiskey). This style is known for its smoky flavor — derived from peat (oil-rich slabs of soil) which is burned to dry the whiskey and gives off pungent smoke. Much of it comes from the island of Islay off the coast of Scotland. This is where Ardbeg, Laphroaig, Lagavulin, Bruichladdich and other famed Scotch brands are produced.
But it's not just the Scots making peated whisky. You'll find offerings from all over the US, Ireland, and beyond. Check out some of our favorite bartenders' go-to bottles below.
Lagavulin 16 Year
https://www.instagram.com/p/BsxNvgNDVM8/
Jack Keane, general manager at Sundry and Vice in Cincinnati
"Neat I'm drinking Lagavulin 16 year, it has a perfectly rounded body with great smoke. Laphroaig is great for blending in cocktails because it becomes a sum of the parts than Lagavulin which can take over a cocktail."

Bowmore 15 Year Old
https://www.instagram.com/p/BrySz-XHkdA/
Mike Raymond, owner of Reserve 101 in Houston
"I have two: For a peated whisky that's readily available just about anywhere, I love Bowmore 15. I'm a huge fan of how sherry casks play with peated scotches. For a limited release, I remember a few years ago Ardbeg released its Auriverdes for 'Ardbeg Day.' It's got beautiful chocolate covered macadamia nut flavor going on."
McCarthy's Peated Oregon Single Malt
https://www.instagram.com/p/BoUi6QVhKOY/
Adam Weisblatt, CEO of Last Word Hospitality in Los Angeles
"McCarthy's Oregon Single Malt. Though it's a far cry from the traditional peated whiskeys from Islay in Scotland, McCarthy's is one of the most unique distilled products on the west coast. I love that the distillers at Clear Creek (who produce this product) sourced peated malted barley from Scotland, and then created their own distillate in Oregon and aged it in Oregonian oak. Not as aggressive or saline as true Islay, but the smoke and cereal is there — and it's a beautifully textured and tasty whiskey."
Lagavulin 12 Year
https://www.instagram.com/p/Boj_nccllhh/
Shawn Stanton, bartender at Public House in New York City
"Lagavulin 12 Year Islay single malt scotch whiskey. It is cask strength at 57.8 ABV, but extremely smooth and easy to drink! It's smoky like you want a peated whiskey to be but still has citrus notes and a hint of caramel."
Talisker 10 Year
https://www.instagram.com/p/BpSCUXdHGMd/
August O'Mahoney, bar director at Baltaire in Los Angeles
"What's my go-to peated whisky and why? Talisker 10 Year. It has peat, but in balance, and a pretty insane complexity, while still being approachable."

Ardbeg Ten
https://www.instagram.com/p/BnF59hKg4P_/
Spencer Elliott, head bartender at The Boogie Room in New York City
"Ardbeg Ten is my go-to peated whisky second only to taking a bite out of some moss. With warm smoke and beeswax start, toasted vanilla finish — this whisky is pleasing from the first sip to the very last drop."
Connemara Peated Irish Whiskey
https://www.instagram.com/p/BsWg3J5hzbA/
Hope Ewing, bar director at Rappahannock Oyster Bar in Los Angeles
"What's my favorite peated whisk(e)y and why? Because I'm a g-d contrarian: Connemara Peated Irish Whiskey."
Bowmore 12 Year Old
https://www.instagram.com/p/BmM8bMtA7p5/
Marcus Cosio, bartender at Andiron Steak & Sea in Las Vegas
"My favorite peated whiskey is Bowmore 12. I remember reading in 'peated' scales that Bowmore falls along the mid-range for being 'peaty.' Falling in that range makes it a delicious, peated, well-balanced scotch whiskey."
Westland Peated American Single Malt
https://www.instagram.com/p/BDuVrYjGLR8/
Will Benedett, director of bars at In Good Company Hospitality in New York City
"What's my favorite peated whiskey? Peated Scotches are fantastic, but I've really been enjoying a peated American single malt from Westland. It's fabulous. The peat has a bit more character thanks to the malty body of the whiskey. This gives it a nice length without being too heavy on the pallet."
Ardbeg an OA
https://www.instagram.com/p/BvFaNfxnp18/
Rus Yessenov, lead bartender at Honey Salt at Parq Vancouver
"What is my go-to peated whisky? Ardbeg an AO, because it boasts a huge character with sharp edges, highlighting the terroir."

Laphroaig 10 Year Old
https://www.instagram.com/p/BvGqBjmH1Rp/
Josh Cameron, head bartender of Boulton & Watt in New York City
"I love Laphroaig for both flavor and nostalgia, given it was one of the first Scotches I ever tasted — yes, at a club. For me, it is the perfect light-a-cigar and bring-yourself-to-the-present (next to a fireplace, if you can) scotch. That smoke doesn't hide.