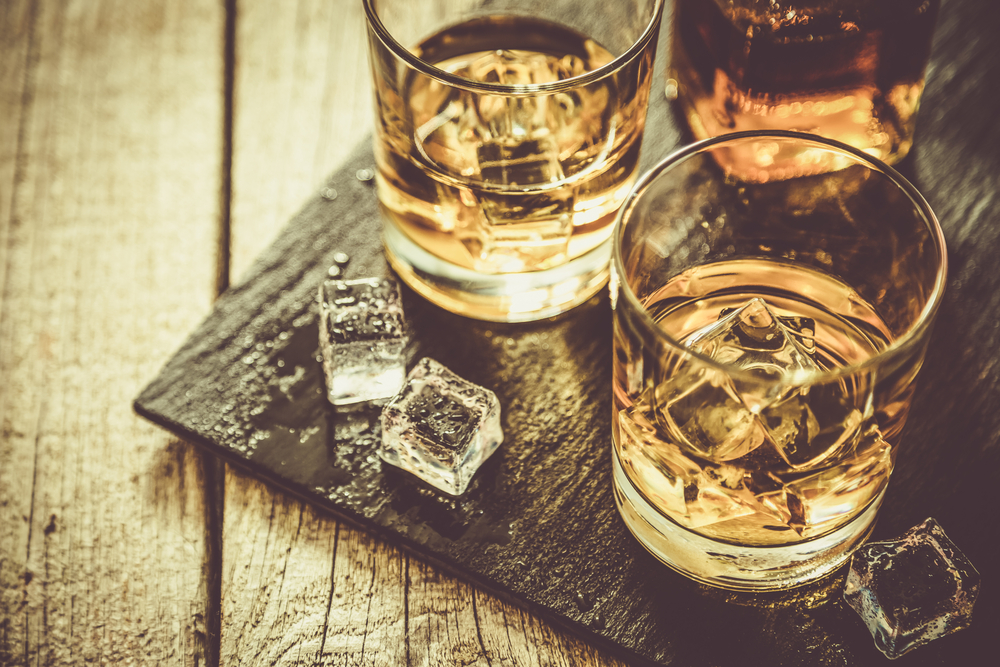 Oh, how we love to rank the things we love. And, oh, how we love whiskey (and whisky). Put those two things together and you have yourself something worth arguing over late into the night while enjoying a nice bottle glass of the caramel-colored stuff. Yet it's all a little futile at the end of the day. We all come to the tasting table with palates at different stages of refinement and our own entrenched tastes.
Which brings us to: Ranking shit. Public opinion often casts the deciding ballot about what's good and what's swill. It's not ideal and we don't have to listen to the masses, but that's often just the way things go.
Over at Ranker, they asked their users to rank whiskey. Just regular, old whiskey with or without the extra 'e,' regardless or variety or appellation. The list turned into 21,000 people voting on what they like to drink. So this isn't a list of the best whiskeys (whatever that even means) or which is better scotch or bourbon (whatever that even means). It's just what people who drink whiskey like to drink — @ them, not us.
10. JOHNNIE WALKER BLACK LABEL
Johnnie Walker Black is the gold standard of blended scotch whisky. Johnnie Black is a step up from the highly mixable Johnnie Red and serves as a decent place to introduce yourself to blended scotch. It's not overly peaty or smokey and has a nice sweet edge that leans towards toffee.
9. GLENFIDDICH
The whiskies over at Glenfiddich range from 12 years old to 50 years old. That's a long time in a barrel. Glenfiddich 12 is the bottle you're most likely to run into at your local bar. The single malt scotch is aged in oak and gives off a hint of pear tangled inside all that peaty smoke.
8. JACK DANIEL'S
Well, yeah. Given this American whiskey's popularity worldwide it's kinda surprising it's ranked this low. The iconic Tennessee whiskey is a standard-bearer of the American, corn-fueled format and has an easy taste with hints of banana, caramel, and oak. Yes, you read that right — banana.
7. CROWN ROYAL
Crown Royal is the king of Canadian whisky. In fact it's a blend of 50 different Canadian whiskies. It's nice and oak-y and has a good hit of vanilla on the nose and taste.
6. KNOB CREEK
Knob Creek is a small batch Kentucky bourbon. It's aged for nine years in very charred oak. It's a strong one too, clocking in at 100 proof (50 percent) alcohol, and gives off an almost fruity taste.
5. THE GLENLIVET
This classic scotch whisky comes in many forms. The most recognizable are the 12, 15, and 18 year old bottles. The 12 year old is considered one of the most classic and widely available single malt scotch whiskies on the market and has a deeply smokey texture with a nice hint of fruit.
4. THE MACALLAN
The Macallan is a premiere scotch whisky that leans heavily into high refinement and deep, dark flavors. The 12 year old Double Cask blends two single malts — one from American oak sherry cask and one European oak sherry cask. When united, the sherry cask gives of a lot of vanilla and a hint of citrus to meld with all that smoke.
3. MAKER'S MARK
This Kentucky straight bourbon is another American classic. The red wax over the cork is as iconic as it gets. Maker's Mark is barrel-aged, giving it hints of caramel, vanilla, and fruit that make for one of the smoother bourbons on the market.
2. JAMESON IRISH WHISKEY
Jameson is the cornerstone of Irish whiskey. This triple distilled spirit is refinement in a bottle. Jameson Original is the perfect bridge whiskey: in that it works both straight and as a mixer for any cocktail or highball. That third distillation makes it super smooth and four years in sherry barrels gives it a blend of floral, spicy, and sweet notes.
1. WOODFORD RESERVE

And, finally, the winner. This is a solid Kentucky straight bourbon. Woodford Reserve has a long and storied history in Kentucky and they make a strong whiskey that pros and consumers both love. It's also probably one of the more complex entrants on this list. The bourbon does have strong hits on the usual suspects — floral and vanilla — but you'll also get notes of tobacco, cinnamon, and caramel. It's not a bad pick to have at number one, all in all.