"In many ways, Fresno is a city built on tacos," Mike Osegueda, aka Mike Oz, tells me over tacos (what else?) late one evening.
If it had been someone else saying it, at some other time, I almost certainly would've dismissed it as the kind of mostly nonsensical hyperbole that frequently pollutes press releases. Only in this case I didn't, because, for one, I had already spent half an evening with Oz, and by that point, I knew he wasn't prone to that kind of soundbite speak. And for another, at that moment, that particular kind hyperbole actually made a sick sort of sense. Maybe it was the tacos.
I was sitting with Oz, co-creator of Fresno's Taco Truck Throwdown, which will hold its 11th titular event on October 1st, in a major intersection in Fresno at the time. We were eating tacos at one of two unlicensed pop-up stands that had set up in the parking lot of a formerly vibrant commercial space. As a kid I used to come to a store at this corner to buy books. Two tents now occupied the parking lot, about 100 feet apart, both selling basically the same thing. ("These are the best tacos around, homemade tortillas!" exhorted one guy working a plancha, wearing sunglasses even though it was almost midnight).
This had been kind of a theme for the evening: eating incredible tacos from mobile taco stands in locations that seemingly didn't have much going on there besides tacos. In LA, and most other cities that seem to have food trucks in general and taco trucks specifically, those trucks generally set up near popular bars and well-trafficked nightlife strips in order to capitalize on the foot traffic they bring. The curious anomaly of Fresno is that taco trucks seem to spring up pretty much any damn place with enough space to fit them.
We'd already been to three or four taco trucks that evening. One in the parking lot of an oil change shop, another just set up in a field on an empty lot, with lights shining like a taco beacon. Without exception, none of the locations had any obvious pedestrian traffic to speak of. Fresno, located in California's Central San Joaquin Valley, almost the perfect halfway point between San Francisco in the north and LA to the south, is a sprawling city, spread out and suburban, like Houston or Jacksonville. I'd go so far as to say that a lot of these trucks had set up in some of the least foot-trafficked blocks in one of America's least foot-trafficked cities. And yet, even after 10 pm on a Thursday, when we were there, most seemed to have plenty of customers, drawing from all walks of life.
Which helps explain why I could not only forgive, but engage in the grandiosity of Mike Oz calling Fresno "a city built on tacos." Because in most places, taco trucks feel like a phenomenon designed to capitalize on nightlife. In Fresno, they feel like a phenomenon that generates nightlife. All over the city, in patches of derelict businesses and blighted blocks, ad-hoc taco stands sprung up, both licensed and non, sometimes with little more than a flat top grill and an extension cord. In one spot just east of the Tower District (one of Fresno's oldest and probably its hippest neighborhoods) there was a defunct gas station that had been turned into a thrift store, which in turn became a taco stand after dark. This kind of grassroots mixed-use zoning happens all over the city, in a way that's hard not to appreciate, even when some of the blocks surrounding it look like sets from Children of Men.
It's this kind of charm — not to mention the abundance of really good tacos — that inspired Mike Oz to create Taco Truck Throwdown 12 years ago, along with Sam Hansen. Oz was a baseball writer at the time, and Hansen was a graphic designer for the Fresno Grizzlies, united by their love of tacos and a dream to create an event that could properly celebrate them. For the event, the Fresno Grizzlies minor league baseball team rebrands as the Fresno Tacos (complete with much sought-after merch) and the food trucks take center stage for a taco contest in what the Fresno Bee has called "one of Fresno's signature events." (There's also music and other performances — this year's event will have Bone Thugs-n-Harmony, Foos Gone Wild, and Lucha Extreme Wrestling)
Back in 2016, I got to be a judge, which required sampling almost 30 tacos (probably TMI, but I weighed myself before and after a bowel movement the next morning, and I was literally five pounds lighter). This year's contest, scheduled for October 1st, has 25 entrants. Which sounds like a lot, until you drive around south Fresno for a night and see how many taco trucks there actually are out there. Oz estimates that on any given night, there are "at least a hundred taco trucks" operating within a 30-minute radius. From what I witnessed in the course of our Taco Ride Along, 100 seems conservative.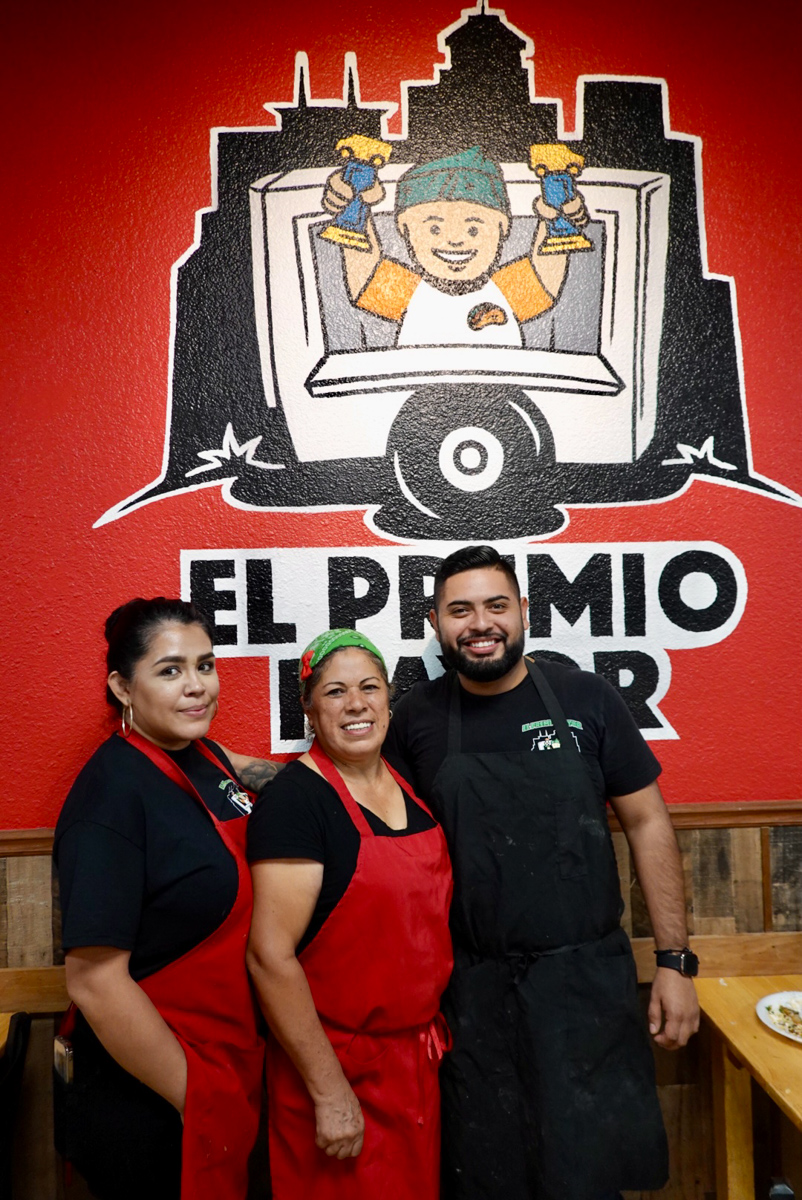 The team, and iconic logo, of El Premio Mayor
Our first stop was El Premio Mayor, currently a brick-and-mortar operation with two locations and two trucks, a burgeoning taco empire that began as a flat top grill hooked up to an extension cord running from Belén Ramirez's apartment in the Yosemite Village Apartment complex 26 years ago. This operation eventually grew into a taco truck, and at the first Taco Truck Throwdown in 2010, El Premio Mayor took home first place.