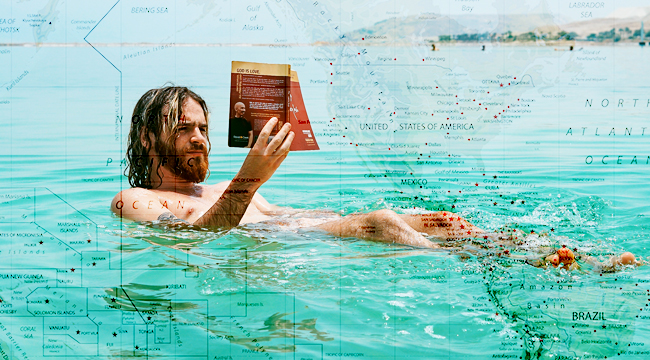 As the seemingly never-ending darkness of winter continues unabated, it's natural to daydream about the feel of the sun warming your bare skin and the sensation of powder-fine sand sliding between your toes. This vision doesn't have to be a daydream. Winter is the perfect time to go on a beach adventure and not just because your seasonal affective disorder demands vitamin D like a mofo. It's also a good time because you can get a hella cheap flight.
We gathered ten of the world's best beaches and considered flight prices and the cost of living to give you some options for chasing the sun that won't break the bank. Many of them are in the Caribbean because their proximity to the United States and their stunning beauty make them surefire options, but we included a few in other parts of the globe too.
Have a look see, get inspired, and buy yourself a ticket. There's no time like now. Heck, you can justify it as a positive step toward increased mental wellbeing. People are always touting self-care, so get into it.
Chileno Beach: Los Cabos, Mexico
Over the last few years, Los Cabos has seen a considerable increase in international tourism. People are drawn to its affordability, for sure. The cost of living in Mexico is 52.55 percent lower than it is in the United States, which means food and entertainment money can go pretty far (especially if you opt to buy groceries and fresh seafood and forgo restaurant meals). Couple that with the gorgeous natural scenery and many fun activities and you have a winner.
When spring breakers hit this part of Mexico, they flock to Médano Beach, but locals know that Chileno Beach is where it's freaking at. Considered one of the cleanest beaches in the region, Playa Chileno isn't surrounded by noisy bars and restaurants, so it's not really a party beach. Instead, it's a great place to snorkel and relax, as the calm waters make swimming and scoping out underwater life feel easy. Be sure to take some time to check out the tidepools, and if you're there during whale season (December-April), listen for their songs underwater.
Flights for February start at $185 from Los Angeles.

Playa Knip: Westpunt, Curaçao
https://www.instagram.com/p/0WWsi2B5rn/
If you're interested in the Caribbean and concerned about your budget, Curaçao is one of the region's more inexpensive islands. You can get all of the stunning beaches and Dutch architecture you want without the higher prices that tourists generally pay in the area. If you want to drink domestic beer, you are going to shell out roughly two dollars a pint, but that's not that bad when you consider the prices a tourist generally faces in a tropical paradise or a trendy resort.
Playa Knip is a small beach that's also a fave among locals, though it has been lauded as a favorite among travelers as well. The west side beach is perfect for sunbathing, snorkeling, and swimming. Strong swimmers can make it to a nearby reef to explore, but those who aren't able to get that far will find plenty of good snorkeling near the rocks on either side of the beach. Keep an eye out for a batidos stand, selling fresh fruit smoothies to drink while sitting on the pristine white sands and staring out onto the aqua blue waters.
Freedom Beach: Phuket, Thailand
There are more than thirty beaches in Phuket. They're the major draw for most tourists who flock to the Thai island. And each is a little different, so you can sample a few situated close to luxe resorts, others that are nestled against jungle backdrops, and even beaches walking distance from go-go bars. There is no shortage of options. Plus, you can get an inexpensive restaurant meal for just over three dollars in Phuket, so between the cheap food and the free beaches, you can really make your travel dollar stretch.
Freedom Beach is a rather exclusive strip of sugary white sand situated in a bay that is punctuated with craggy rocks and ringed by jungle-covered hills. Fit people can reach the beach via the road, but those who aren't quite up to it will have to take a long-tail boat from a neighboring beach. It's worth the trouble because this is one of the last beaches in the area where it's possible to get away from the crowds and relax.
This is also another great area to do some snorkeling. The shallow waters near the beach are full of beautiful sea life and the occasional (harmless) black-tipped reef shark.
Flights for February start at $424 from Los Angeles.

Playa Blanca: Punta Cana, Dominican Republic
Punta Cana is a playground for people who crave sun and sand. Offering some of the most beautiful beaches in the Caribbean, it offers soft, finely textured white sands and crystal-clear waters. This is why so much development has cropped up in the area, making it very easy to sprawl out at a resort for a week. But independent travelers can fare just as well with a lower price tag. With a bottle of water under 40 cents and an inexpensive meal under six dollars, food will be easy to swing and leave you enough money to try scuba diving
Playa Blanca literally translates to White Beach, so it's no surprise that the sand is startlingly bright. That's fairly common in this part of the world. What makes this beach so cool is that it isn't tied to a resort, so locals and tourists alike can take full advantage. That does mean it can get a bit busy on weekends, but a weekday visit can mean you're one of a half dozen people soaking up the rays. Also, the water is shallow, so swimming and snorkeling and that scuba diving we mentioned are great here. If you really want to have fun, we suggest kitesurfing.
Flights for February start at $211 from Miami.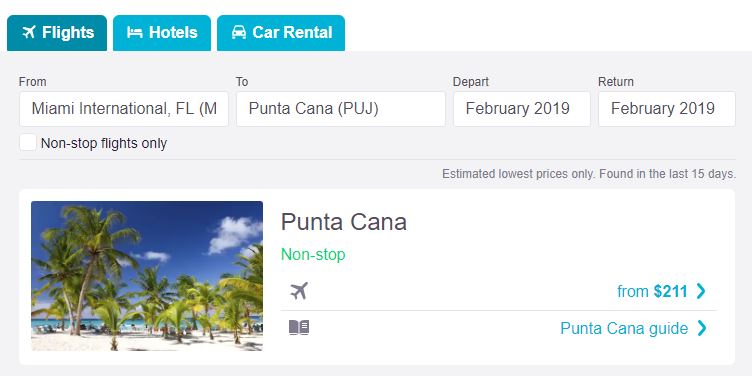 Bondi Beach: Sydney, Australia
We gotta be upfront here, Sydney isn't cheap. Domestic beer is nearly six bucks. However, Bondi Beach is one of the most famous beaches on earth and given the relatively low price for flights, it's a great time to visit. If you have the money, options like climbing to the top of the Sydney Harbor Bridge and taking in a show at the Sydney Opera House are great calls, but really the beaches and bars and restaurants are enough to keep you busy without making a major dent in your pocket.
Home to one of the oldest surf lifesaving clubs in the world, Bondi is the epitome of Australia's kickback beach lifestyle. The waves here are consistently good, even though they can get crowded, and the water remains around seventy degrees, making it perfect for splashing about. And if the waves get a bit unruly, there are also saltwater sea baths on both ends of the beach. And no worries on safety because two different groups work the beach, there's even a television show about the rescues that gets made there.
Flights for February start at $585 from New York.
El Paredón: Guatemala City, Guatemala
Guatemala boasts both Pacific and Caribbean coasts, as well as impressive rivers and lakes, making it a great destination for people who want to get wet. Although Guatemala City is a bit gritty for a lot of travelers, the city has been making an effort to be more inviting to tourists (who often forgo it entirely and set up their home base in Antigua). We think the draw of the museums and galleries and other traveler-friendly amenities makes it worth visiting, as do the awesome surf beaches that are a short distance from the capital. Plus, compared to neighboring countries that jack up prices for tourists, Guatemala City is fairly affordable. You can get an inexpensive meal for roughly five dollars.
Monterrico is a popular beach town near Guatemala City, and it's great to visit during the week when the crowds are diminished. Better yet, continue slightly further north to El Paredón, a tiny fishing village known for its surf breaks. It's a bit of a best kept secret situation, as people really like to undermine the beauty of Guatemala's beaches. Well, those people are wrong. Who wouldn't want to relax on a black sand beach surrounded by palm trees, surfboards, and hammocks? If you're a proficient surfer, rent a board and get in there. You can usually get a board for around 15 bucks a day. But the break is steep and heavy so beginners beware.
Flights for February start at $154 from Miami.
Manchebo Beach: Oranjestad, Aruba
Aruba is part of an island chain that includes Bonaire and Curaçao. But unlike its little chain neighbors, it has the highest repeat visitor rating of literally any island in the Caribbean. People flipping love this tiny spot. The capital Oranjestad sits on the west coast and it offers visitors some of the best beaches in the world. And though prices are higher than in some less-popular tropical locales, they still remain reasonable. A three-dollar cappuccino won't break the bank, especially if you're spending all of your time walking the city and hanging on the sand for free.
North of Oranjestad boasts a line of resorts that hug the coastline, and a twenty-minute walk can get you to the strand of continuous beaches on which these high-end lodgings sit. Manchebo Beach is at the westernmost point of Aruba and it is the wildest beach of those in the area. The surf is constant and brisk, but it boasts so much open space and tranquility that you won't miss the watersports. Plus this is one of the island's only tops-optional beaches. White powder sand, clear tropical waters and the chance to shed some clothes? Sold.
Flights for February start at $169 from Miami.
Playa Pena: Old San Juan, Puerto Rico
Puerto Rico has obviously faced great tragedy thanks to the September 2017 visit from Hurricane Maria. It was the worst hurricane to hit the island in 89 years, and its impact is still being felt. But that isn't a reason to stay away. If anything, spending tourist dollars there not only nets you a super fun trip, it also puts money into an economy that needs the funds to continue recovering. San Juan has a history of enduring pirates and storms and the city's vibrant art, bar, and restaurant scenes won't be undermined by any weather. It's worth noting that prices in Puerto Rico are on par with those in parts of the United States, so if you are used to paying a little over a buck for a 12 ounce Coke, you won't be getting a steal traveling to the island. But you will be on an island, versus your freezing-ass apartment in Omaha.
Playa Pena is fun because it is a bit of a secret, despite being a stone's throw from the Capital Building. And once you make your way to the beach, you'll forget all about being so close to the city. It can get a bit crowded because of its intense walkability, but weekdays make visitors a bit scarcer. We like it because of all the sea glass that you can find when you aren't jumping around in the waves. There is also a cool part of the coastline where the shallow waters flow over smooth rocks like a river. The water runs between six inches and a foot and a half depending on the tide, and it is full of tiny fish. Walk through and feel the sea life tickle your feet and ankles.
Flights for February start at $185 from Miami.
Les Salines Fort de France, Martinique
The largest city in the French West Indies, Fort de France is interesting because it has really changed recently, transitioning from a rather rundown area to a cruise ship destination. Of course, the city has long been surrounded by breathtaking natural wonders, but tourists weren't interested until they overhauled their central park, acquired some modern architecture, and gave a lot of the existing buildings a facelift. These days, the island has a ton of foodie-approved dining experiences, great music everywhere you go, and street life that is unparalleled. Because of the influx of visitors, prices aren't terribly low. Expect to pay about eleven dollars on a fast food combo meal, so thrifty visitors should consider shopping at the grocery store and making their own meals and snacks.
One of the rare quiet beaches on Martinique, Les Salines is known for also being one of the brightest and warmest as well. It's very popular with LGBT travelers, and though nudity is prohibited country-wide, people still go naked on occasion. Given how hot it gets, we can only warn you to double up on sunscreen, especially if you're sans suit. We like the concession stands that allow you to try local specialties, like colombo, a dish that uses pork, chicken, goat, or lamb in a thick curry sauce.
Note: Les Salines isn't walkable from Fort de France, so you will have to take a cab or bus, but it's totally worth it to enjoy the sugary white sands without being crushed by crowds.
Flights for February start at $208 from New York.
Pink Sand Beach: Dunmore Town, Harbour Island
The Bahamas can be spendy, and we know everyone isn't willing to throw down over two dollars for a 12-ounce soda. But, with relatively low winter flight prices and all of the time you can spend exploring the islands without spending any money at all, we think it all balances out. To visit Pink Sand Beach, fly into Nassau and then ferry to Harbour Island, one of the most gorgeous spots in the Bahamas. It's fairly small, but everything feels like an Instagram moment. From the pastel cottages to the turquoise waters, just about everything you see will be begging to be captured in a photo. The pace of the city is really slow, making it a perfect locale for recharging during winter.
Pink Sand Beach is the primary reason people travel to Harbour Island. It stretches for over three miles and is between 50 and 100 feet wide, making it feel endless. It's also, as the name clearly indicates, pink. Microscopic coral insects who live on the underside of reefs, on sea floors, in caves, and beneath rocks are crushed by waves that wash their remains ashore where they blend with the sand. It's very unusual and absolutely stunning. Plus you can walk barefoot here, which isn't something that is possible on hotter beaches. And both swimming and snorkeling are a breeze because outlying reefs slow the waves and make the waters pretty calm and shallow.
Flights for February start at $232 from Miami.
EDITOR'S PICK: South Pointe Beach: Miami, USA
So many of the flights we outlined above are routed through Miami, it seems like a no brainer to actually highlight the city itself. After all, the temperatures are in the 80s, the sand is powdery, and there's a strong sense of Latin culture. Plus, flights to Miami in February are wicked cheap — with deals as low as $57 from Atlanta, $150 from NYC, and $170 from Denver.
Lately, we've been covering some of the more land-based Miami attractions, but if you're looking for secret hideaways you could do a lot worse than South Pointe Beach Park at the very furthest southern tip of Miami Beach. The truth is that most travelers are basic and like to congregate in front of their hotels. So if you want a little space, hop on a bike, head south and stop when you hit the pier. This is where you can have a little stretch of white sand to yourself all year 'round, and where surfers head in the winter, when the waves are on.
With the money you save by not hopping an extra flight, you can afford to drop a little cash on a hotel. The Stanton South Beach still has room rates at around $300 for February as part of their winter special. They'll rent you bikes for free and their pool is situated practically on the sand. If you want to go pure hostel, you can do that for $25 just a few blocks from the Stanton.
Once you're situated, a Cuban sandwich is never more than a few bucks and drinks are actually cheap (there are so many bars that price gouging is impossible). To kill two birds with one stone, head to my favorite new Miami Beach jam: Bodega, where a street taco shack acts as a front for a hidden bar. Gorge yourself on tacos — gotta go with the barbacoa — then head through a semi-secret passageway to the lounge in the back. When I went, the bartender told me that the place didn't really get firing until 2 am. I stayed late enough to check the theory and it definitely held up. — Steve Bramucci, Travel Editor