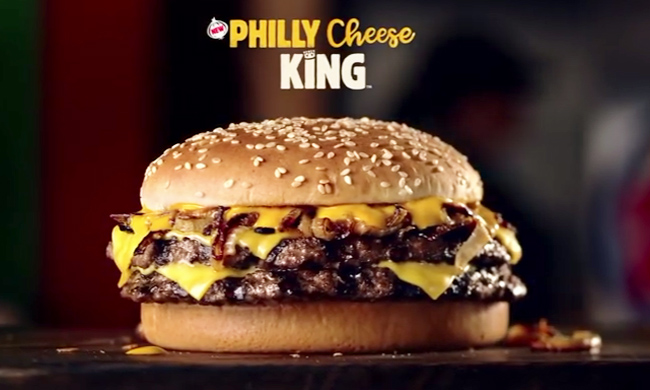 If there's one thing we can hold to be true, it's that Philadelphia takes its local culinary institutions very, very seriously — whether that be Wawa, the city's ubiquitous soft pretzels, water ice, or its cheesesteaks. Every local has a go-to favorite, from the illuminated Cheesesteak Vegas at the intersection of Ninth and Passyunk, Jim's, Tony Luke's, Dalessandro's, or any number of other hole-in-the-wall steak places throughout the city. But it seems pretty safe to say that no one's go-to cheesesteak will ever be from Burger King.
Yet this week the burger chain launched its new offering called the Philly Cheese King, a flame-grilled half-pound beef patty topped with caramelized onions and American cheese. Yes, American cheese, not Cheez Whiz, which is traditionally served on a Philly cheesesteak.
To hype the launch, Burger King sent a camera crew to Philly to gauge the reactions of skeptical "Philadelphians" who are definitely not paid actors after sampling the offering. (Obviously, the correct Philly reaction would be to say "outta here with that crap ya jabroni.")
At any rate, despite the reception the sandwich supposedly received, one Burger King Center City location at 15 S. Eighth Street is supposedly refusing to sell the burger out of so-called respect for the "traditional recipe" that consists of "grilled rib-eye, a griddle, a crusty roll, and love."
The location claims it will refuse to sell the Philly Cheese King "until otherwise overturned by the Burger King brand," although as the Philadelphia Inquirer points out, this information came from a press release actually provided by Burger King. So in other words, it's likely a marketing stunt that you can take with a grain of salt.
And this isn't even the first time Burger King has attempted such an endeavor. In 2016, the chain launched a "Philly Cheeseburger" that featured two flame-grilled beef patties, American cheese, fried onions, and a "creamy cheesy sauce" on a toasted hoagie-style bun.
Maybe they'll have better luck this time around, but any tried and true Philadelphian wouldn't be caught dead eating one.