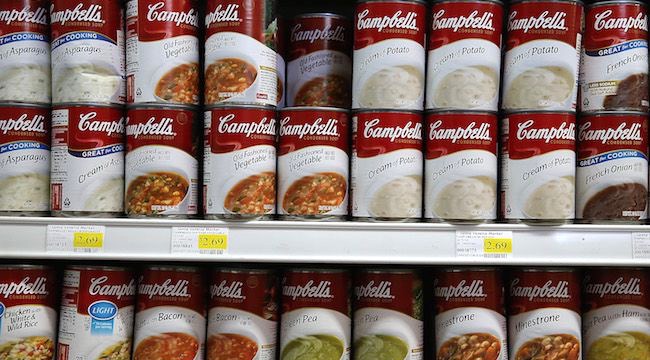 The soup titan that promises an "Mmm Mmm Good" product has elected to undergo a recipe revamp to better resemble the ingredients available in your kitchen.
In a bid to keep up with today's hip happenin' young canned liquid food enthusiasts, Campbell's is trimming the ingredient list on an upcoming variety of soup. Hard-hitting soup journalism outfit The New York Times reports that the overhaul will be done to the broth located in a limited edition line of Star Wars chicken noodle soup cans. The original ingredient list has been trimmed from 30 to 20 items with things like celery, vegetable oil and MSG getting the heave-ho.
Campbell chief exec Denise M. Morrison says the move is a case of the company "closing the gap between the kitchen and our plants." Since arriving in 2011, Morrison has worked to keep the company in the realm of current food trends and banishing unpopular ingredients is definitely one way to go about it.
Charles Vila, the man that holds the unwieldy title of vice president for consumer and customer insights at Campbell, understands why consumers might be reluctant to go along with changes in the company's soup recipe.
"It's a delicate balance because these products are beloved. Their profile has become very defined in the consumer mind over the years, so any change we make is very carefully considered."
Nervous what the future holds for the company's classic chicken soup recipe? Don't freak out just yet. NPR has been able to confirm that the change is only currently destined for the Campbell's "Healthy Kids Shaped Pasta with Chicken in Chicken Broth" offerings that are found with Star Wars and Frozen labels.

Company spokesperson Anna Burr wants you to know that Campbell's isn't going to change their "classic" soups in the immediate future, but they haven't ruled out reconfiguring things at a later date either.
"This is the first step in our journey and we are currently working on a number of our recipes, but it's too soon to give any definite timing on when changes may be made to the classic red & white chicken noodle soup."
Reminder: You're also allowed to buy any variety of soup you want and just dump extra stuff in as you see fit. Want to add a bunch of sour Gushers in your big bowl of minestrone? The power lies in your hands!
(via U.S. News & World Report)