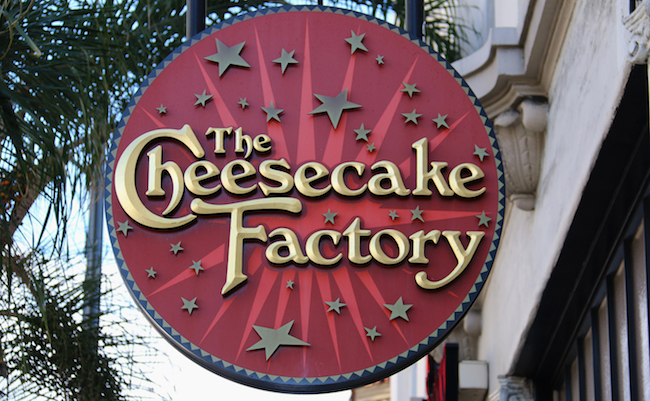 Listen here, friend: There's literally nothing more satisfying than eating a 3,000 calorie piece of cheesecake in a casual setting on the top floor of your favorite galleria (which is the correct term for any mall that has a The Cheesecake Factory). And now that America's spoken — choosing The Cheesecake Factory as the number one casual dining establishment in the country — it's more important than ever that we stop hating on the #cheesecakelyfe and start embracing the fact that there's nowhere else in the world where you can enjoy a Mexican appetizer, an Italian entree, a booze-filled milkshake, and a dessert (the milkshake is a beverage) that will actually make noises as it clogs your goddamn arteries.
Today's joyous news comes to us via Nation's Restaurant News which conducted a poll about which casual dining establishments Americans love most based on criteria such as food quality, service, cleanliness, atmosphere, and "craveability" and then ranked the top 40 restaurants in order based on these criteria. It's no surprise, then, that The Cheesecake Factory, with its many offerings and a dedication to playing today's top hits — covered by artists that almost sound like the real thing — nabbed the top prize.
This isn't the first time the restaurant has earned accolades. In March, we listed the reasons why it's such a winner — the menu makes no sense, the people-watching is amazing (particularly the breakups), and there's always the possibility of catching a celeb sighting because Amber Rose and Drake love it, too. It's nice to see that the public agrees with the assessment.
Here are a few #hotpics of the place you know you want to eat at tonight (but probably won't because the wait is like two hours and no one has time for that on a Tuesday):
Of course, The Cheesecake Factory isn't alone on the list, but it's miles ahead of both second-place finisher The Melting Pot and #3, Bonefish Grill. Sadly for Beyonce, Red Lobster has ended up at number four, followed by The Macaroni Grill (a delicious option to try right after coming to from anesthesia; source: experience).
Okay, but The Macaroni Grill is pretty good:
And so is The Melting Pot:
The biggest travesty here, of course, is that The Olive Garden (which should be right up there with the Cheesecake Factory due to its tireless commitment to hospitaliano and letting people get away with some crazy sh*t is number seven and lags behind Carrabba's Italian Grill (which you can enjoy in an airport). Seems like the public got it all wrong again!
Lets compare! Here's a picture of a dish from Carrabba's:
And one from the most authentic Italian eatery that's also mall-adjacent (never mind that it looks like it has eyes):
Don't forget them MINTS:
The list goes on and on. Rounding out the top ten are Ninety Nine Restaurant and Pub, The Mellow Mushroom, and Chevy's (which does still exist, although, sadly not three blocks away from the apartments of certain writers anymore).
If you take your casual dining seriously, you'll be safe with any of the choices above, but you may want to consider avoiding Ruby Tuesday (even though their salad bar is thebomb.com), Hooters, Chili's, and Buffalo Wild Wings (which features a drink called "The Dancing Bear," which you are only allowed two of, and which is also absurd).
Check out the full list of rankings here and then eat at a different chain every night this week!