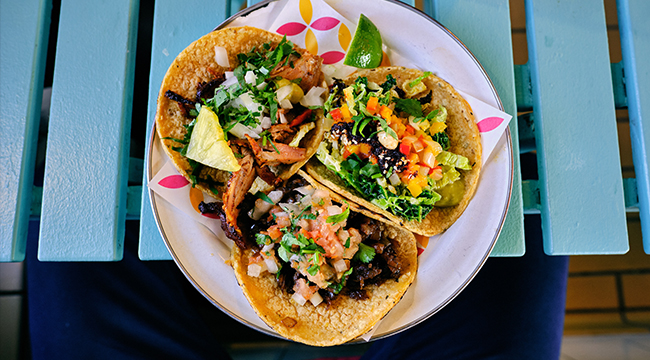 Okay, let's get this out of the way first: Cinco de Mayo is NOT a celebration of Mexican independence day, it's held in commemoration of the Mexican Army's victory over the French Empire at the Battle of Puebla. We're telling you this now before you make a fool out of yourself when you're drunk out of your mind, wrapping your arms around your friends and screaming about "Mexican independence , f*ck yeah!" while the rest of us are trying to get our Cinco de Mayo on.
History lesson aside, Cinco de Mayo may not land until Sunday, but food and drink establishments are already offering up discounts and deals that'll help you save on beer and tacos this party-fueled weekend. We've collected all the best to ensure you have a face-meltingly awesome celebration, so let's dive in!
7-Eleven — If you haven't heard, 7-Eleven now delivers beer through their 7NOW app in select cities across the country. For Cinco de Mayo, the convenience store chain will offer free beer delivery all day long. Hooray!
Bahama Breeze Island Grille — Celebrate the 5th of May all week long at Bahama Breeze with $5 classic margaritas and $10 tequila flights. This deal started this Monday, so move fast if you're itching to get your Cinco de Mayo kicking a few days early.
Bubba Gum Shrimp Co. — At the bar and lounge you can get $1 tacos and $4 Corona Extras on Cinco de Mayo only. That means for $8 you can have four tacos and a beer! A undeniably sweet lunch.
California Pizza Kitchen — Look, CPK is dope. How do we know? Because they're offering $5 Agave Lime Margaritas all day long for Cinco de Mayo. That's a great deal.
Chili's — Sip down either a Tequila Trifecta, Presidente Margarita, or a draft beer for just $5 on Cinco de Mayo only!
Chipotle — Free delivery on any order of $10 or more through DoorDash. It isn't the BEST Cinco de Mayo deal, but considering ordering a meal at Chipotle is going to cost you more than $10 anyway, you might as well not have to step foot in the cold and sterile post-industrial wasteland aesthetic of a Chipotle. You can be at home, making your fifteenth margarita and not worry about driving!
Condado Tacos — Condado Tacos know that the real way to live it up on Cinco de Mayo is to celebrate all weekend long, so they'll be hosting a two-day special, offering $1 off house margaritas, $20 house margarita pitchers, $3 draft beers, and $5 tequila shots. Translation: get real drunk, real cheap.
Del Taco — Try out the Beyond Taco or Beyond Avocado Taco for free when you make a minimum purchase of $5 through the Del Taco Del app.
El Pollo Loco — From today until May 5th you can snag $5 Street Corn Tostadas and $5 five-piece of Fire-Grilled chicken when you use this coupon at participating El Pollo Locos.
Islands Burgers — Islands is offering $2 off on all of their over rocks or frozen margaritas, including the Mangorita, and various Spiced Margaritas for the entire month of May.
Hungry Howie's — Get a one-topping pizza for $5.55 at participating Hungry Howie's locations all weekend long.
Moe's Southwest Grill — Through Uber Eats, spending $10 on your Moe's order will score you a free HomeWrecker burrito with use of the promo code FREEFIESTA. If that isn't Cinco de Mayo enough for you, the first 50 people who stop by any Moe's location on May 5th will receive a free Moe's shirt.
TGI Fridays — On Sunday only, score $5 margaritas, $5 Patron shots, and $5 Dos Equis 23 ounce beers. Thank God it's Cinco de Mayo.
Tijuana Flats — Starting today and running until Sunday, May 5th, you can score a taco and a beer, two tacos, or two beers for just $5. We'll take two beers for $5, please!

UNO Pizzeria and Grill — To use a now dated phrase, UNO saw CPK's Cinco de Mayo deal and said, "hold my cocktail." Are you done cringing yet? Good, that's how I feel anytime someone uses that sentence structure. Anyway, UNO is offering up $2 margaritas all day. What a beautiful deal.
Yard House — Enjoy either a House Margarita, Salted Watermelon Margarita, or Pomegranate Margarita for just $5 a Yard House on Cinco de Mayo