The traditional fedora-wearing (and decidedly, white and male) adventurer "Indiana Jones-ing" his way through the lush foliage of a remote jungle in search of treasure has more recently transitioned into lithe-bodied (also generally white) twenty-somethings inviting the world into tropical vistas via The 'Gram. Both are interesting and inspiring in their own ways. But, the shared drawback of both is that they have become pervasive tropes in some ways. So, it is our extreme pleasure to introduce you to a travel professional who fits into neither category and has just as much authority.
The child of people from Hong Kong, La Carmina was born and raised in Vancouver, British Colombia, Canada. She graduated from Columbia University in three years, got accepted to Yale law school at 20, and graduated with a Juris Doctor degree. Reading all that is unlikely to conjure an image of the woman as she is: a petite goth with a rotating array of bright hair colors and a fantastic sense of off-center style. A self-described Morticia Adams meet Hello Kitty, she is definitely an alternative to the norm. She is also cool af.
Who better than this award-winning travel and fashion blogger, journalist, author, and television personality to sing the praises of the Chilean island Rapa Nui (AKA) Easter Island? Very few people make the trek to the UNESCO World Heritage Site known for its large stone heads called moai (because you can only get there by taking a five and a half hour plane journey from Bora Bora or Santiago, Chile). But, La Carmina is here to tell you that it is worth the time and the money (As you could imagine, flights are pretty spendy).
"You have to buy souvenirs," La Carmina laughed. "I bought little stone heads and T-shirts. I don't buy souvenirs, but Easter Island was a total once in a lifetime thing."
To see more of the images from her travels and learn why Easter Island is a must-visit in her own words, read on. Chances are, by the end, you will end up putting Easter Island on your bucket list.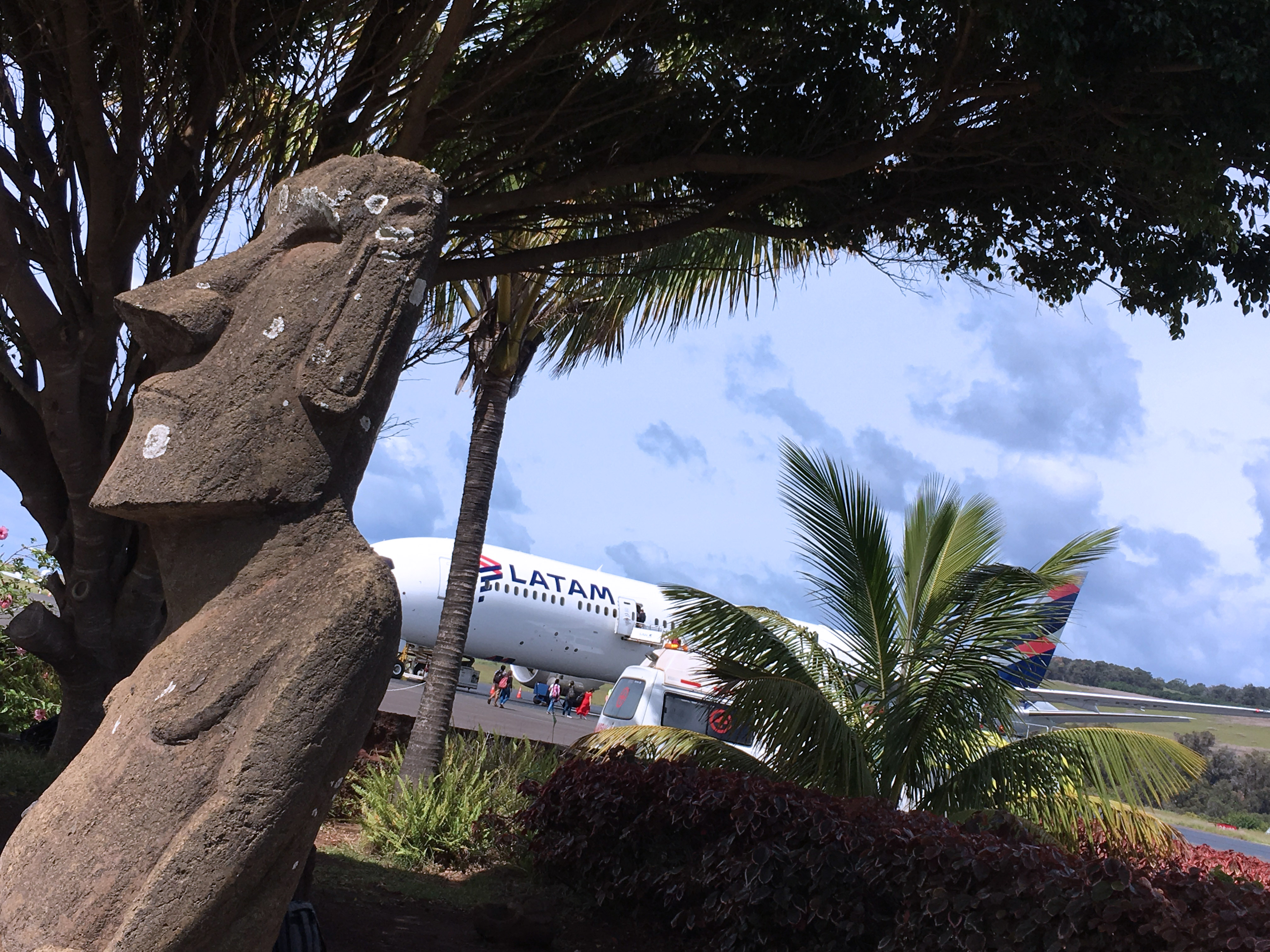 The Landscape Is Out Of This World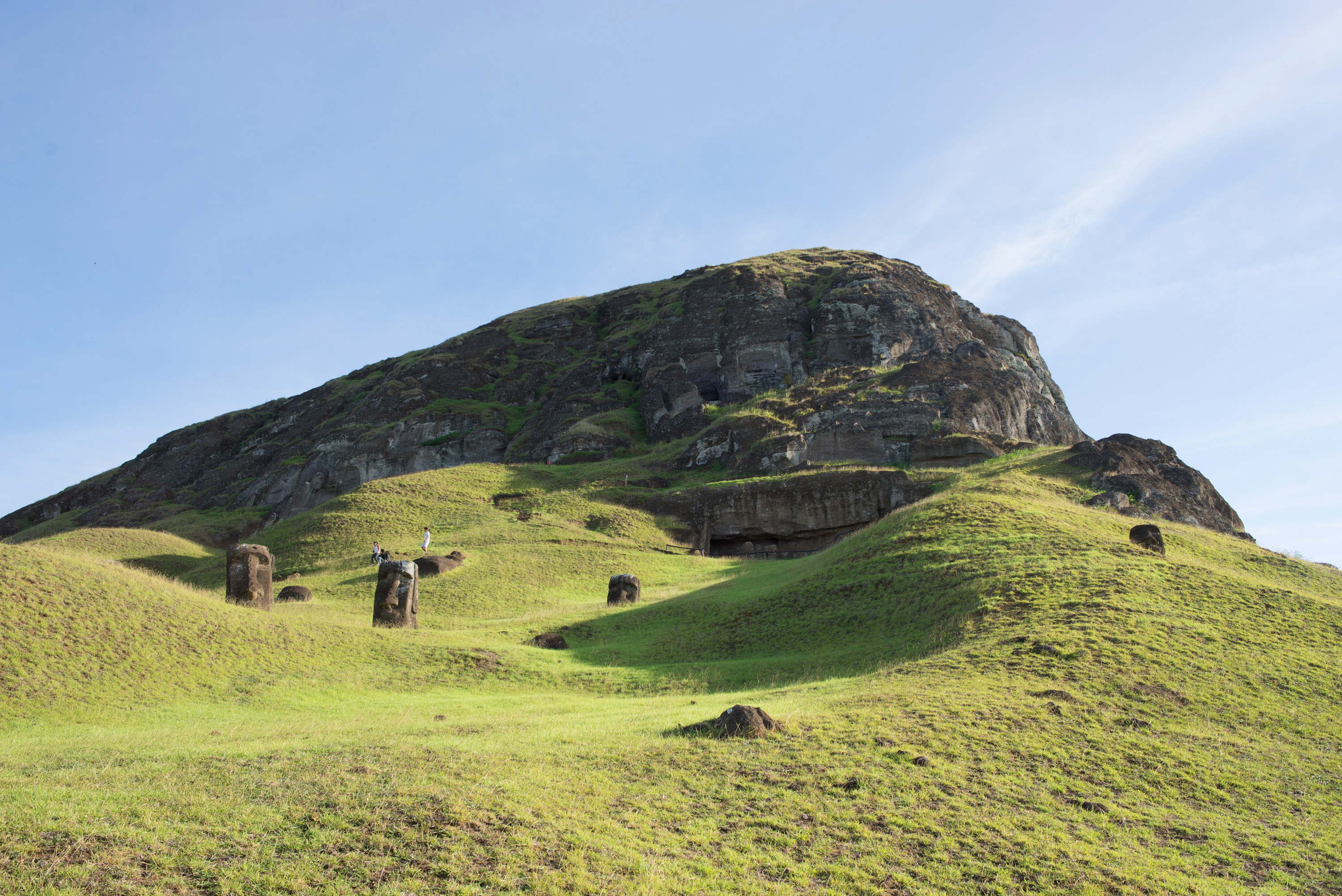 It's one of the most fascinating landscapes I've ever seen. I've been to a lot of places around the world; I've been to some pretty spacey environments like Iceland, but Easter Island I describe as Mario Land. Because you really don't feel like it's somewhere … There's no frame of reference. It doesn't feel like any other city or nature area because the landscapes are so bizarre.
A lot of native islanders cut down all the palm trees. There was deforestation, and then the rat arrived which also led to a lot of vegetation dying. So, the island is pretty much like Mario Land. It has green hills, but you don't have trees, you barely have shrubs. These days they've obviously replanted some trees, but still, that's not part of the natural landscape. You get these weird giant rocks and stone heads standing around, like aliens.
It Is A Treat For Nature Lovers
The moai are the most unique thing, but there's a lot to do, especially if you're a nature lover. There are two really beautiful beaches; one is Anakena. And a lot of people bike or go on treks. Because imagine it's the South Pacific, right? It's really beautiful.
You can spend a lot of time outdoors. One really beautiful thing to do is see the stars at night. Because if you can imagine, I think there are only about 5,000 people in Easter Island. It's not developed in the sense that you don't have bright lights, so at night it's like you're in the middle of nowhere. You can look up and you can see every single star.
And it has some of the most amazing sunrises and sunsets I've ever seen. So, it's really a destination with so much nature. Besides the stone heads, there's like enjoyment, relaxing, checking out the wildlife, enjoying the sunset and sunrise, and also just like pampering yourself because you can stay in a nice hotel and enjoy things like the spa and the swimming pool.
Sailing is also a thing that you can do on Easter Island and in the rest of the South Pacific. You can take a boat to some of the very interesting islands, including the ones that were the site of the Legend of the Birdman. In fact, it's not just a legend, it's real life, these young men would compete by swimming and climbing the cliffs to try to catch an egg on the Birdman Island, and whoever captured the egg, would become the ruler of the island. Yeah, it was just Ninja Warrior.
There Is a Big Range Of Accommodations
Prices can be pretty high, but there are a lot of options. The most traditional or cost-effective option is to stay in a cabin. A lot of local islanders rent out cabins and they are well maintained. They are bed and breakfast type of things but more local, not fancy by any means. It's like you're staying in a cabin Airbnb.
I'm lucky because I'm a travel journalist, so we get a lot of partnerships. The flight was covered by Latin American Airlines, and the hotel was covered by Hangaroa Eco Village. It's one of the most beautiful hotel/resorts on the island. It's beautiful. The architecture looks like these little futuristic huts. You get every luxury you can think of. You have a giant stone bathtub and big rooms and beautiful dining, swimming pool, spa.
Ironically, we met a girl, and she was staying at the place next door. She said, "This is the cheapest place on the island." And it cost $16 a night, right next to our hotel, which I didn't pay for, but if I did, it would have been like a thousand.
You have every option. If I were paying, I would get a cabin for maybe a hundred or so a night. That would be an average option. But you can do camping options for as little as $16 and you can go high-end into the thousands. And, the camping is in someone's backyard. You can share the bathroom and common areas, but you camp in the backyard.
The Mystery Of The Moai Is Captivating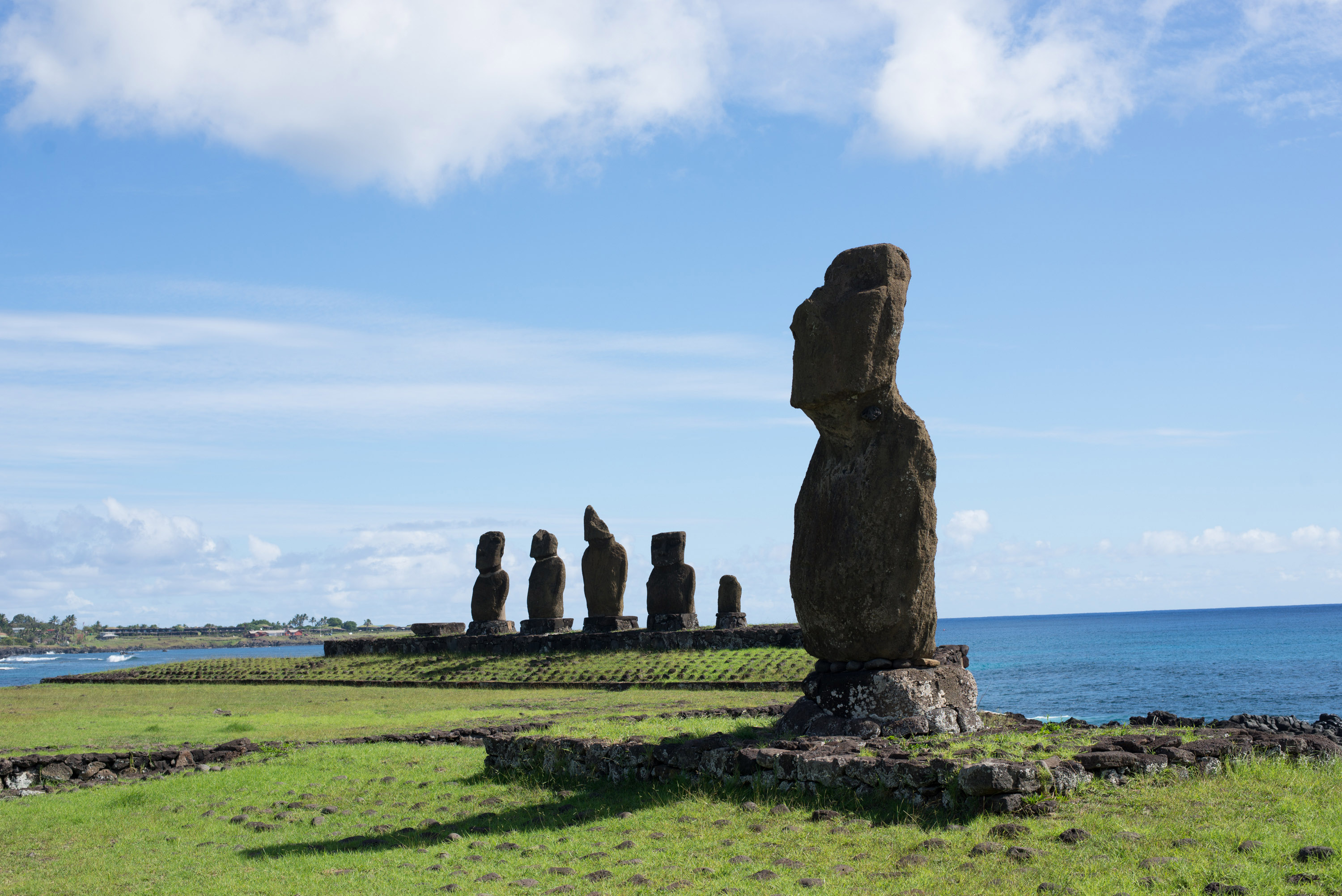 If you are fascinated with archeology and mysterious civilizations, this is for you. I'm the type of person who is really into Petra and the pyramids of Giza and Angkor Wat and this is yet another foreign mysterious culture that people are still learning about. Every day, they're learning new things about the moai. Like they recently learned that they have bodies. Those giant stone heads actually have bodies underneath the hills.
They have eyes, too. They just discovered that in 1979, I believe, that these flat faced moai originally had these bulging googly eyes. And even just discovering more about the people and some mysteries that are not solved, like is it true that they turned to cannibalism? There's a lot of evidence that that probably was the case. There are all these mysteries. How exactly did they carve the moai and get them into place? They're so heavy; they can be as heavy as like 80/90 tons. And yet people moved them, many miles into the location.
And that's another thing, how on earth did people discover this island? One theory is that people who are living in Polynesia went on a boat and followed the current and got lucky. But imagine setting on a basic sail, like a little boat and going out in the middle of nowhere and then arriving on this island. It's insane that they even discovered it.
It's Hard To Get A More Authentic Local Experience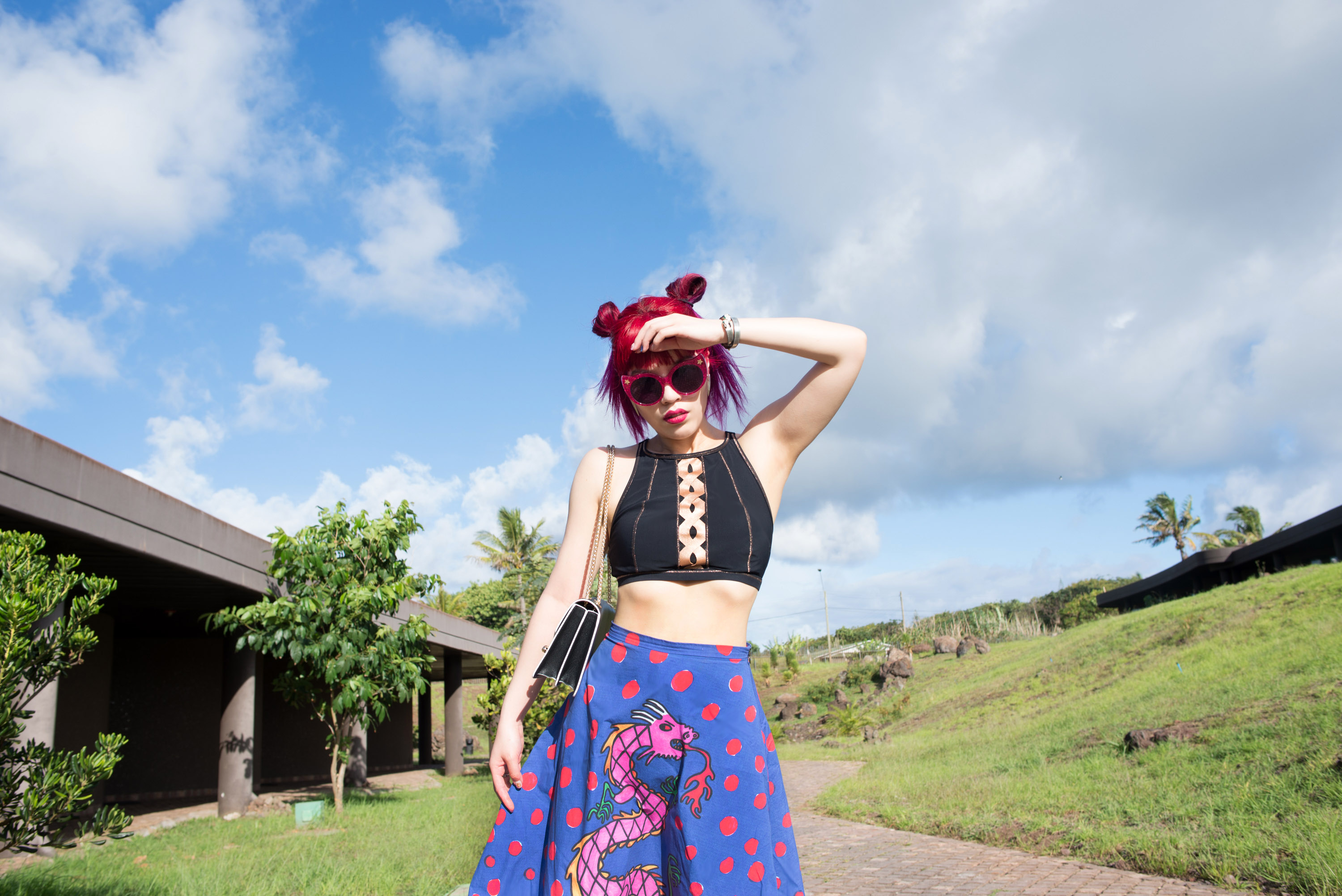 If you go to an amazing site like Angkor Wat, there are so many tourists; you're surrounded by them. There are gift shops and there are Starbucks, and it's the usual tourist thing, right? But on Easter Island, there are just no people, no tourists. I was so happy. You don't have any tour buses, because how do they even send a bus to the island and develop that infrastructure?
You can join a small group tour, but at most, that's like a ten-person van. That's as big as it gets. And when we were watching the sunrise, over in Ahu Tongariki which is a big row of 15 statutes, you just see the sunrise around you. I think there were maybe only 50 other people.
There really is no tourism, which is great. I'm spoiled. I really had to look hard for a gift shop. I did find some of those cute souvenirs, but it's not like you'll have people coming up to you and saying, "Oh, buy my T-shirt." And you don't have any major fast food, no brand chains whatsoever. It's really untouched.
You Will Eat Well
Chile is, of course, known for their fish. That's something that's a bit more local because Easter Islanders can get those fish. It's not as difficult to bring in. So, they have amazing fish options. I ate really well. I think they're getting some good chefs. I heard that they had a sushi restaurant in town that's quite good. There is good omakase, where the chef prepares it special for you behind the bar.
There are good dining options, but again, it's expensive because it's in the middle of nowhere, and you have to get all these imports. A lot of people stock up on groceries while they're in Santiago, and they put them in their suitcase. They bring that over to Easter Island as a way to save money.
Getting Around Is Easy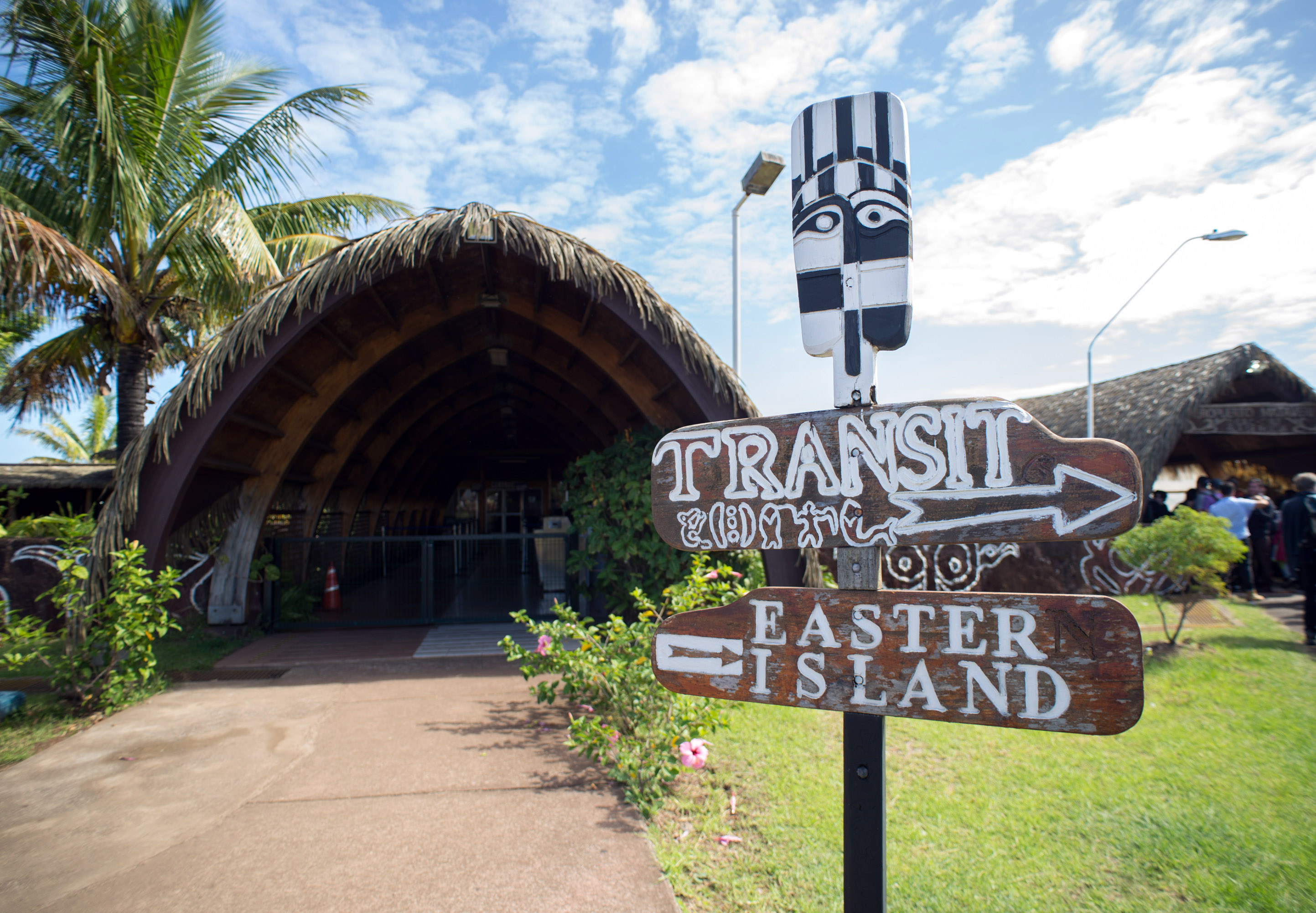 Some people don't realize that Easter Island is small. It's about the size of Manhattan, but you can't just walk around. You can't walk the whole island, it's so hot and it's not really accessible. So, people either bike or they rent a car or they join a tour. It depends on your travel style.
I'm not a biker myself. And it's also very hot, so that might be something for people to consider. There's pretty much just one road and no one on it. I do know some people who rented a car and they didn't have difficulties, but for me, I'm not great at directions and I didn't want to be stressing about, "Oh, do I have to turn right to see this moai?" I just wanted to enjoy it, if you know what I mean. I don't want to be like, "Where do we go next? How do we drive there?" And that's why I joined the small group tour.
You Won't Leave Feeling Like You Missed Something
If you have two full days, that's the absolute minimum. You can see all the major sites on the island. Most people, they would do it the way I did it. If you're into the moai, you would see one part of the island first and then the second day see the other part. The attractions are kind of clustered at the top and at the bottom of the island.
I guess most people spend five days max, maybe seven max, on the island, just because, I mean there isn't that much to do. But it's a great place to relax, it's a great place to get your imagination soaring.
You Are Forced To Slow Down
That's pretty much all there is to see. I like that you can really take your time. People are on island time, which is something that visitors should expect. For example, our room was not ready to check into until 4:30 pm. I think it was supposed to be ready at 3:00. So, it's like, "Okay, so we're just going to have a cocktail and hang out at the swimming pool. Alright. And then enjoy the sunset." Of course, dinner was late. We're hungry and it's like, "Dinner was supposed to start at 7:00, it's 7:30." So that's just the way it is.