Flame Broiler has a reputation for being boring. It's not any of the food's fault — it's simply because it's one of the few fast food chains that offers healthy(ish) food, and the word "healthy" in fast food almost always equals bland and flavorless (looking at you Subway).
But that's not a fair characterization of Flame Broiler. I mean, have you ever doused your food in Magic Sauce? It's a near-religious experience (and likely sure of sugar — which is why I keep adding "ish" to the word healthy). Does it hit like a spicy chicken sandwich, slip you into a deep food coma like a bacon cheeseburger, or get the dopamine surging like cheese fries?
Not a f*cking chance. But it competes with Chipotle and sometimes you need a respite from all that sodium.
Luckily for all of us, Flame Broiler is now putting that "healthy = boring" narrative to rest once and for all with the release of the brand's Korean Spicy Chicken — joining Flame Broiler menus nationwide as a permanent item.
The Korean Spicy Chicken is a spicy twist on the typical Flame Broiler offerings, using gochujang and sesame oil to bring big taste-bud igniting flavors to the healthy(ish — check the cal counts here) fast food space. Check my full review below.
Korean Spicy Chicken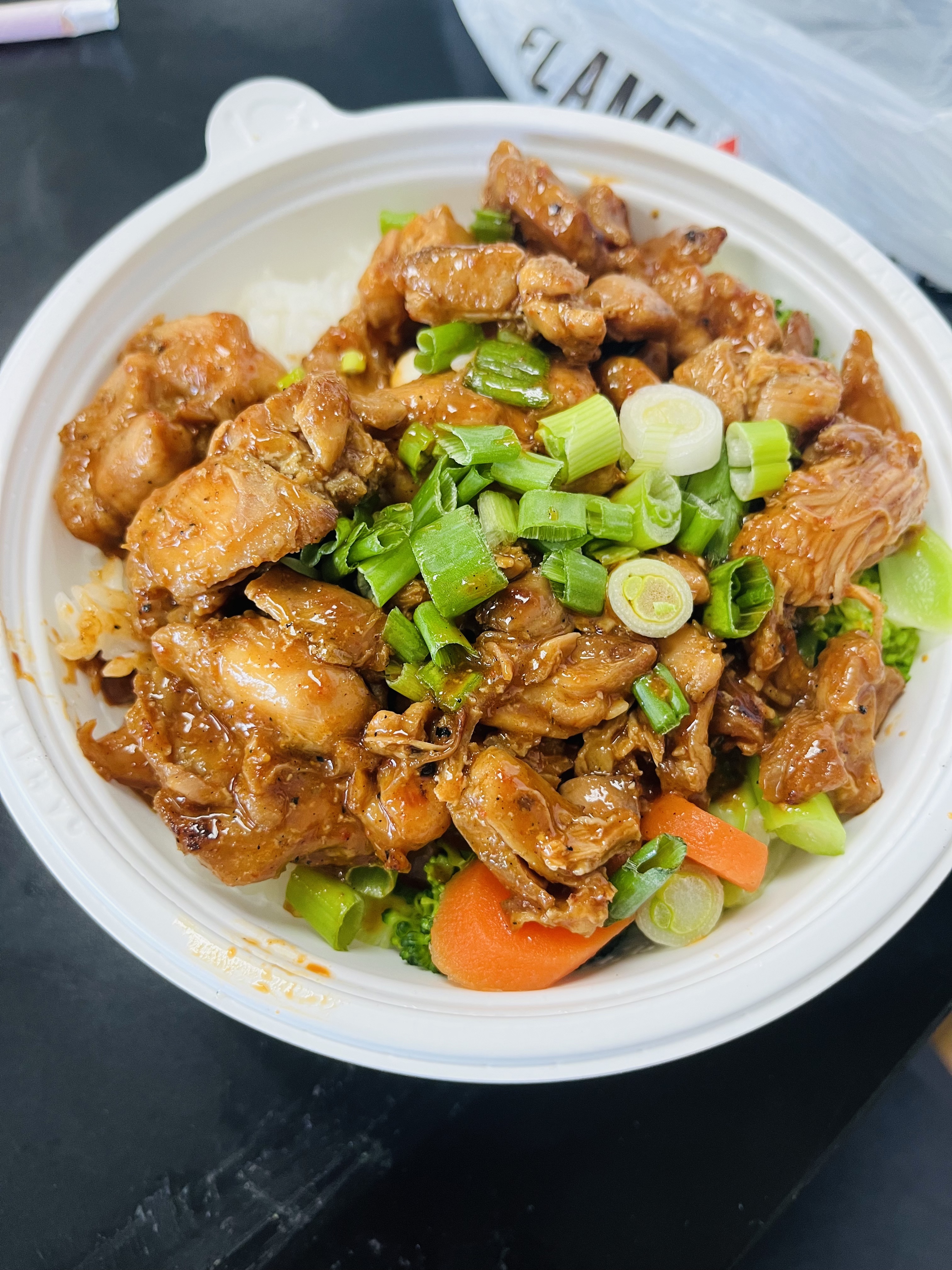 Thoughts & Tasting Notes
Unlike most "Korean-inspired" flavors in the fast food space, Flame Broiler's Korean Spicy Chicken doesn't play. As soon as it hits your palate you're tastebuds are flooded some seriously spicy sensations. An intense heat greets you that quickly dissipates into a savory and sweet characteristic that leaves a gentle spice level lingering on the palate. That spice pulls you deeper into the dish — after my first taste, I found myself diving back into the bowl faster and faster until my meal was through.
We're dealing with dark meat chicken thigh here so it's full of fatty flavor without any of the dryness typical of chicken breast. The chicken is saucy enough that you don't need to add any of Flame Broiler's teriyaki-style Magic Sauce, but I did anyway and I like the way it pairs. With the inclusion of Magic Sauce the sweet notes are more prominent and you pull forth sumptuous umami notes, making the dish even more satisfying.
Overall, this isn't just a great addition to Flame Broiler's menu — I literally can't see myself ever ordering the regular charbroiled chicken again. This is the new standard.
The Bottom Line:
Simply some of the best tasting (and spiciest) chicken currently in the fast food space. Healthy(ish) food doesn't have to be boring — this new entry from Flame Broiler proves it.
Find your nearest Flame Broiler here.