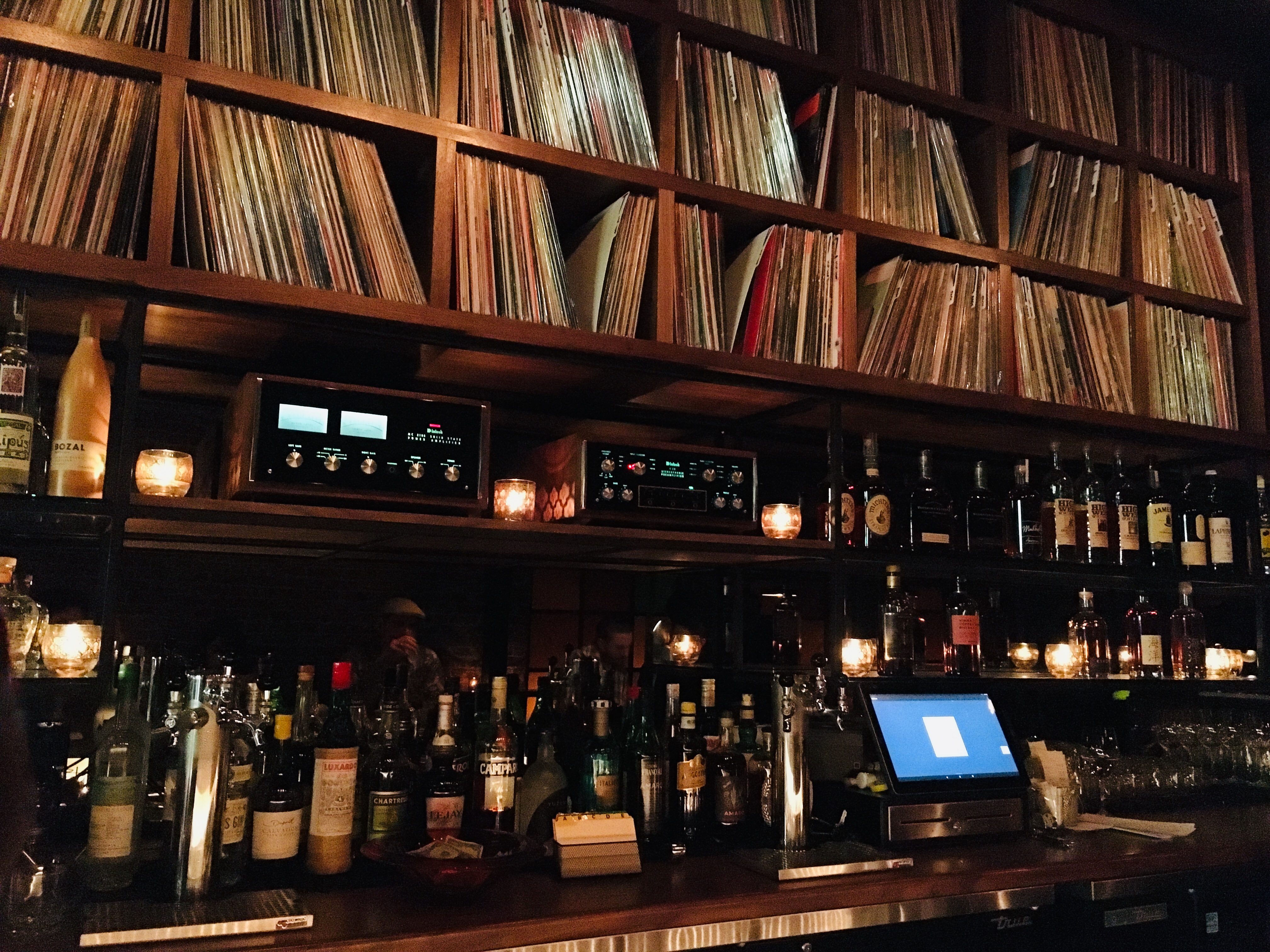 Highland Park's newest bar is as serious about well-crafted cocktails as they are about their sound system. That may initially give you pause — bars aren't exactly known for carefully cultivating their sound — but the Gold Line spins vinyl and pumps it out in wall-and-bone shaking lusciousness through high-end Mcintosh amplifiers (the best of the best) ensuring a clean and driven sound that cuts through the boisterous crowd with stunning clarity. Music and booze have simply never been this good together.
Owned and Operated by Stones Throw Records label head Peanut Butter Wolf (Chris Manak), Jason McGuire, and Tyler Bell of El Condor and L&E Oyster Bar, Gold Line takes heavy inspiration from Japanese hifi bars — known for their audiophile appeal and emphasis on music. Stones Throw, home to legendary underground hip-hop artists like J Dilla, MF Doom, and Madlib, is housed just above the recently opened bar and the walls behind the bar hold a vast library of 8000 plus records, straight out of Peanut Butter Wolf's personal record stash, alphabetized and spun live by the Gold Line's bartender/DJs.
Designed by Bell and Sara Philpott with JeffreyKurt INC, as reported by EATER, the interior of the bar is absolutely beautiful. Exposed brick, moody lighting, groovy 70s-inspired lamps, a disco ball, and vintage vinyl tell you everything you need to know about Gold Line the minute you walk in. I couldn't confirm, but given the texture of the walls in the lounge area, at least part of this place appears to acoustically treated. The back lounge is decorated with a giant disco ball, some of the coolest lamps I've ever seen, and a wall of pictures of legendary musical acts revered by Stones Throw — from James Brown to Leon Ware to Pete Rock, to Kraftwerk.
https://www.instagram.com/p/BofFXZ3Be5z/?hl=en&taken-by=goldlinebar
Although there isn't a proper dance floor, there is some room in the lounge. Regardless, everyone in this bar can't help from moving. This is not a bar for stale conversation or music-as-background-noise — it's a bar for music lovers eager to happen upon expertly curated playlists being made in real time, and hearing it in the best possible way.
But enough about the music, can this place make a cocktail or is it all gimmick? The menu at the Gold Line consists of highballs and delicious three-ingredient cocktails, a solid wine list, and a simple and pared down selection of beers. I had the 'Orbit,' made of Mezcal, sloe gin, Campari, agave, and lejay, and it was complex and smokey with well-balanced hints of sweetness. The Margarita was also delicious and made like a margarita should be — with lime juice and agave, not margarita mix. But it was the Paloma, with its strong grapefruit flavor cutting through the tequila and elevating the agave, that has really lodged itself into my brain.
The next morning, I woke up craving the taste! That's a dangerously bad sign or perhaps a testament to the expertly crafted drink.
Perhaps it's the sound system and curation of great records, the underground hip-hop cred, or the general vibe of the place (those lamps!) but you leave the Gold Line feeling just as cool as you feel getting your first drink and discovering that obscure 70's groove that you can't believe you've never heard before. With deep cuts by Prince, Upp, Brian Briggs, Kashif and an endless list of other more obscure artists from the 70's and 80's-heavy collection, you'll have an urge to constantly reach for Shazam to identify the tracks. (Luckily the DJs display the vinyl they're spinning so you don't have to bring out your phone and kill the moody vibe with your bright lights.) The Gold Line is bound to make a big impact on the drinking scene in Los Angeles, in fact, it's worth amending every best bars of LA list out there right now.
Peep the menu below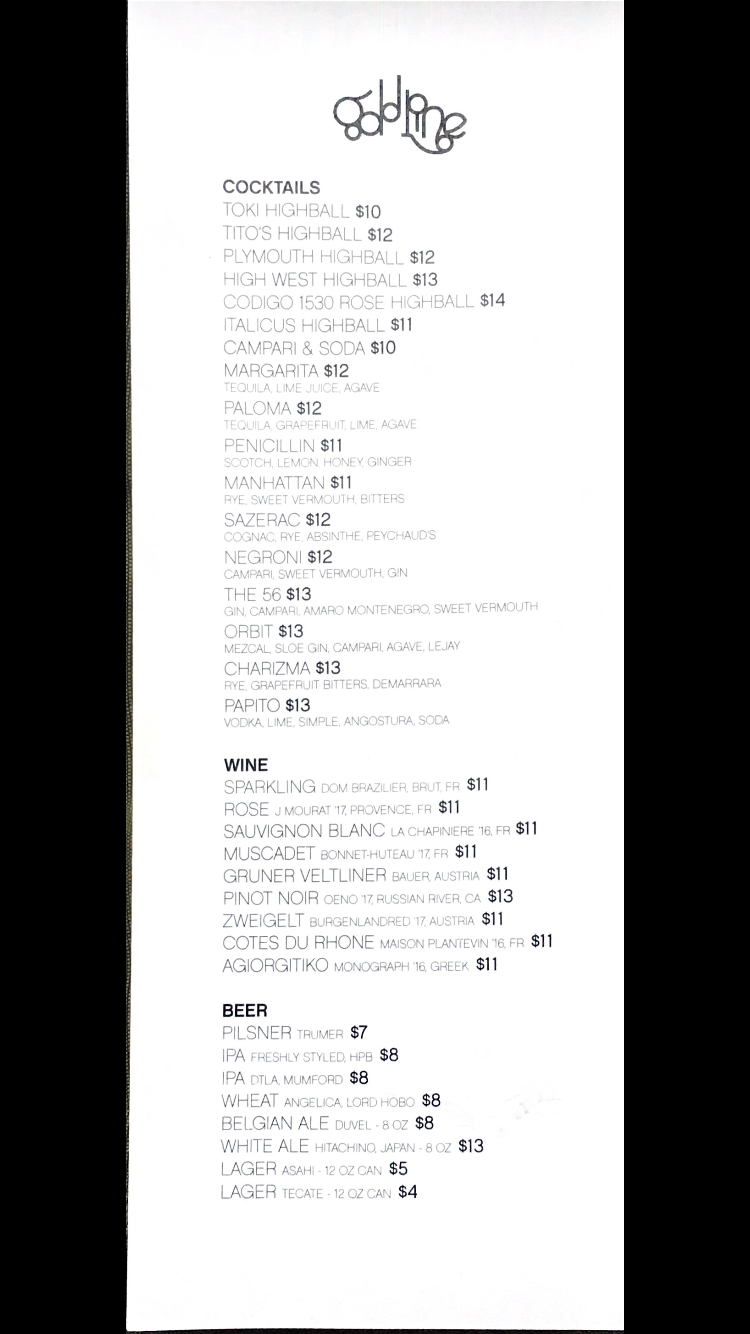 The Gold Line is open now and can be found at 5607 N Figueroa St, Los Angeles, CA 90042.