Ryan McGinness (2015)
Design champ Ryan McGinness has been creating eye-popping, hyper-colorful work for well over a decade. His silk screen paintings draw from a huge trove of symbols, brand logos, and other icons.
"My Black Hole series of paintings emerged out of a desire to make the absolute fanciest paintings I possibly could. The Radiating Eye is a figurative drawing that expresses multiple vision, which I have used as a core element in all of my work. It is an autobiographical element that represents my interest in mind expansion," explains the New York-based artist. "The previous Limited Edition designs all seem to be kind of dark, so my initial idea was to lighten it up. So I designed a very bright color palette to create a colorful label, and the result is this white label with bright fluorescent colors radiating from the center. What I hope I communicated with this label and in this artwork is a sense of an enlightenment."

Shepard Fairey (2014)
One of the most prolific street artists of all time, Shepard Fairey became well known for his extremely ubiquitous "Obey Giant" campaign, a homage in part to wrestling legend Andre the Giant that was perpetrated long before he could hire assistants. Years later, it was his historic and controversial design for the now iconic Hope poster that came to define Barack Obama's 2008 presidential campaign.
Os Gemeos (2013)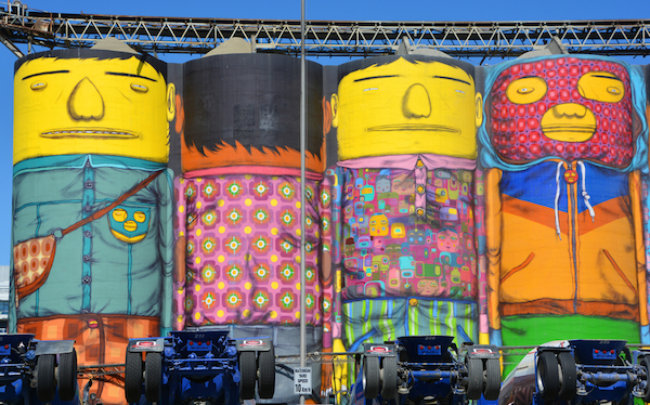 Using the Portuguese word for the "the twins" as their moniker, Os Gemeos is comprised of Brazilian brothers Otavio and Gustavo Pandolfo. The pair launched their careers on the streets of São Paulo in the mid-1980s. They developed a unique style of lettering and the urban artists also spawned an instantly recognizable, endless cast of mischievous yellow characters that have come to define their work.

Futura (2012)
The legendary graffiti artist practiced his craft where it all began: the New York City subway. The trains and walls he painted back in the 1980s were way ahead of their time and when viewed with contemporary lenses, they are still relevant despite decades of evolution within the art form. In addition to creating next level work on the street, he was omnipresent in the East Village art scene. FUTURA was one of only a handful of artists with a graffiti background who was able to evolve his style and transition into the gallery world without sacrificing his credibility. Among his many accolades in urban art, he's also credited with being the first writer to do a piece in Europe. It was while he was on tour with The Clash in London.
Kaws (2011)
Although KAWS started out doing graffiti, he really made a name for himself with his street art. In the late '90s, the artist hijacked ads out of advertising kiosks, added his own signature work, and then put the manipulated media back where it was. As KAWS moved from the street to the gallery, he continued to refine his work and built a following from art world darlings to hip hop impresarios.