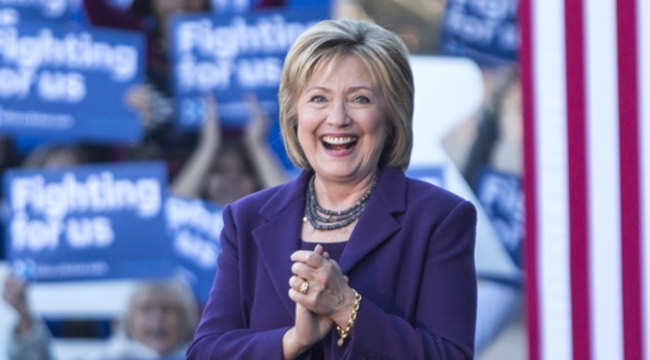 Like Beyonce, Hillary Clinton says she carries a bottle of hot sauce in her bag, and she has for some time now. The Democratic front-runner will be in Pennsylvania this week as voting in the state's Presidential Primary is set to begin tomorrow — anticipating Hillary's visit, a small town in the Keystone State created a pizza in her honor, with hot sauce included of course.
Two Brothers Restaurant and Pizzeria, which is in the small community of Dunmore, made the spicy buffalo-chicken pizza in the shape of Hillary's campaign logo and named it "Madam President." The $13.95 pizza will be sold at the restaurant throughout the day of the primary, according to a news release.
The people in the town are super excited about the former Secretary of State's upcoming visit as pizza creator Martin Coar Jr. said in a statement:
"This is a small town, and we're excited that Secretary Clinton will be coming to our community. I have an 11-year-old daughter. She's too young to vote, but she knows our first female president would be a big deal for our country, and she's hoping Mrs. Clinton will stop by tomorrow for a slice."
There's been no word yet on whether or not Hillary will actually get a slice of her very own "Madam President." Take a good look at this pizza before someone demolishes it.
(Via CNN)