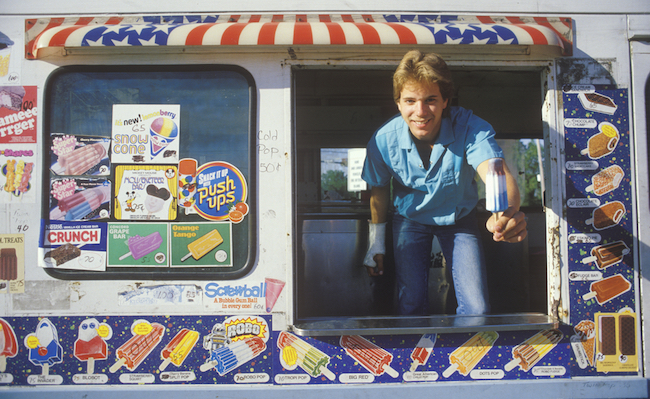 August is a funny month. It's still unfathomably hot outside (especially this summer), but at the same time, back to school stuff is starting to show up in stores, and the end of summer feels inevitable.
Inevitable it may be, but that doesn't mean you have to resign yourself to sweaters and McDonald's PSL's quite yet. Because, what's that sound? That's the sound of the ice cream man driving his truck down your block. And god knows the fun of chasing after that truck doesn't end with puberty. The best part of being an adult? Well, you no longer have to ask your parents for pocket change. But also, alcohol, which makes the dog days infinitely more tolerable.
So fill up the kiddie pool get some quarters ready, because Trisha Antonsen — Chief Cocktail Officer over at Drizly — has come up with beers and wines that'll pair perfectly with your favorite frozen treat.

TREAT: Klondike Bar
WINE: Sparkling rosé. "A sparkling rosé is a fun complement to the rich, creamy vanilla ice cream and chocolate shell of this tasty treat. We recommend Rosatello Sparkling Rosé and Mumm Napa Brut Rosé."
BEER: Stout or brown ale. "Go for a smooth stout or nutty brown ale to pair with the creamy milk chocolate of the Klondike Bar. We recommend Murphy's Irish Stout and Peak Organic Nut Brown Ale."
TREAT: Sonic the Hedgehog Bar
https://www.instagram.com/p/oHKHQMzOcM
WINE: Crisp white, such as Vinho Verde or Riesling. "You can't go wrong with a crisp white wine to complement Sonic's bright blue raspberry and cherry flavor. Just save the gum ball eyes for after you've finished your wine. We recommend Broadbent Vinho Verde and Clean Slate Riesling."
BEER: Lager or Pilsner. "Balance out the sweet Sonic flavors with a refreshing pale lager or Pilsner. We recommend Heineken Light and Victory Prima Pils."

TREAT: Choco Taco
WINE: Juicy red blend or Malbec. "A juicy red wine pairs beautifully with this winning combo of vanilla ice cream, fudge and peanuts folded nicely into a waffle cone shell. We recommend Markham Cellar 1879 Red Blend and Alamos Malbec."
BEER: IPA. "A nice crisp IPA will pick up the salty flavor of the peanuts and pair well with the smooth chocolate fudge. We recommend Founders All Day IPA or 21st Amendment Down to Earth IPA."
TREAT: Orange Creamsicle
WINE: Dry sparkling white. "Reach for a bottle of dry or brut sparkling white wine to make this classic summer union of refreshing orange and vanilla even more enjoyable. We recommend Freixenet Cava Brut Cordon Negro or Gruet Brut."
BEER: Belgian-style or Wit. "Play up the smooth citrus flavors with a Belgian-style brew like Blue Moon or Sam Adams Blackberry Witbier."

TREAT: Strawberry Shortcake
WINE: Merlot. "Opt for an easy-drinking red wine like merlot to enhance the creamy vanilla ice cream and sweet strawberry center. We recommend The Velvet Devil Merlot and Oyster Bay Merlot."
BEER: Vanilla Porter or Milk Stout. "A vanilla porter or creamy milk stout is an ideal companion for this sweet treat. Breckenridge Brewery Vanilla Porter and Left Hand Milk Stout Nitro."
TREAT: Snow Cone
WINE: Pinot Gris. "A cold glass of zesty white wine like pinot gris would go splendidly with this strawberry, lemon and blue raspberry frozen treat. MacMurray Pinot Gris and Underwood Pinot Gris."
BEER: Shandy. "Grab a fruity shandy for the ultimate summer beverage/treat combo. Leinenkugels Grapefruit Shandy and Harpoon UFO Big Squeeze."

TREAT: Bomb Pop
WINE: Sauvignon blanc. "A refreshingly crisp Sauvignon blanc is the perfect balance for this tri-color treat. Bonus points if you stir your drink with the popsicle. We recommend Starborough Sauvignon Blanc and Joel Gott Sauvignon Blanc."
BEER: Mexican-syle or gose. "Chill out with Mexican beer, or if you want to go wild, try a gose to enhance a Bomb Pop's classic tart flavors. We recommend Corona Extra and Anderson Valley Briney Melon Gose."