Did you know that KFC has pot pie? I didn't, despite being a food writer of over three years who has ranked all sorts of different foods from KFC, from the fried chicken itself to the sides. Somehow this savory baked treat eluded me. I'm willing to bet I'm not the only one either, because KFC decided to celebrate 2023 by offering $5 pot pies for a limited time despite the food being on the menu for a whopping, wait for it… 30 years! It hasn't been revamped, and it doesn't feature any new fillings, so what's the deal with this pie? If it's been a staple for that long, it must be good considering KFC has changed its chicken sandwich a handful of times over the last 10 years, changed the fries, and even revamped its Popcorn chicken.
It's also telling that in the past 30 years, the pot pie hasn't been dropped from the menu. Food brands are always looking for ways to cut bloat from the menu, just look at the way salads have been minimized across the fast food landscape, so presumably, the pot pie must be doing something right. Right?
We're here to find out by reviewing the $5 Chicken Pot Pie to see if it's worth you making a trip to KFC. Let's dive in.
Chicken Pot Pie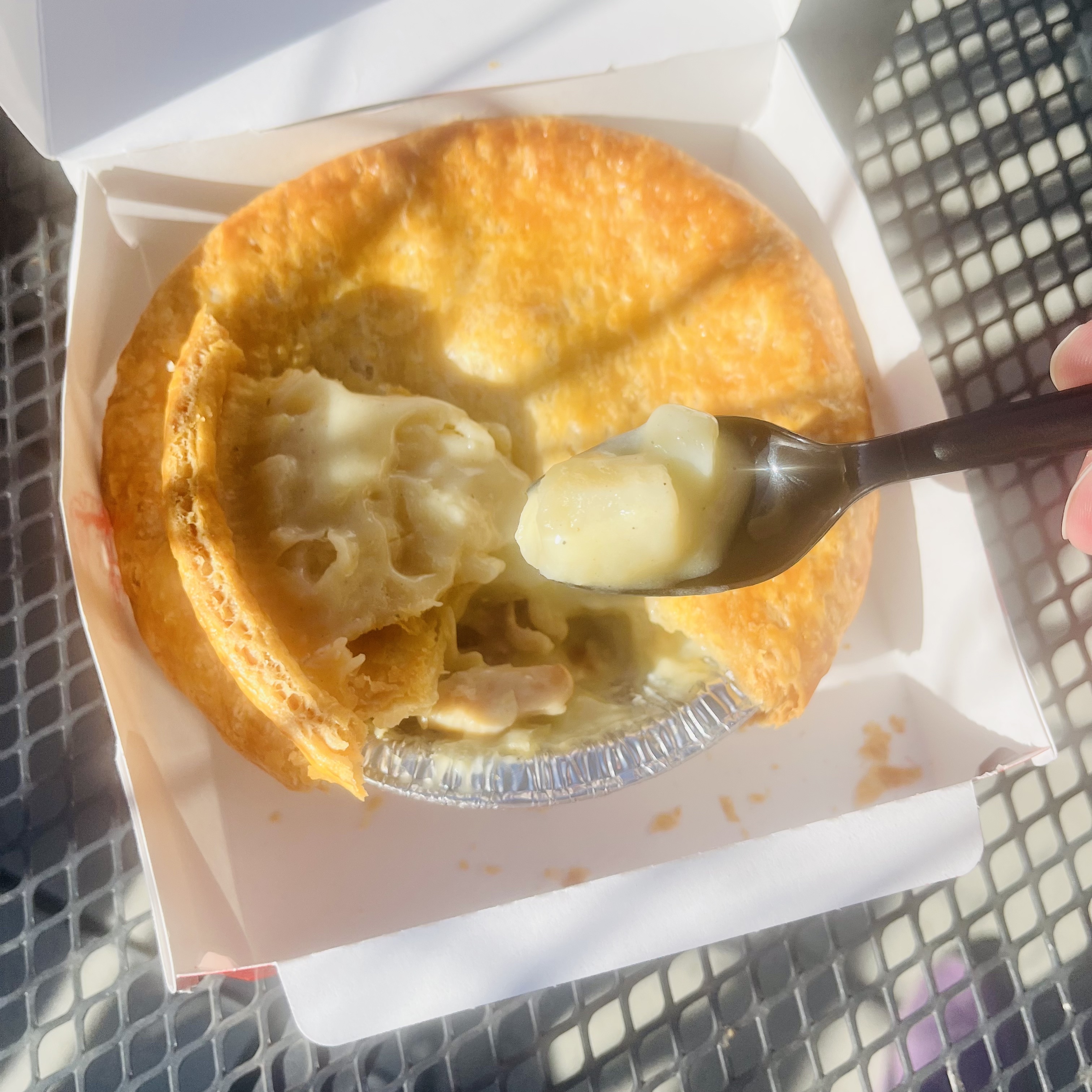 Tasting Notes:
The build of the KFC Pot Pie is simple, it features bits of fried chicken, diced potatoes, peas, carrots, and a gravy-esque sauce, all encased in a flakey golden crust. KFC claims it's freshly prepared, but I have to be honest, aside from it being hot to the touch, it doesn't seem to be of much better quality than one of those frozen Marie Calendar pot pies.
I wanted to be wowed by this but sadly, I find it to be pretty middling. The chicken inside is fine, it's tender and juicy with a great flavor, but the potatoes are a bit too mushy, the peas and carrots are few and far between (seriously, where are the peas and carrots?!) and the gravy-like sauce has a nice rich savory flavor, but it massively overpowers every other flavor in this pie. There is a meaty black pepper note that dominates the whole pie but it desperately needs some texture, the fillings come across as a bit too mushy to really be enjoyable and it ends up tasting like you're just eating gravy.
The pie's saving grace is the crust it's baked in, it's flakey, buttery, and airy, and adds the texture that this pot pie desperately needs, but the ratio of crust to filling isn't enough for that texture to satisfy. It needs a bit more bite from the filling to really work. If KFC put some fried chicken skin in here it might make all the difference. But they don't. Maybe it'll serve as a good dip for the french fries but as it stands, it just comes across like it's missing something.
The Bottom Line:
Skip this one. It must be for midwestern grandparents who need a fast food pot pie. If that's you, put five on it!
Find your nearest KFC here.