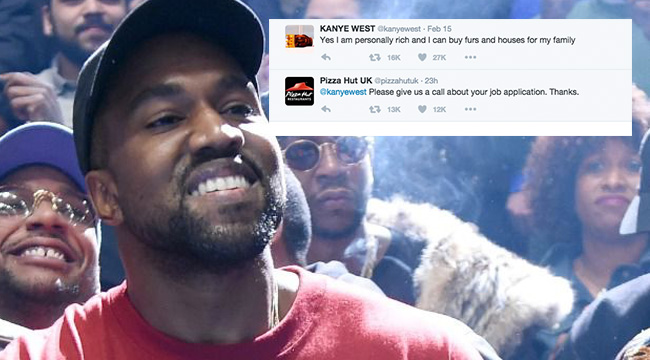 Remember when Kanye West tweeted at Mark Zuckerberg demanding that he send him money instead of opening schools in Africa (because it's Kanye who really needs the help) and then went off on Twitter letting everyone know that he's got money to buy furs and sofas, it's just the art he needs help paying for? Well, maybe getting another job right now would be a risky venture–what with all the music and the fashion and the time he needs to tweet–but if Kanye's really that hard up for cash (and refuses to sell his album on iTunes), Pizza Hut UK's got a solution.
Responding to Kanye's plaintive cry for funds, someone on Pizza Hut's social media team grew a heart, grew it three times bigger, and then, hopefully after consulting with a local store's hiring manager, put out a response to Kanye, offering the (professionally) destitute artist a way to make some of that dough while literally making dough (and covering that dough with the highest-quality ingredients that money can buy).
Will Kanye take the job? Only time will tell. But considering that the artist lives a dope life and only does dope sh*t, this offer could be too much to pass up. Can't wait to see how he revolutionizes their stuffed-crust pizza! And The Hut does have a clothing collection he could help with. I guess what we're trying to say here is that it might be a good opportunity.
Now Watch: He Said, She Said: The Feud Between Kanye West And Taylor Swift