"Your turn," I took the freshly rolled joint from Saray's hand and took in a deep drag, the lingering taste of a burger still on my palate, now joined by the sweet smoke of Chiquita Banana kush. I exhaled a dense cloud toward the ceiling and watched the ribbons of smoke twist and funnel through the open slats, catching the rays of sunlight that filtered into the dim restaurant. I passed the joint along, ate some french fries, and took another bite of the cheeseburger, "let's roll another."
I was getting baked and eating a meal at the same time in a restaurant on the corner of La Brea and Lexington Ave. It took me straight back to my first hit of weed 10 years prior, in the backseat of Toyota Corolla in a suburb just out of LA. Only instead of being consumed by paranoia about passing cop cars, I was chilled out, eyeing the mountain of freshly ground weed that lay on a small plate near a friend's turkey club wrap.
Marijuana has come a long way. Even in my 20 odd years.
Lowell Farms: A Cannabis Cafe, is America's first legal weed cafe. It's the only restaurant in the country where guests can openly smoke and purchase fresh cannabis while enjoying farm-to-table cuisine. The food at Lowell Cafe — which I'll be calling it for convenience — was developed by a Le Cordon Bleu-trained chef Andrea Drummer, who specializes in pairing the aromatic characteristics of weed terpenes with the flavors of food. The restaurant is connected to the Lowell Herb Company, and each joint, THC-capsule, and flower jar on the cafe's cannabis menu comes straight from Lowell Farms. It's, as the venture capitalists love to say, "vertically integrated."
Right now, the concept is getting the sort of hype in LA that "first of its kind" ideas often do — a line of eager guests hoping to score a table wraps itself around the restaurant on a daily basis. But is the buzz sustainable? Is a restaurant where you can smoke weed and eat food out in the open something anyone really craves, or are we all just easily charmed by the next big thing?
PART I — THE FOOD
Lowell Cafe's menu consists of farm-to-table California-inspired cuisine cooked up by head chef Andrea Drummer, who has made a name for herself in the culinary scene thanks to her unique skill of pairing cannabis strains with dishes that pair well with the flavor profiles presented in the weed's terpenes. The food she serves at Lowell Cafe is delicious, but it's by no means Earth-shattering, must-have cuisine. That said, it does indeed pair well with the smoke — the cannabis in a way acts as a sort of added ingredient and seasoning, the food isn't better because you're getting totally baked (though that helps) but because you appreciate just how harmonious the experience of smoking and eating is when the flavor's compliment.
It's a trip, and when you're high you'll no doubt obsess over it.
The menu is broken into three major sections: salads, sandwiches, and snacks with a small dessert menu that features McConnel's Ice Cream and stoner-pleasing Fruity Pebble Cheesecake, as well as a small milkshakes section featuring a few sweet mix-ins to enhance the experience.
I ordered the Smash Burger which consisted of two Angus meat patties, a roasted red pepper and garlic aioli that sent a jolt to my salivary glands after the first bite, red onions, and white cheddar atop a buttery-soft brioche bun. Was it the best burger I've ever had? Nah. But it felt well worth every dollar of its $19 price tag, and for two patties of high-quality Angus beef, it's a steal for a West Hollywood cheeseburger. Each sandwich on the menu comes with your choice of either a side salad, kale slaw, or fries — go with the fries, they pair excellently with the weed, as every stoner has known since forever.
Lowell Cafe offers five different salads, each distinct and packed with fresh ingredients and greens, with some salads making use of interesting dressings like hemp oil, poppy seed, or roasted carrot ranch. The oddly named "snacks" is a grab bag of large share plates that appeal to the stoned — featuring everything from Jalapeño Mac and Cheese bites, to Animal Style corn dogs, tamarind glazed wings, and, in true West Hollywood fashion, a giant plate of Vegan Nachos, cheekily named the "Seriously Better Than Vegan, Vegan Nachos" made from "cauliflower meat" black beans, vegan cheese sauce, guacamole, and pico de Gallo.
PART II: THE EXPERIENCE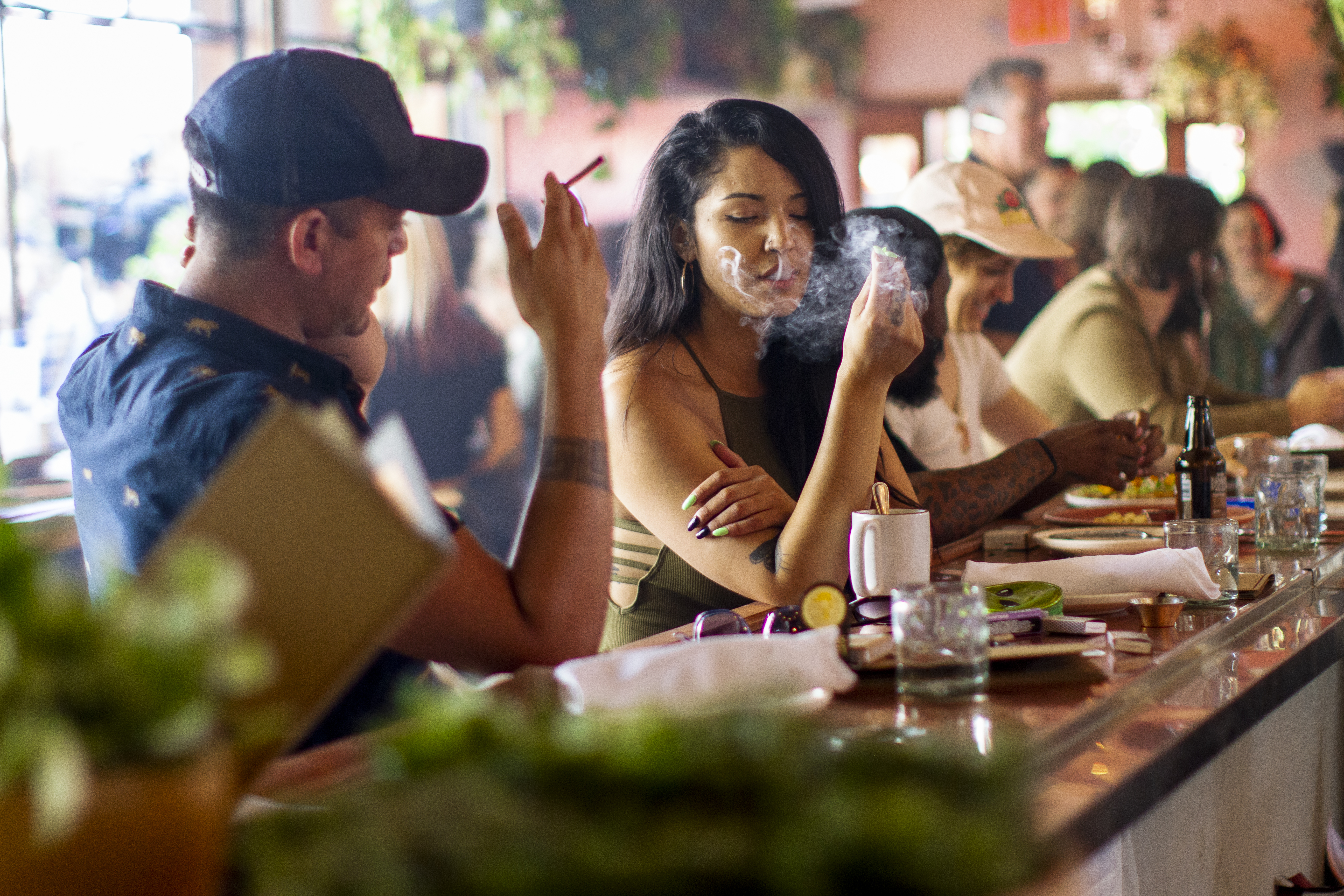 Walking into Lowell Cafe isn't quite as smokey as you'd assume. The establishment has a back porch feel to it that keeps the aroma of the cannabis at a pleasing and appetizing level, rather than becoming overwhelming and potentially ruining your meal. Inside the cafe, large open walls leading to the patio, slats near the ceilings, and a specialized air filtration capture system akin to what's found in Vegas casinos keep the restaurant largely smoke free, which prevents the immediate area surrounding Lowell Cafe free from smelling like a hundred people simultaneously smoking weed. It's a gesture the neighbors probably appreciate (and was surely part of the zoning agreement).
Once at you're table — Lowell Cafe offers a patio and indoor dining, as well as a street-facing patio for non-smokers — you'll either be greeted by a server or your tableside Flower Host, who will bring you a separate menu of consumable cannabis products. Separated into five different sections, you'll choose between vaping cannabis-infused oils through a Pax vaporizer, smoking a pre-roll of single-strain weed, purchasing a pre-roll pack, eighth-ounce flower jars of Sativa, Indica, and hybrid strains, and edibles, as well as a page devoted to different smoking accessories. Each strain of weed has important information like its THC and CBD content and a quick description of the strain's effect.
Price-wise, the menu isn't as marked up as the wine menus it mimics, though it does lean on the expensive side with eighths ranging from $55-$65, pre-rolls from $18-$30, and .5g concentrate pods priced between $57-85. The accessories fees are my biggest gripe. While purchasing cannabis will allow you free access to a grinder, papers, and Puffco Peaks, smoking from a stone pipe will run you $15, borrowing a bong or vaporizer will cost you $30, smoking from a gravity bong will cost you $75, and quite absurdly, the Lowell Hookah will cost you $200.
Fam, there is no hookah in the world that costs that much to buy. Renting it for that price might not be cost-prohibitive for actors and writers on the rise, but it's logic prohibitive for sure.
Once you've chosen your cannabis, your flower host will charge on the spot and only accepts cash — it's a little jarring that your server and Flower Host are different people, especially because they're rarely present at the same time which makes asking pairing questions a little disjointed. It's not a big deal, but more communication between the server and flower host would've added to the experience.
The experience of smoking weed and eating food isn't as strange or unappetizing as you'd assume. You'll feel a temptation to eat before you smoke, or smoke before you eat — I don't recommend that, go all in and experience both simultaneously. The flavors of Andrea Drummer's menu were designed to complement the terpenes of cannabis, and how well those flavors come together is really Lowell Cafe's greatest feature.
PART III: FINAL TAKEAWAY
I'll admit that as I first sat down at my table at Lowell Cafe, I was taken back by the price of it all. But that surprise is more a product of the fact that this is an entirely new experience, and putting a price on new experiences can be strange. Gone are the days of meeting a stranger in the parking lot who said they'd be there an hour prior, smoking a bowl with your friend, and covering up the smell with too much Axe Body Spray. At Lowell Cafe, you can do all of that in one place, and you don't have to smell like the weird combination of cheap musk and weed. It's a massive time saver that provides a place to chill with friends, stock up on weed, and have a session and a great meal all at once.
Taken as an overall experience, the whole thing just works. It's a fantastic idea and will surely make a few people rich.
Still… as I walked out of the restaurant, full, sufficiently high, and all up in my thoughts, the whole moment felt bittersweet. At the end of the day, as fun as the experience of eating and smoking at Lowell Cafe is, there are still people serving life sentences in prison for marijuana possession, and that's a sobering thing to ponder. According to data collected by the ACLU, 5% of federal marijuana cases in 2018 lead to a mandatory minimum of 10 years in prison, with the average sentence for marijuana drug trafficking at 29 months, and in 2016 alone, the FBI's Crimes in the United States report counted 653,000 cannabis-related arrests. In 2015, MSNBC reported that at least 67 people were currently serving life sentences for selling marijuana, many of those prisoners have had their sentences since commuted, but not all of them.
As more states legalize the recreational and medicinal use of cannabis, those numbers are improving, with most arrests leading to dismissed cases. The Washington Post reports that in 2017 only 92 people out of nearly 20,000 drug convictions were sentenced for possession of marijuana, and according to data from the U.S. Sentencing Commission, a large percentage of people convicted were charged with the trafficking of marijuana, not just simple possession. But we still have a way to go and Lowell Cafe does a good job of recognizing that. They actively reach out to non-violent cannabis offenders, to offer them positions within the company — 15% of Lowell Farms' current workforce at the Lowell Cafe is made up of those arrested under unjust cannabis laws. It's a small step, but a model worth emulating for future cannabis cafes.
So yes, enjoy a smoke and a meal at Lowell Cafe. It's fun and satisfying. A bit of a trip. It'll make you laugh about sly smoke sessions of days gone by. But remember, weed is federally illegal, so smoking it, even in a weed legal state, is still a political act. If you're willing to do one political act, you might as well do another. Seek out research and support people who have plans for how to tackle the massive injustices left in the wake of the push toward the federal legalization of cannabis. Because while weed blossoms into a billion-dollar industry, some people are still suffering from the crime of being early adopters. Those behind bars deserve a seat at the table, keeping them in your memories and following the politics surrounding cannabis is the absolute least you can do.
Better still, do that while sober. That way, you won't accidentally focus on it while stoned, when all you went in looking for was a bite and a smoke.