McDonald's Filet-O-Fish is a cult classic. It's certainly got its detractors — all fast food fish is going to have detractors (often rightfully so, though McDonald's actually has a solid record of fish sourcing). But if you love this sandwich, you really love it.
For me, ordering a Filet-O-Fish is a once a year sort of deal. I definitely savor a great fish'wich, but McDonald's Filet-O-Fish isn't exactly atop my list. Still, it hits a nostalgic sweet spot and I never regret ordering it, so that's something.
The sandwich itself is pretty simple. Steamed bun, a slice of American cheese, fried pollock filet, and tartar sauce — that's it. As with all simple dishes, there's a lot of room for nuance in those few ingredients. And, in this case, some room for improvement.
So I set out to see if I could make the Filet-O-Fish better at home. Obviously, the response to that question ought to be "of freaking course, you can make it better at home!" But I tried that with McDonald's fries and they didn't come close.
Still, as a proud Washington state kid, I know my fried fish. And while McDonald's has a few million more reps than me, I had time and technique on my side (plus I don't have to sell mine for $3.79) — leaving me confident that I could improve this classic fish sandwich without changing the construction much.
To take McDonald's basic elements up a notch, I focused on the Filet-O-Fish's two main components — the fish patty and the tartar sauce. I'm not a good enough baker to pretend that I'd beat a store-bought potato brioche and I'm not going to change the American cheese — that's the most McDonald's-y flourish. Nope, this challenge was just about the fish and the sauce.
After some cursory research on McDonald's menu for a shopping list and a trip to the fish counter, I was ready to hit the kitchen.
McDonald's Filet-O-Fish
Ingredients:
You'll need soft potato rolls or brioche buns, slices of processed American cheddar cheese, plus a neutral oil for frying.
As for the fish, McDonald's uses pollock. That's a pretty easy-to-find (and sustainable) fish, either in the frozen fish aisle or at any fishmonger. I got a one-pound fillet, already skinned. I was able to get five "filets" from that. If you're dealing with a fresh fillet, make sure it is properly de-boned.
To prep the fish, I used a simple milk brine. This is a cool kitchen trick in which the milk proteins tamp down the "fishiness" while adding a subtle sweetness to the flake. It's a pretty common technique for mellowing fish and provides the wet element of the dredge.
From there, you'll need…
For the fish:
1-lb. fresh pollock (skinned and deboned)
1 cup all-purpose flour
1 heaping spoon of cornmeal
1 heaping spoon of corn starch
1 tbsp. MSG
1 tbsp. turmeric (this is where the color of the outer coating comes from)
1 tsp. paprika
1 cup milk
1 tsp. salt
1 tsp. white pepper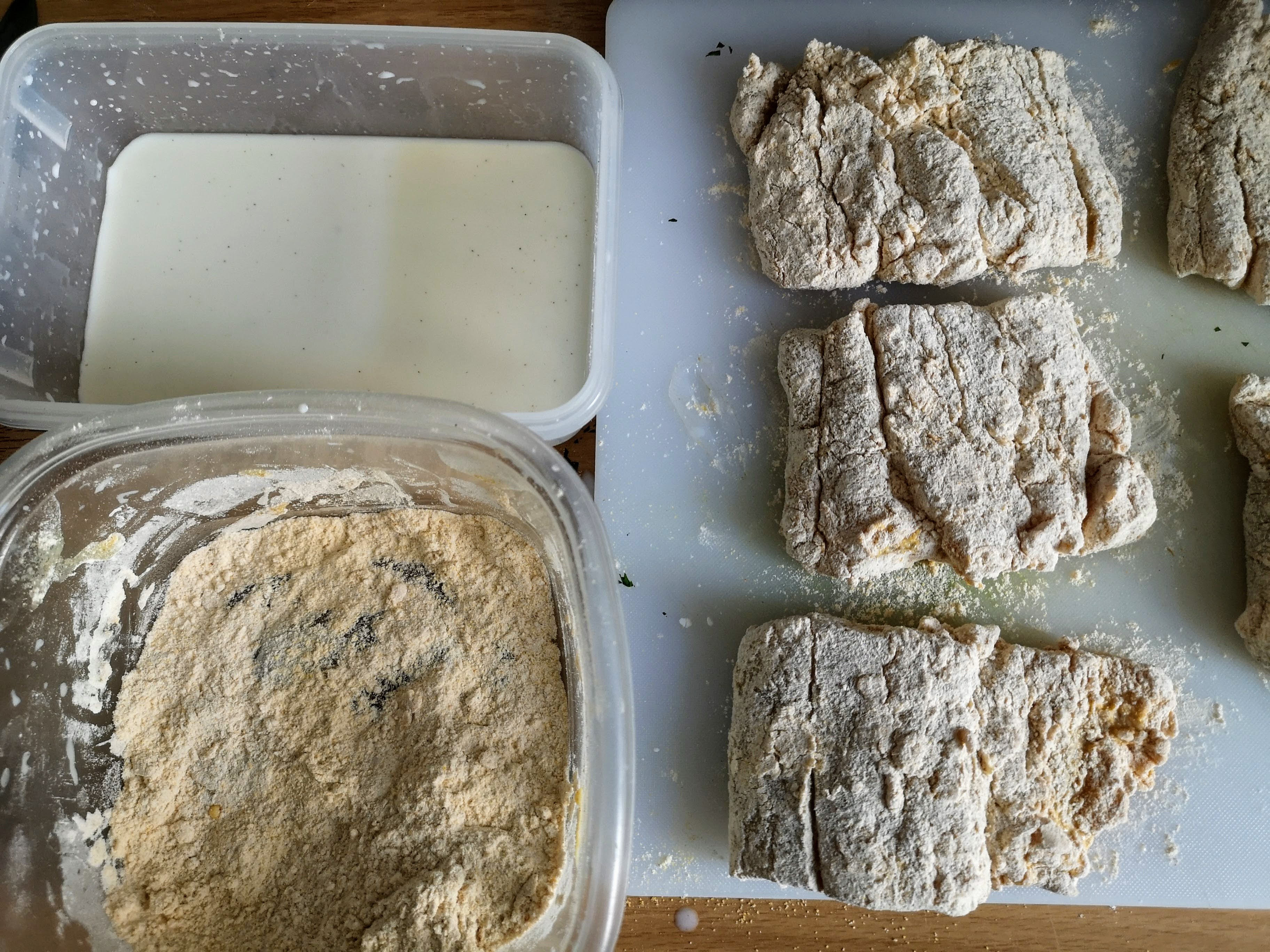 For the Tartar Sauce:
1 cup mayonnaise
1 tbsp. minced pickle
1 tbsp. minced capers
1 tbsp. minced fresh parsley
1 tbsp. white vinegar
A squeeze of lemon juice
Dash of salt to taste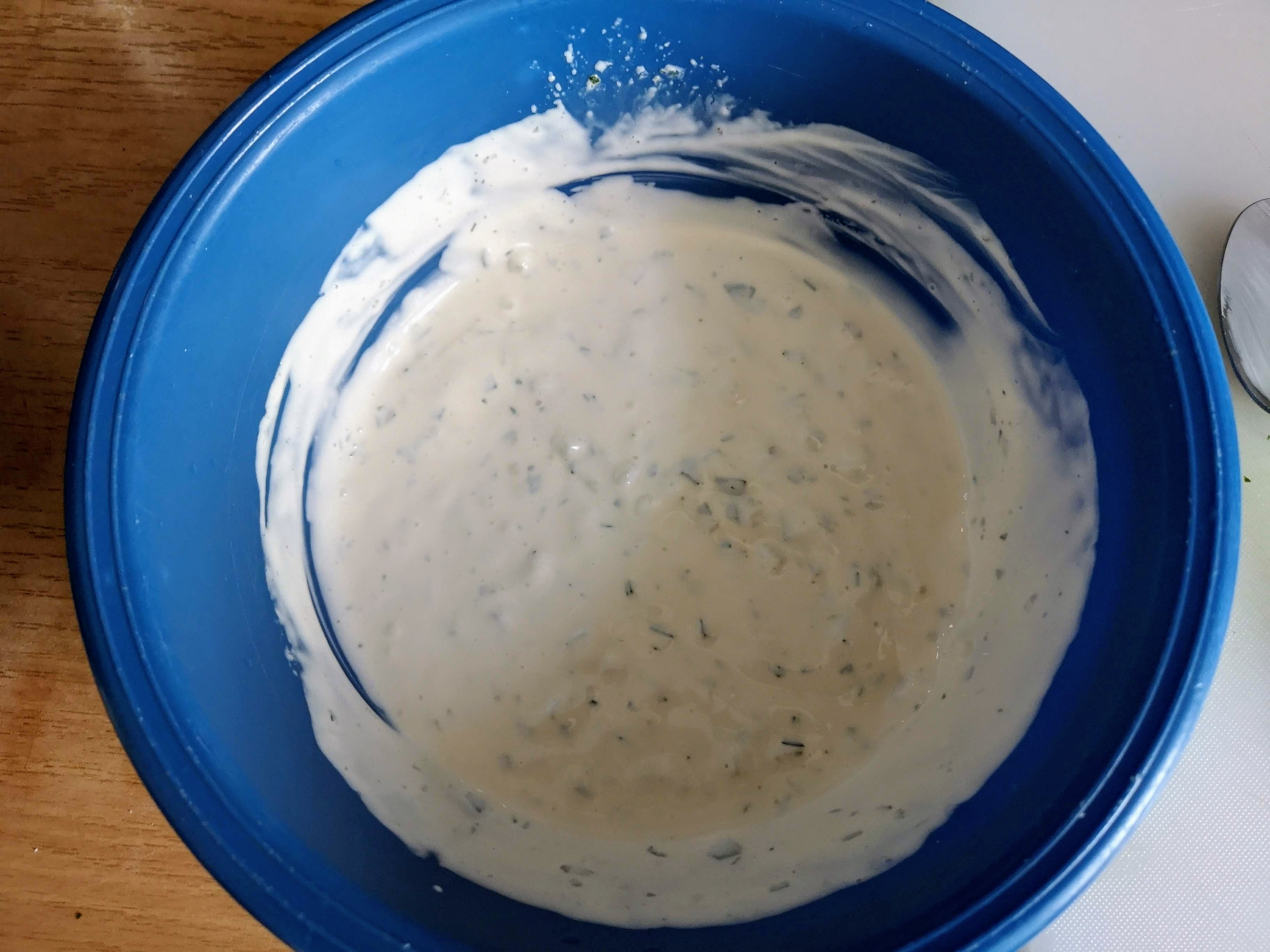 What You'll Need:
Wok or cast-iron for frying
Sealable bowl/Tupperware for brining fish
Slotted spoon
Small bowl for mixing tartar sauce
Measuring spoons and cups
Kitchen knife
Cutting board
Small pot or microwave
Cooling rack or paper towels
Spoon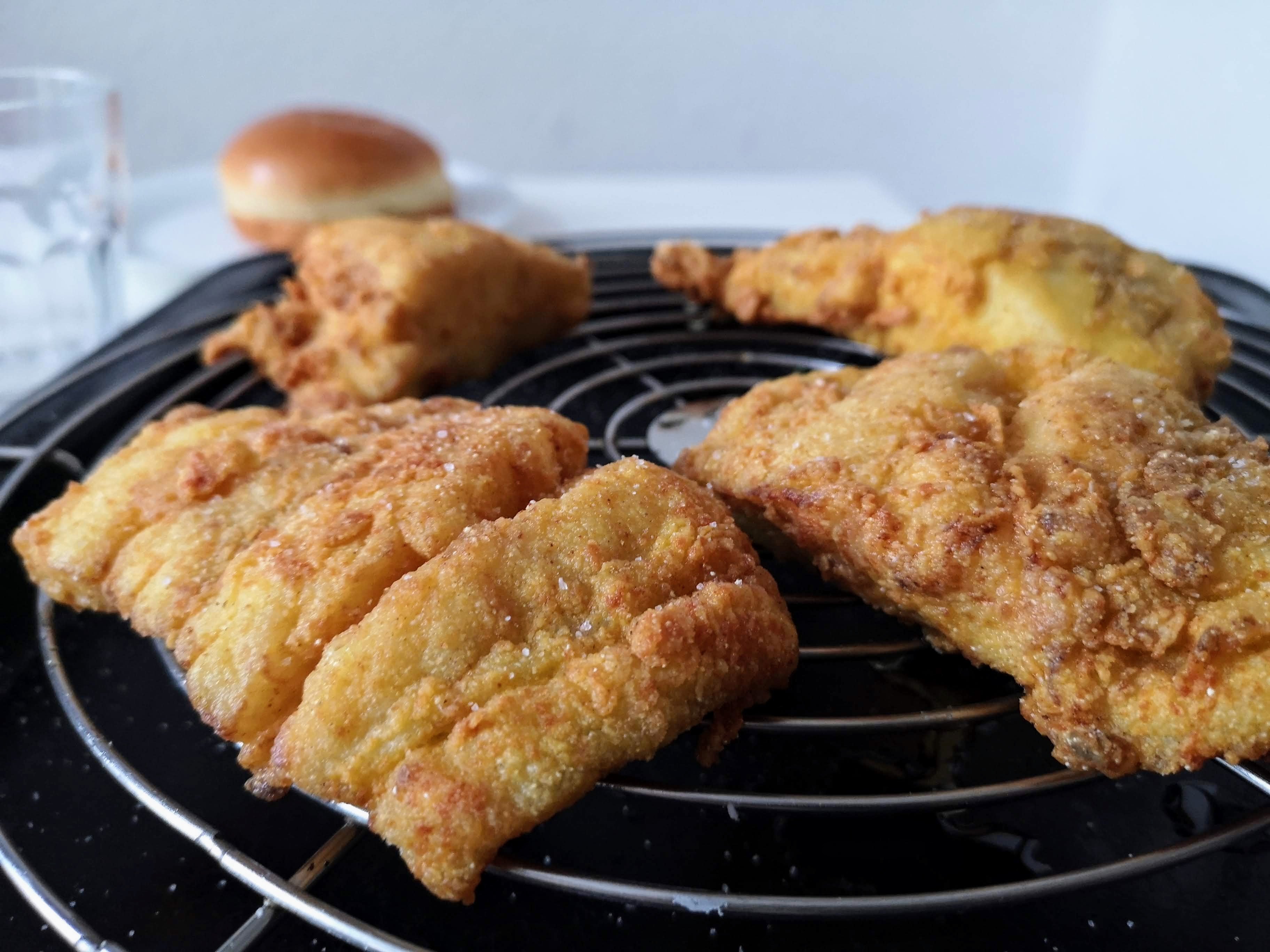 Method:
Dust the fish with salt and pepper, put it in a bowl with the milk, seal, and refrigerate for about an hour.
Prepare the tartar sauce by adding all ingredients into a small bowl and stirring until well emulsified. Set aside.
Heat oil in a wok or cast-iron skillet to 350F.
Prepare the dredge by combining the flour, cornmeal, starch, spices, and MSG.
Take the fish from the milk brine and dredge it in the flour, making sure to coat all slides as evenly as possible. Set on cutting board or plate to rest while the oil comes up to temp.
Once the oil is hot, gently lay the fish filet away from you in the oil (you can do two or three pieces at a time). Allow to fry on one side for around two minutes. Use the slotted spoon to gently flip the filet (away from you). Fry for another two minutes, or until golden brown.
Remove fish from the oil and place on a cooling rack or plate with a paper towel. Hit the filets with a pinch of salt.
Steam a bun by placing a rack over a small pan of boiling water for about one minute. Or use a microwave to warm the bun.
Build the sandwich with a slice of cheese on the bottom, the fish next, and a good dollop of tartar sauce on top.
Top with top bun and serve immediately.
Bottom Line: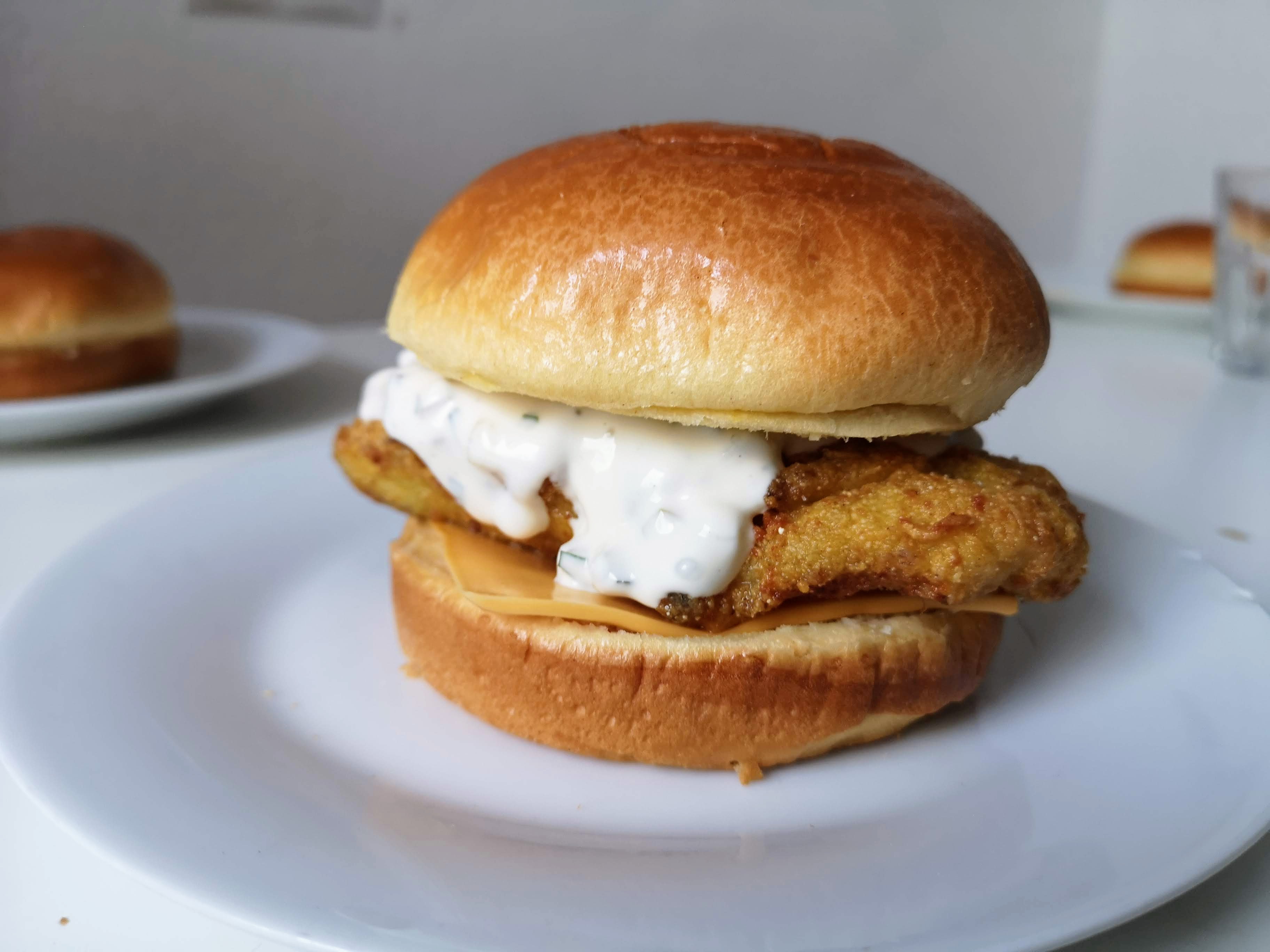 Was this better than McDonald's version?
Yes. And it wasn't even close. There was just so much more flavor and texture while still adhering to the classic notes you want from a McDonald's Filet-O-Fish.
The bun was super soft — a perfect counterpoint to the ultra-crispy coating around the flaky fish, which had a deep umami fishiness, a touch of spice, and an ever-so-slight sweetness. The tartar was a flavor bomb. You got the tartness, the bright flavor of the pickle, and smooth mayo-y goodness. That melted slice of American cheddar cheese really added an x-factor to take this from good to great, especially once it melted into the crevices of the fish's coating.
Was it worth making at home?
100%. This was fast, easy, and a crowd-pleaser. You can build any number of fish sandwiches with that fish and tartar combo. Next time, I'm going to make a Nashville hot chicken dip and dredge the fish in that while keeping the rest exactly the same. And while there's a temptation to fully turn this into a whole new sandwich, I have to say that I'd stick with the softest buns possible and wouldn't lose the cheese — McDonald's definitely got those elements right when creating this enduring entry.