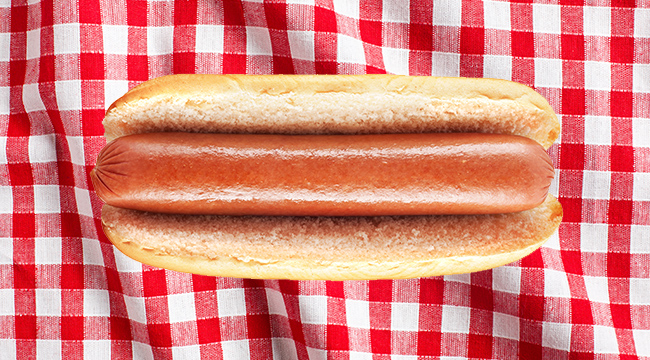 Summer is the perfect time to retire your oven for a few months. Who wants to crank up the air conditioning to counter the heat it gives off? No one. That's why grilling is so perfectly suited for summer dining. Steaks, burgers, sausages, chicken, vegetables… everything goes on grill. Even pizza can easily be made on an outdoor grill with the right amount of patience. But, the easiest (and potentially best) grilling food is the hot dog. We don't worry about what it's made out of because it's so damn tasty covered in relish and mustard (adding ketchup is heresy for Anthony Bourdain, but we're down for that, too).
The only thing easier than grilling a solitary hot dog is buying one at a restaurant. And, since today is National Hot Dog Day, you don't even have to trot out your grilling technique — you can just have someone else make it for cheap (or free). Check out the sweet deals below and see for yourself.
Burger King might be known more for its flame broiled burgers, but today the chain is offering grilled hot dogs for only 79 cents. Technically, this deal lasts all of July. But, if you haven't gotten one yet, you might as well do it today.
To celebrate National Hot Dog Day, Dog Haus is offering customers a free hot dog when they purchase one at the regular price.
Visit any Hot Dog on a Stick location today to get a free turkey hot dog. Can't make it in today? The chain is offering Turkey dogs every Tuesday in July for $1.
Hwy 55 Burgers, Shakes & Fries
The chain is offering 99 cent hot dogs today to celebrate National Hot Dog Day. The one stipulation is that you can only buy two per person.
Love's Travel Stops and Country Stores
Stop by any Love's location to get a free hot dog today. All you need to do is show this barcode to your server. The barcode can only be accessed from 12:01am to 12pm.
Visit any Philly Pretzel Factory location today to get a pretzel dog for $1. You don't need a special coupon for this deal, just stop in. You can also win three free hot dogs by using the hot dog filter and tagging them with #NationalHotDogDay.
Use this coupon to get a free hot dog at participating Pilot Flying J locations from today until July 26th.
Visit any Chicago-area Portillo's today to get a hot dog for only $1. To get this deal, you need to also purchase a sandwich, entrée salad, entrée pasta, or ribs.
Dogs cost $1 through July 23 for National Hot Dog Week. Here's the list of participating locations.
Sonic is celebrating National Hot Dog Day by offering customers All-American and Chili Cheese Coney dogs for only $1 today.