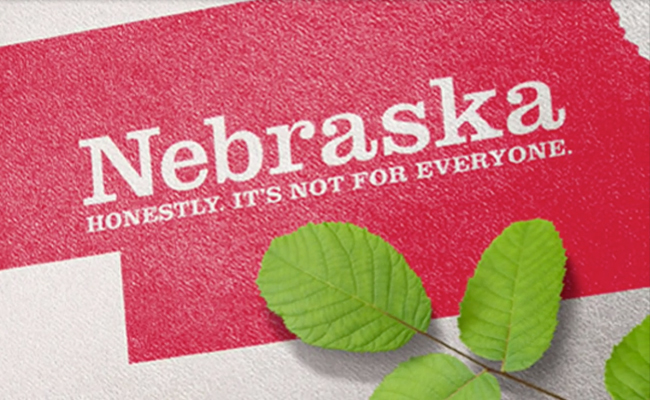 Before today, I didn't know a single thing about Nebraska. Not because of some strange grudge or misguided bias against the Midwest, but simply because I've never had a reason to dive deep into information about the state. But today — thanks in part to a genius travel campaign — that all changes. I'm all about Nebraska now! Los Angeles? No thank you, I'm trading in traffic and narcissism for soybeans and a humid continental climate, two things that can be found in the great state of Nebraska according to research that I just did five minutes ago.
Nebraska – -aka 'The Cornhusker State,' a fact I proudly learned today — has a bold new tourism campaign developed by the Colorado-based advertising agency Vladimir Jones. The new slogan does away with Nebraska's old "Nebraska Nice" tagline for some very welcome self-deprecating humor. The new state slogan reads "Nebraska. Honestly, it's not for everyone."
That kind of brazen confidence is just the type of attitude that can give double-take-induced whiplash. Oh, hello Nebraska, I'm for you if you're for me — wink, wink.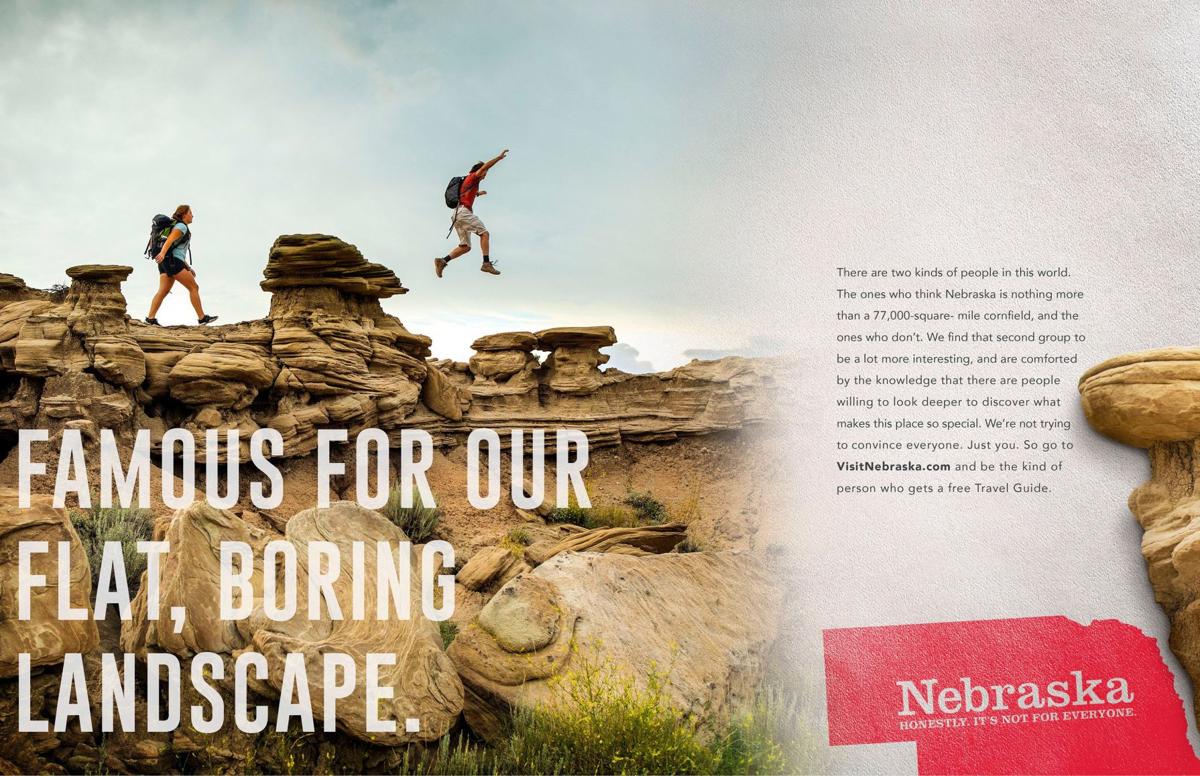 The ad campaign will mix humor and visuals to create an interesting juxtaposition that will, if the agency is right, leave you curious about why Nebraska (the classic "flyover state") is being so cool about being uncool.
State Tourism director, John Ricks, in a statement explained, "The new brand platform is defined by honesty. The overarching concept of honesty is rooted in a mindset that values transparency, purity, and simplicity."
A poll by the Omaha World-Herald suggests that the ad-campaign is proving popular with the people of Nebraska who were eager to do away with their old slogan. Ricks told the Omaha World-Herald that Nebraska often ranks as the "least likely state" that tourists plan to visit. Probably because the old slogan "Nebraska Nice" conjures up images of a half-asleep traveler passing fields of maize in a dream-like haze.
Research suggested that even people who lived in Nebraska had a lack of awareness of what their state had to offer, with some people suggesting the old slogan didn't exactly invite people to explore the wonders Nebraska is home to.


The first ads of the campaign are slated to roll out across the state in January and will highlight the annual sandhill crane migration, which sees over half a million cranes flocking through central Nebraska. It is one of the last remaining great animal migrations on earth.
Look at how much I now know about Nebraska. This campaign is f*cking smart.