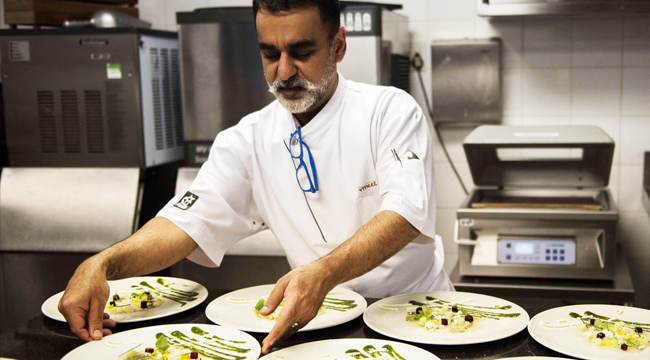 Netflix already has a lot of great food-centric shows (Ugly Delicious and Somebody Feed Phil immediately come to mind) and they've just announced another to debut this fall, called The Final Table, from the producers of MasterChef. The Final Table is a culinary competition show with a focus on multi-cultural cuisine and as such is part travel show — making it more watchable and addicting to those who dislike the stale set-focused environments of your average competition food show.
It's no secret that the world is full of great food, and The Final Table seems like a cool way of highlighting some of the world's best cuisines, as 12 teams of two chefs will compete by cooking the national dishes of Brazil, England, France, India, Italy, Japan, Mexico, Spain, and the United States. Each episode will be focusing on one of the nine countries and their cuisine, with celebrity ambassadors, food critics, and one of the selected country's greatest chefs serving as judges. It's a shame some of the great cuisines of Africa, Asia, and the Pacific Islands won't be showcased, but here is to hoping for more seasons to explore countries not included this time around.
The Final Table will be hosted by Bon Appetit magazine's restaurant editor Andrew Knowlton, who has served as editor at the food-centric magazine for 8 years. The winner of the competition will take a seat at The Final Table, amongst some of the world's best chefs and legendary culinary icons from the nine countries: Helena Rizzo, Clare Smyth, Anne-Sophie Pic, Vineet Bhatia, Carlo Cracco, Yoshihiro Narisawa, Enrique Olvera, Andoni Aduriz, and Grant Achatz. Netflix pulled some serious talent together for this one, so it's sure to be an exciting and drool-inducing watch.
The Final Table is set to air this fall on Netflix.