A great hot dog is defined, in part, by its condiments. What those condiments are is, of course, totally up to you. That being said, there's one condiment that stands above the rest: New York Hot Dog Onion Sauce. If you're planning on grilling up some dogs (or burgers) this weekend, you should have a warm bowl of this regional classic at the ready.
Hot Dog Onion Sauce is widely available throughout New York's hot dog scene — from Papaya's to Nathan's to Katz's to all the pushcarts with Sabrett umbrellas. It's basically homemade ketchup filled with cooked onions. Simple? Sure. Delicious? Abso-freaking-lutely.
I've been kind of obsessed with mastering this sauce lately, and I think I'm very close. I've taken my cue from eating a ton of dogs on the street of New York and from Sabrett's own recipe. The ingredient list from Sabrett's for their "Pushcart Style Onions in Sauce" is pretty straightforward, "Onions, Water, Tomato Paste, Modified Corn Starch, Salt, Sugar, Olive Oil, Fumaric Acid, Spices."
With that as my guiding light and a little cheffed up riffing, I've turned this into an easy-to-make-at-home hot dog sauce that'll wow at your Memorial Day backyard BBQ.
New York Hot Dog Onion Sauce
Ingredients:
2 large white onions
4-oz. tomato paste
1 cup water
2 tbsp. brown sugar
1 tbsp. apple cider vinegar [I use balsamic here, to give a little Italian flair. — editor]
1 tsp. of garlic powder
1/2 tsp. of allspice
1/2 tsp. of cinnamon
1 tsp. of sweet paprika
White pepper
Salt
Olive oil
I've seen a lot of recipes online that simply call for ketchup as the base sauce that you jazz up with your own spices and so forth. This recipe is basically making your own ketchup; I think it's much better after trying both methods. There's a richer tomato base at play here when you use a thick tomato paste.
As for the spices, this is just my best guess from memory and it's very close to Sabrett's version. I'd recommend adjusting the spices to your own taste and playing around a little with it.
I also jettisoned the corn starch from the original recipe. Instead, I just simmer it all down for about ten minutes to thicken. It works perfectly well every time.
What You'll Need:
Cutting board
Kitchen knife
Medium pot with a lid
Wooden spoon
Measuring spoons and cups
Jar with a lid
Method:
Skin the onions. Chop the onion in half from pole to pole. Then thinly slice the onion, again from pole to pole.
Place the pot on medium heat with a thin layer of olive oil in the bottom.
Add the onions and hit with a pinch of salt. Lower the heat and slowly cook the onions until they start to caramelize (at least 20 minutes) while stirring occasionally so they don't burn.
Once the onions have reduced and caramelization starts and smell very sweet, add the tomato paste to the bottom of the pan and use the wooden spoon to heat to tomato paste without burning, and then stir into the onions.
Add the spices to the bottom of the pan and let them bloom for about ten or 15 seconds and then stir into the onions.
Add the water, vinegar, and brown sugar and stir until completely emulsified.
Keep on low heat and simmer slowly with an ajar lid, stirring occasionally, for about ten minutes.
Once the "sauce" is reduced by one-quarter, remove it from heat. It should have the same consistency as ketchup.
Serve immediately or place in a jar and refrigerate.
Always warm up to serve.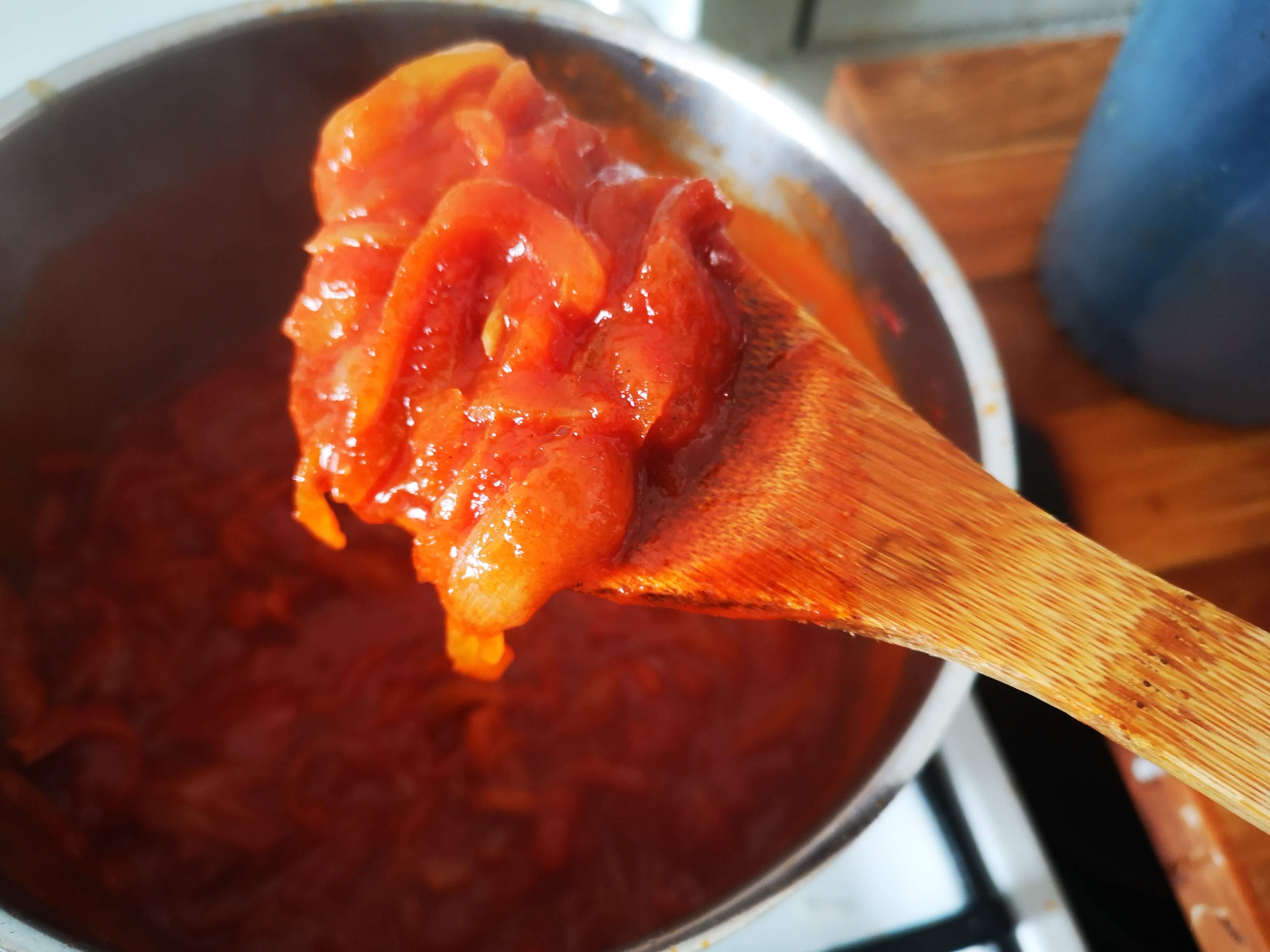 Bottom Line:
I've been making a lot of this over the last couple of months. It works wonders on a hot dog, obviously. It also rules on a cheeseburger. I put some in a quesadilla and it worked really well. This stuff is versatile!
As for the hot dog, I went old-school. Steamed bun, dirty water dog, spicy brown mustard, warm sauerkraut, and onion sauce. It was a delight. The soft bun, spicy mustard, and kraut all provided a great counterpoint to the sweet/spicy/umami onion sauce. The dog had a legit "snap" to it. I really couldn't ask for more.
Plus, now I have plenty of sauce for burgers this weekend. That's a big win!