I've become obsessed with the Oklahoma Fried Onion Smash Burger, made famous by burger expert and historian George Motz. It's the burger I make the most at home. I've become so devoted to the simple yet perfect burger, in fact, that I'm seriously thinking about getting a proper stainless steel deli slicer — just so I can get my onions ridiculously paper-thin. I don't need a deli slicer, mind you, and I really don't have the counter space for one. But here I am, about to drop a few hundred bucks just so I can make a dang burger. I might have a problem.
As with anything, you have to practice and practice to make the perfect burger at home. It's a process and tweaks are part of the fun. So as I continue along my own journey, deep in its Oklahoma Fried Onion phase, I figured I'd give a plant-based option a shot. I've never cooked burgers with loose plant-based "meat" before, so I had doubts as to whether the loose Beyond Beef would work in a smash burger format. Moreover, you hear a lot about plant burgers competing with real beef and I was eager to see if I could fool myself.
I was pleasantly surprised by how well this worked out. Obviously, veggie patties created to imitate beef are rapidly improving (while being somewhat controversial). This probably isn't a vegan burger for vegans who don't long for the taste of meat. But if you're trying to balance beef-taste and plant-based, it's a major win. Let's get into the details.
Vegan Oklahoma Fried Onion Smash Burger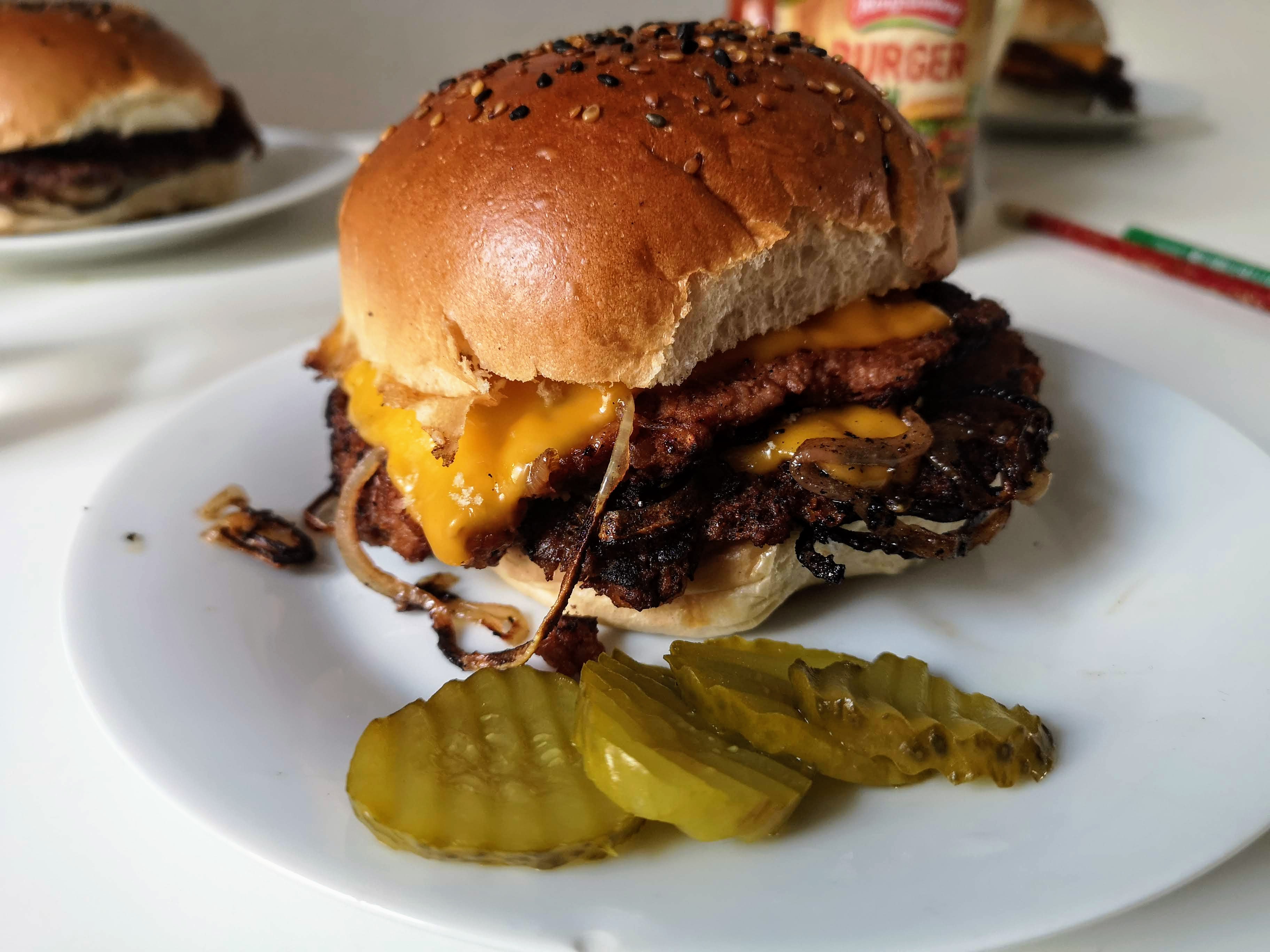 Ingredients:
6-oz. Beyond Meat Beyond Beef
2 slices Violife "Cheddar"
1/2 yellow onion
1 vegan burger bun
Salt
Neutral oil
4-6 pickled cucumber chips
I'm using Beyond Meat Beyond Beef because I can get that easily where I shop. I'm making four double cheeseburgers for dinner, hence all the meatballs in the image below. The ingredients list above is for one double cheeseburger.
The Beyond Beef will be a bit wet and sticky. I'd recommend wetting your hands with tap water before weighing and forming the balls, to keep the Beyond Beef from coating your hands too much. Even if you're using food-safe gloves, I'd still get them wet first. This stuff is a little sticky and you don't want to be constantly scraping it off of your palms.
As for the rest, it comes down to what's available in your supermarket. I'm using a plant-based cheese I know works. The buns come from a local bakery that I like to order bread from. And the cucumber chips are pretty standard jarred ones you should be able to get anywhere.
Other than that, this burger doesn't need any sauce or anything else. It's five base ingredients — patty, cheese, bun, salt, and onion — that work magic when put together right. Though, I do like mine with a lot of pickles.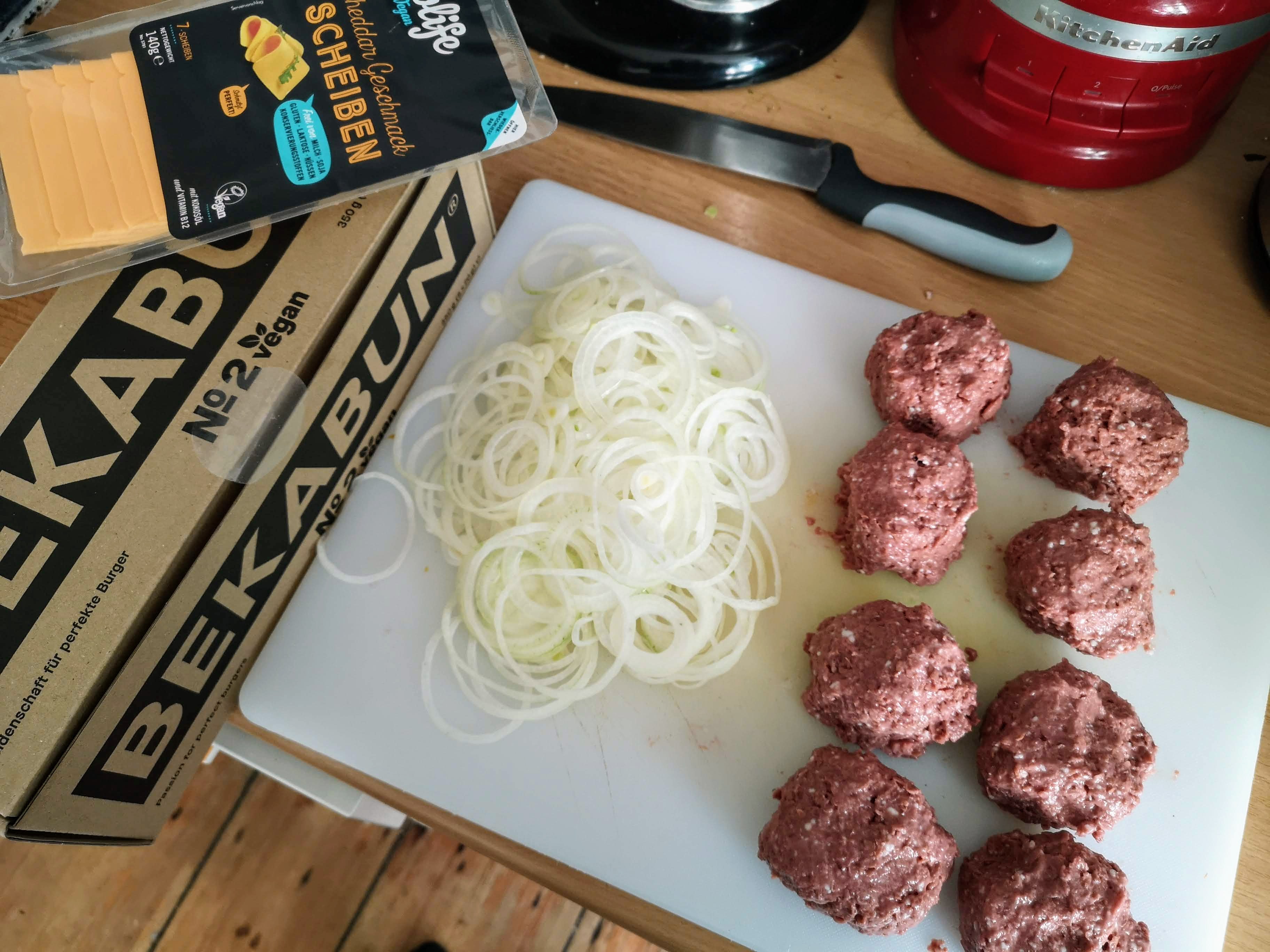 What You'll Need:
Cast iron skillet
Heavy, thin metal spatula
Mandolin
Cutting board
Kitchen knife
Scale (optional)
Theoretically, you should be cooking these on a griddle. Most people don't have that in their homes. So a good, heavy cast-iron skillet will do just fine. As for the heavy spatula, I mean something like this to get the job done. The one item you really need is a mandoline. As I ranted above, a deli slicer is preferred but expensive. A decent mandolin will set you back between $30 and $40. That's well worth it, beyond just slicing onions super thin for this burger.
Lastly, a kitchen scale is useful, but you can eye-ball a three-ounce burger ball pretty easily. It's usually a ball that just fits in the palm of your hand — about halfway between a golf ball and a baseball in size.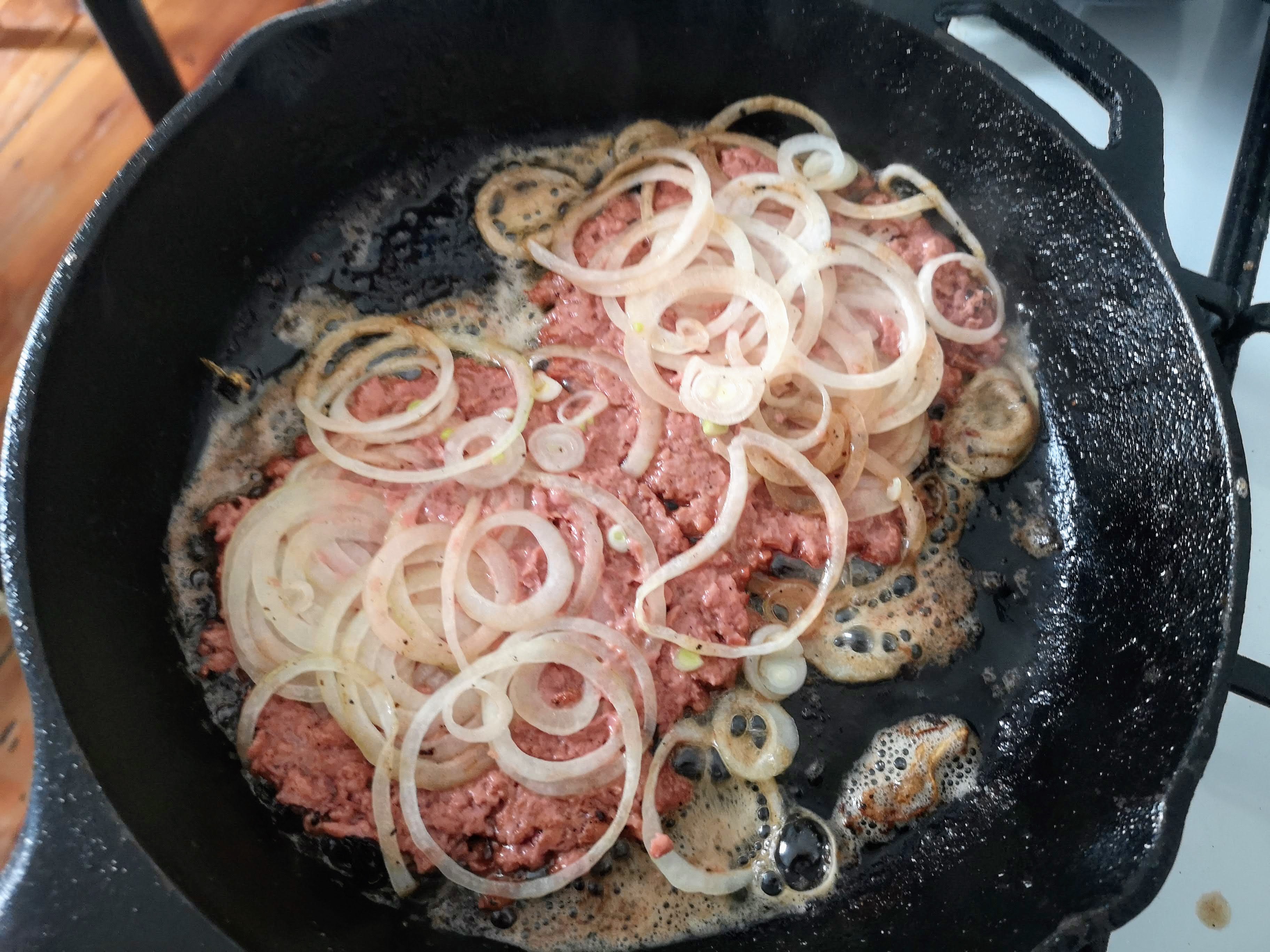 Method:
Weigh out two three-ounce balls of Beyond Meat Beyond Beef and lightly form them into small meatballs (don't overpack).
Peel a whole onion. Set your mandolin to its thinnest setting and run the onion through, creating superfine onion rings.
Use a bread knife to cut your buns in half, if needed.
Heat a cast-iron skillet on high heat with maybe a teaspoon of oil.
Once the pan is very hot (nearly smoking), add the meatballs.
Hit each of them with a large pinch of salt and then top with a pile of onions.
Using a heavy spatula, smash the burgers down into the pan while tapering the edges as thin as possible.
Let cook until the onion starts to brown on the edges of the patty (about 2 minutes).
Slide the spatula under the patty quickly and with a bit of force. Flip. Repeat with the other patty.
Add one slice of "cheese" on top of each patty.
Place the crown of the bun over one of the patties and place the heal on top of that to steam the bread as the cheese melts and the onion browns (about 2 minutes).
Once the cheese is melty and the edges of the patty are crisp, use the spatula to stack the two patties onto the warm bun heal.
Serve with pickled cucumber chips immediately.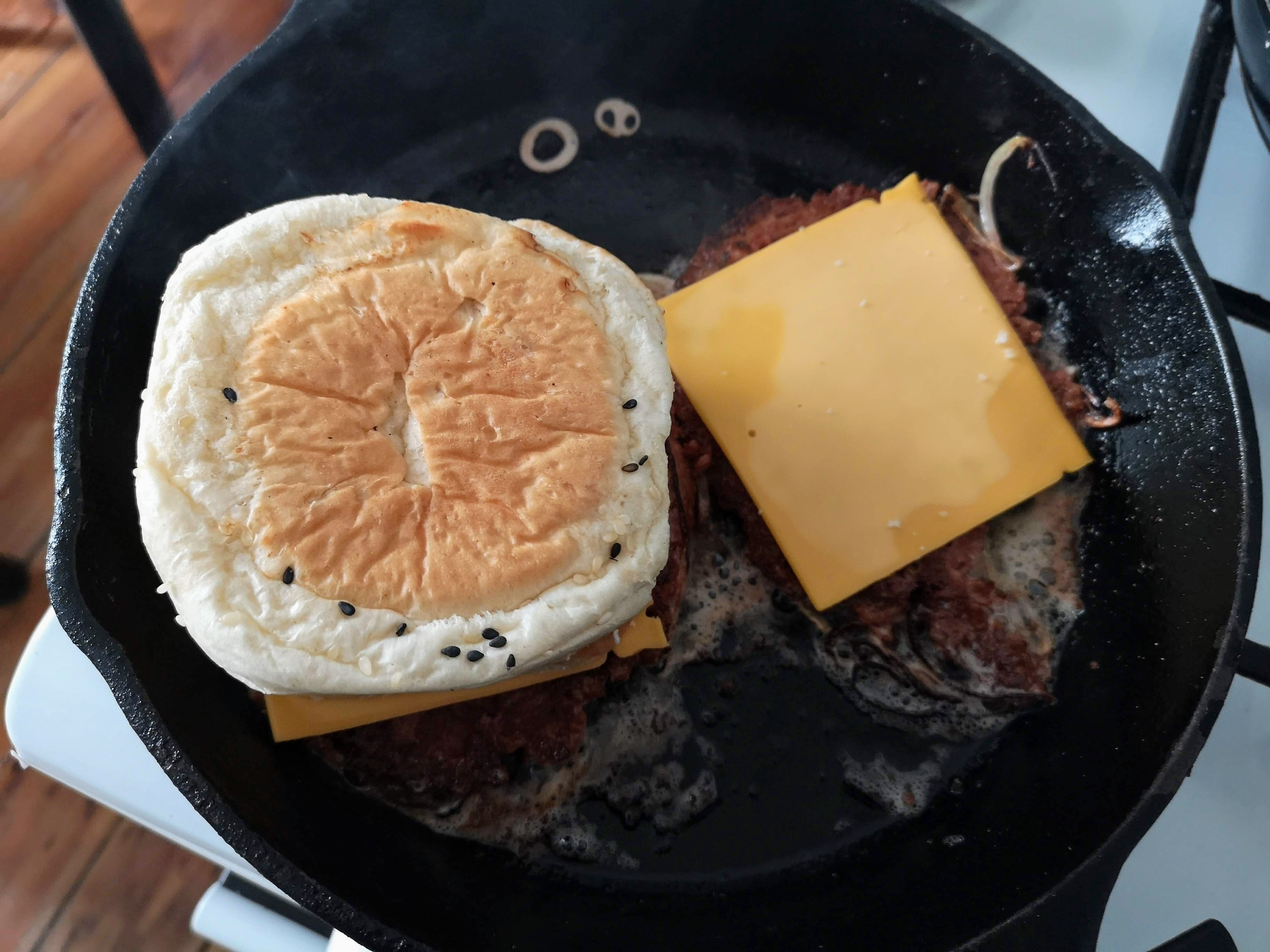 Bottom Line:
This really hit the spot. No, it wasn't the same flavor as an all-beef smash burger. It was very close though. I'd say the flavor was definitely in the savory grain arena, while still feeling like a really solid plant-based burger. I think if I did this again, I'd add some (anchovy-free) Worcestershire sauce into the patty mix to amp up the beefiness while still keeping it vegan, or some mushroom powder.
The onion being smashed into the burger really helped the patty stay well-formed both in the cooking process and during the eating. It also helped form a nice crust around the edges of the burger. There was a nice textural element on the bare patty that didn't have onions smashed into it as well. It browned well, creating a true Maillard effect — with that caramelization amping up the flavor. After making a mistake on a recent breakfast sandwich, I was patient this time and gave the plant-based cheese plenty of time to melt, which helped really bring the gooey, cheeseburger vibe to the proceedings.
In the end, this was a really solid burger. The onions were crispy. The burger was smashed, held its form, and flavorful. The bun was steamed nicely. The pickles were a great counterpoint to it all. It's not beef, but it would fool plenty of folks and it was most certainly delicious.