Wanderlust can be sparked by so many things — books, music, casual conversations with mustachioed strangers, random 4am Instagram browsing, and, for many of us, movies. Tonight, the Oscars will surely offer another source of travel inspiration. Many of tonight's nominated films could double as tourism ads — Visit the Martian frontier! Drive the Fury Road!
Here are six Oscar nominated movies that used their settings to help tell compelling stories:
Berlin, Germany – Bridge of Spies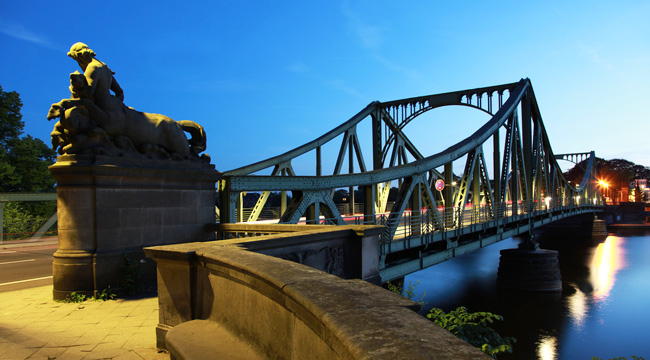 Director Steven Spielberg's Cold War-era Bridge of Spies takes place largely in Berlin, with a particular focus the Glienicke Bridge, for which the movie is named. Today, Berlin gets more tourists than any other city in Europe, with the number of visitors doubling over the past 10 years. It's official tourism site boasts that the city has more museums than it does rainy days.
With an abundance of shops, theaters, bars, and restaurants, today's Berlin is a much more welcoming atmosphere than the one that was portrayed on screen.
Wadi Rum, Jordan – The Martian
While we're still quite a few years away from the kind of interplanetary tourism that can take you all the way to Mars and back. In the meantime, you can replicate Matt Damon's on-screen experience in The Martian by visiting the desert of Wadi Rum in Jordan's southern region. Known as the Valley of the Moon, Wadi Rum has been inhabited by humans since the dawn of time. Its current inhabitants, the Zalabia Bedouin, have built up a booming eco-friendly adventure tourism industry.
The desert is frequently used by movies for its unique, natural beauty — subbing in for the Red Planet and other alien worlds on more than one occasion. Damon himself said that while filming there he was "in awe of that place, it was really, really special. One of the most spectacular and beautiful places I have ever seen, and like nothing I've ever seen anywhere else on Earth."