Peerless Distilling Co. is one of the most beloved and awarded distilleries in Kentucky. In six short years, the Taylor family has been able to revitalize their family's heritage brand while their Master Distiller, Caleb Kilburn, has been busy crafting some of the most-lauded and delicious juice in the game. Everything about the Peerless whiskeys — they make bourbon and rye — is attention-grabbing, from the design of the bottles to flavors inside of them.
We were lucky enough to get to taste Peerless's latest limited edition release, Double Oak, right before the drop and can tell you right now: it does not disappoint. Like the brand itself, it's a great product with a fascinating story behind it.
At its heart, "Double Oak" is an expression created to fix a problem — the occasional leaky barrel. Over the years, Peerless has re-barrelled the whiskey inside their leaky barrels and later released those barrels as special one-off "Double Oak" single barrel drops. Often to very high acclaim. This year, the team decided to re-create these double oaked single barrels by design.
Right now, Peerless Double Oak is available in Kentucky, California, Illinois, Florida, and New York, with shipping to other states possible and always expanding. Click on the price to see if you can get one in your neck of the woods. You can also watch our live tasting on Instagram with Caleb Kilburn (who just turned 30, making him one of the youngest Master Distillers in the game) below.
Also Read: The Top 5 UPROXX Bourbon Posts Of 2021
Peerless Double Oak Bourbon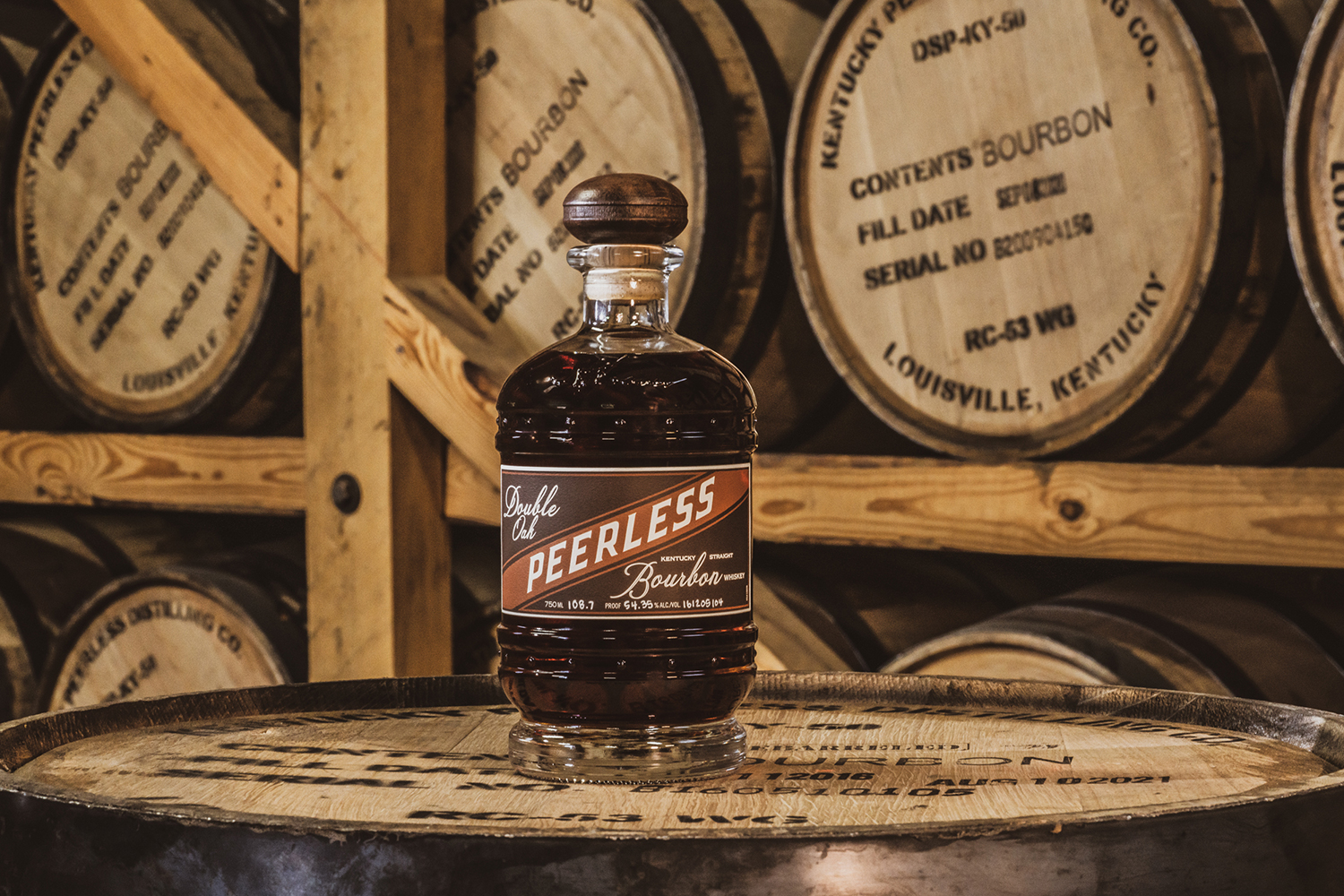 ABV: 53.55%
Average Price: $134
The Whiskey:
The whiskey is around five to six years old and comes from one barrel that lets the grains shine through before it goes into another barrel that lets the oak shine through. That final barrel is bottled at cask strength, as is.
Tasting Notes:
This opens with a nose full of salted butter next to hints of very soft leather, light notes of vanilla bean, a touch of toffee sweetness, and freshly cracked walnuts with a dry edge. The taste leans into that oak barrel with dashes of woody spices (think allspice berries, star anise, and cinnamon sticks), dry cherry tobacco leaves, salted caramel, and more of that super soft leather. That leads towards a mid-palate of dark red fruits stewed in mulled wine spices and cut with a dollop of fresh honey before the (long) finish dries out towards an old wicker chair, a very distinct hint of a cellar funk, and a touch of dried mint.
The Bottle:
Peerless' bottles are pretty much the most iconic in the business. The bottle is a Georgia-made crystal-clear glass doubler (the one that's actually used on the distilling floor at the distillery). The stopper is hefty — it feels like you have a damn stone in your hand when you pull that cork. The label is pure nostalgia with a fall-infused color scheme.
It's a heavy bottle but one that you can spot from across the room.
Bottom Line:
When it comes to craft whiskey from Kentucky, you have a lot of options. Few rise to this level of innovation and deliciousness and this expression is no exception. This is subtle, nuanced, bold, warming, and really easy drinking. I'm going to probably use it for mixing Manhattans all fall and winter this year while also laying down a bottle in the vault (I was at an auction where bottle #1 of this sold for $1,500).
Ranking:
95/100 — This is a really well-crafted bourbon that feels like a fantastic sipper for fall/winter 2021.