Founded in 1847, MGP (also known as Midwest Grain Products of Indiana) is a distillery located in Lawrenceburg, Indiana. If you've never heard of it, there's a good reason for that. It's likely because most of the spirits it produces are sold for other distilleries and whiskey makers to use.
They produce around 50 different private labels that are bottled by brands like High West, Redemption, Templeton, and Angel's Envy to name only a few. Their 95 percent rye mash bill rye whiskey makes appearances in an even longer list of whiskeys around the country. But, while MGP's main business is crafting whiskey for other brands, it also makes its own proprietary expressions including Till Vodka, Rossville Straight Rye, and George Remus Bourbon.
Recently, its whiskeys won numerous accolades at the 2020 Whiskies of the World Competition. This is the 6th year of the event, and spirits are judged on a 100-point basis by a panel consisting of industry professionals from around the country. Rossville Straight Rye, George Remus Straight Bourbon Whiskey, and Remus Repeal Reserve Straight Bourbon Whiskey all took home gold medals. But it was only Remus Repeal Reserve that also received "Best in Class" recognition. And we were lucky enough to give it a try!
Remus Repeal Reserve Straight Bourbon Whiskey Series IV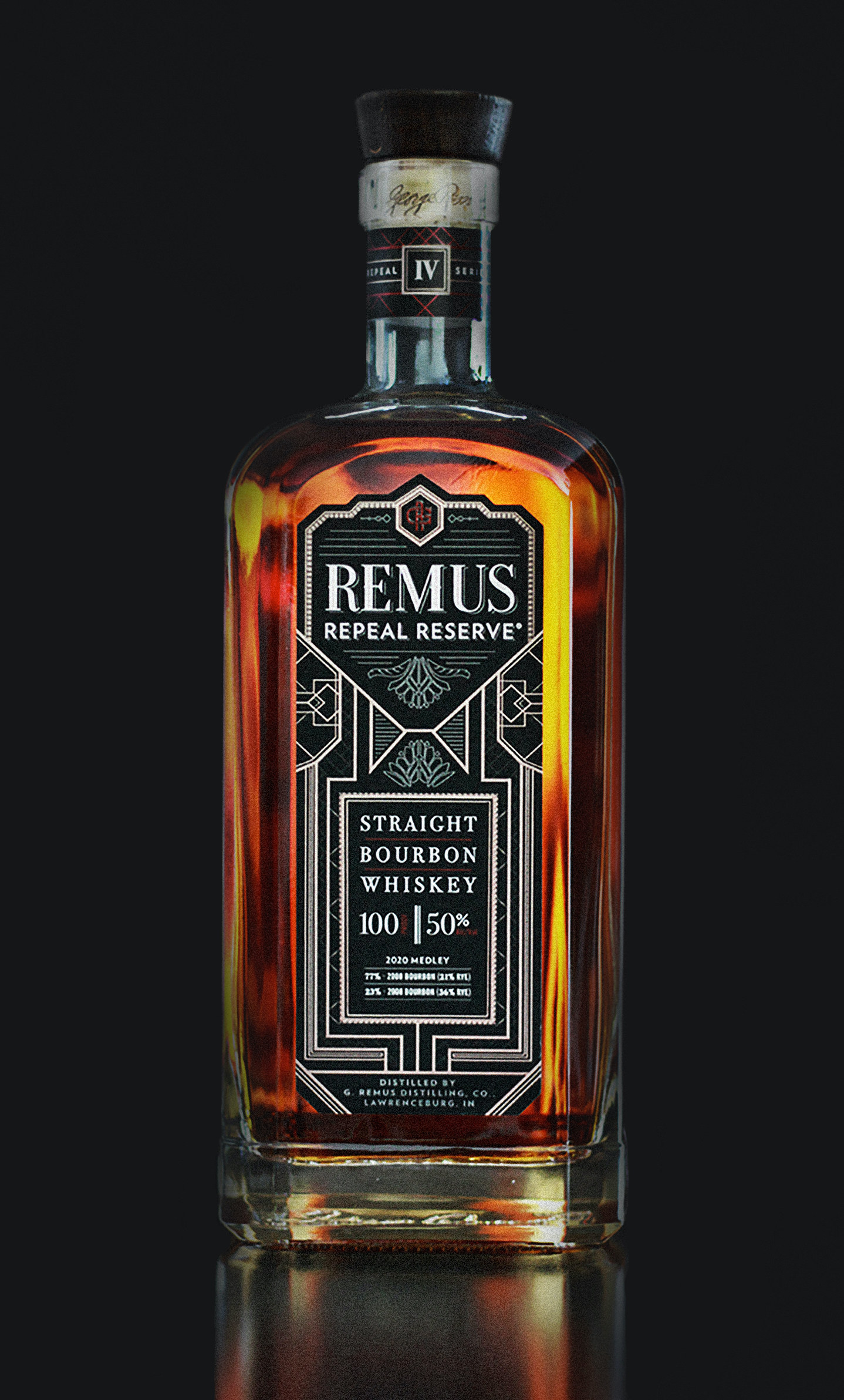 ABV: 50%
Price: $75
The Whiskey:
Named for the "King of the Bootleggers" George Remus, this high-rye bourbon is made using reserve bourbons distilled in 2008. This limited release was created to pay homage to the end of prohibition. This is the fourth iteration of the expression that's released annually in late fall and remains available until Prohibition Repeal Day on December 5. This year's award-winning offering is dropping in September to correspond with Bourbon Heritage Month.
Each release is made using a subtly different recipe. This year, it's made up of two different mash bills. The first, which makes up 77 percent of the blend consists of 21 percent rye. The second has a 36 percent rye mash bill. Made in limited quantities, its sure to cost you more than its current price tag on the aftermarket.
Tasting Notes:
It's not surprising that a distillery known for its rye whiskeys would roll out an award-winning high-rye bourbon. And from the first nosing, this is obvious. The first aroma is that of the rickhouse and the sweet smell of maturing whiskey. This evolves into subtle peppery spice, rich vanilla, and dried sour cherries. The first sip is full of pleasing heat with hints of cinnamon, brown sugar, sticky toffee, and butterscotch, all with a backbone of ever-present peppery spice. The finish is very long, warming, and full of candied orange peel, cooking spices, and toasted oak.
Bottom Line:
This whiskey is something special. It deserves to be savored and sipped slowly on a cool, fall evening. But, it's so complex that its high-rye content works well in an old fashioned or your go-to whiskey-based cocktail.