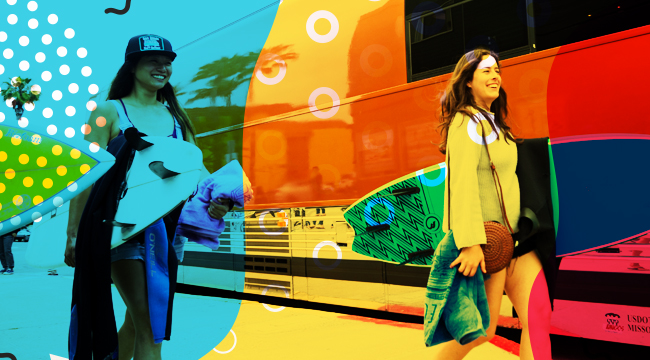 It's 4:45 am on a luxury coach in the middle of the desert. The curtain in my bunk opens and I'm awoken by a hand on my shoulder and a familiar (if exceedingly excited) voice saying, "We're here! We're here!"
I scramble down out of my bunk, delirious from the two hours of sleep I managed the night before, and run to get my backpack. I rush out of the coach to a strangely empty, but familiar, parking lot. I start running — both to warm my bare legs (it's unexpectedly cold), and to make sure I don't miss the big show.
It doesn't take long to lose the crowds and suddenly I'm alone at the edge of the world. I find a spot on a rock to drop my camera gear and sit down — I've scored the best seat in the house. As the sun starts to come up over the Grand Canyon, I can't help but tear up. I've seen it before, but just like everyone else will tell you" This view never gets old. It's iconic for a reason.
I sit alone, perched on a lone rock with my legs dangling a mile above the canyon floor, for what feels like hours. Maybe it is. After a week on a luxury coach with nine strangers, the release is mandatory. It feels luxurious. In just a week I've surfed in San Diego, explored Santa Monica, hiked in the dry desert heat of Joshua Tree, and faced my fear of heights in Palm Springs. My time alone is a chance to reflect on my trip and on the diverse land and cityscapes this country continually offers the eager travelers.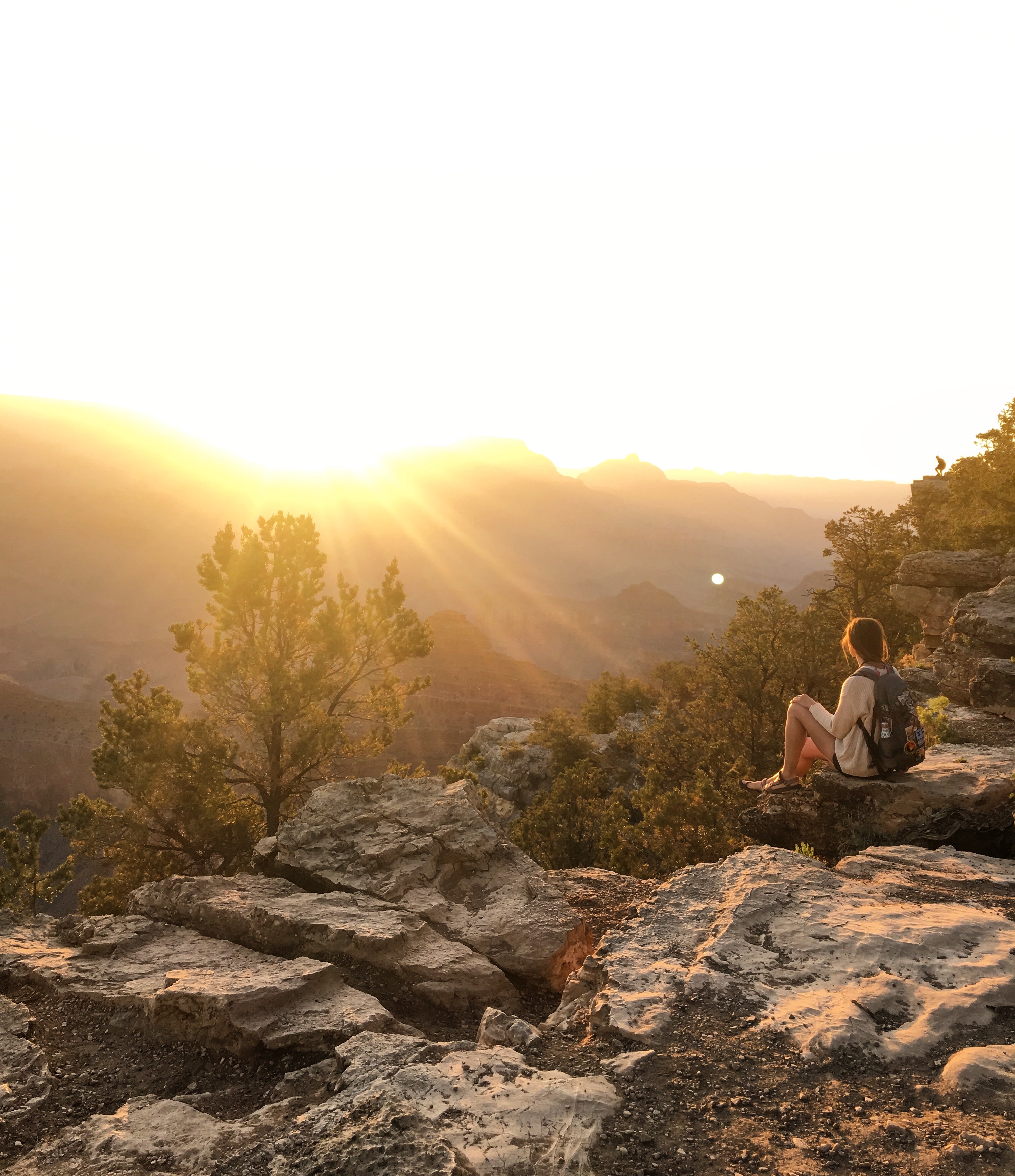 So how did I end up on a tour bus (most recently inhabited by Olivia Newton John) at the Grand Canyon at 4:45 am on a Friday morning?
I was on the road with (the aptly named) Roadies, a travel startup, on their inaugural tour. Roadies, founded by Lee Roth and Mark Wills, is aiming to "reinvent the road-trip" through heavily curated week-long bus trips through some of the American Southwest's most iconic locations. But this isn't your grandmother's bus trip — Roadies contracts luxury tour buses with all of the amenities (lounges, tv's, wifi, snacks) that drive primarily during the night — so travelers wake up in a new location each day.
Roth conceived of the idea on a hike with a friend, lamenting the lack of time available to plan and take road trips.
"I thought: 'There's something magical about road trips,'" he explains. "So how can we take that magic without the pain of driving all day and planning for weeks? What if we could create an experience where every day you wake up to a new view, experience, and adventure?"
Roadies partners with local resorts, attractions, and adventure guides along the way to create iconic experiences at every stop. The resorts provide showers, gyms, and spas, and "tour managers" plan activities each day — along with a la carte options (surf lessons in San Diego and rock climbing in Joshua Tree are just the beginning).
As a frequent National Parks traveler, Roth and Willis asked me to tag along on the inaugural tour — which not only included the stop for sunrise over the Grand Canyon but also a day in Joshua Tree National Park. To be honest, as a solo traveler, I was hesitant. Travel is so personal, and the way that I experience a place is also personal. Just like in any story, the setting and characters determine the plot. Still, I loved the concept and thought it was worth a shot, so I headed to San Diego to meet the team.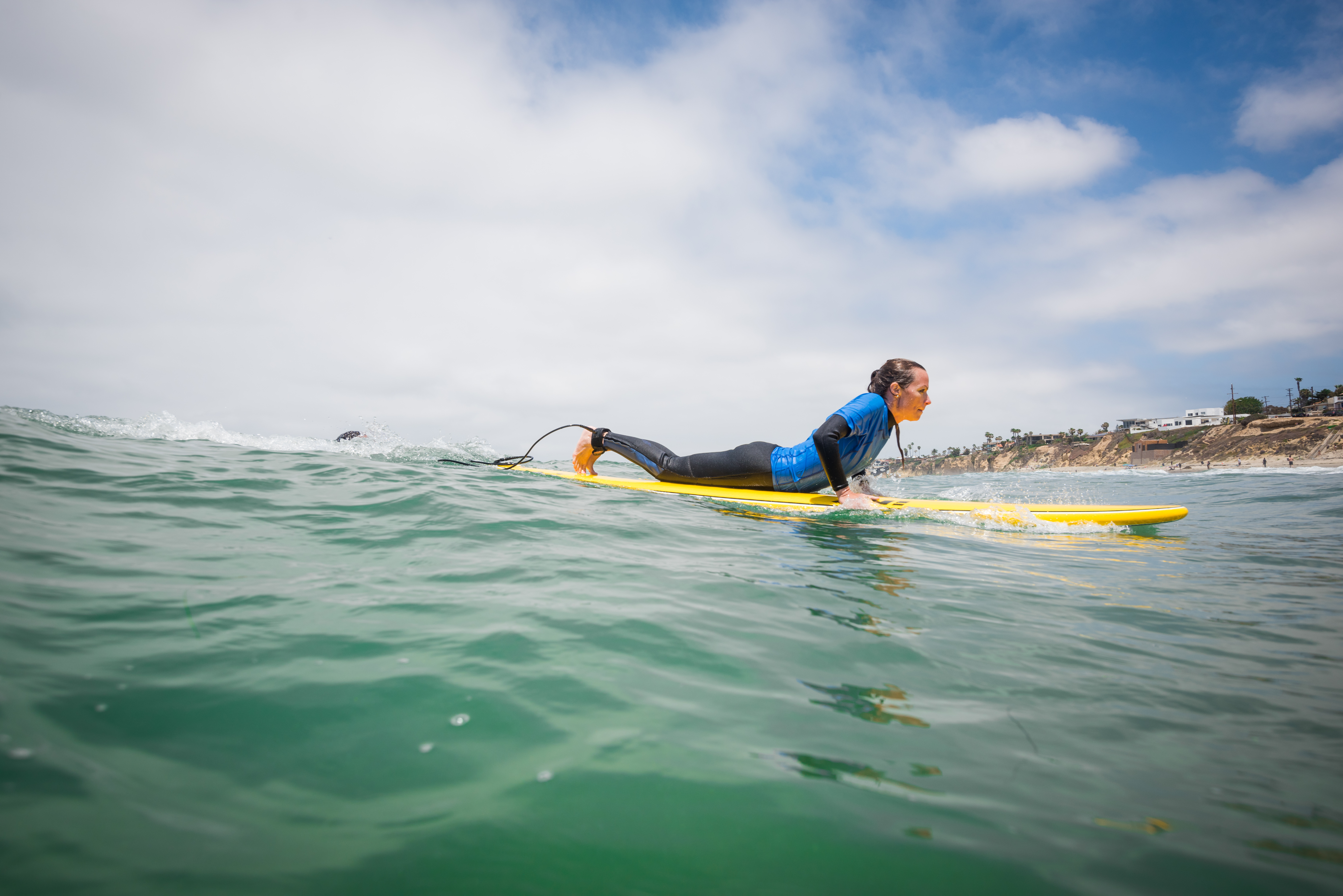 In just one week we traveled from San Diego to Las Vegas, with stops in the parks. We also hit up Santa Monica and Palm Springs along the way. We slept in the bus and woke up in a new spot every day. I met bloggers, writers, entrepreneurs, and adventurers. I learned to surf, hiked along the ocean, got an all-access tour of a marijuana dispensary, drank Shirley Temples at the Grand Canyon, and still managed to spend countless hours floating in pools and sipping rosé.
I experienced things I never have, and honestly, probably never would on my own solo travels. In the process, I fell in love with the idea of a shared tour. One only needs to scroll through their Instagram feeds to understand that millennials value experience over things. (And there is a lot of research to back it up). National Parks are seeing record visitation, living in a van is no longer something to be ashamed of, and #optoutside is nearing 9,000,000 tags. The so-called "experience economy" is booming, and Roadies has filled a niché. Say you want to go on a classic road-trip through the West, but you don't want to plan it. You don't have the time. You don't have people to go with. All of this is covered. Roadies is made for the bespoke generation — spend as much or as little time planning as you'd like, they'll fill in the rest. (They're also planning to launch a series of "curated" trips, planned and promoted by Instagram and travel industry stars.)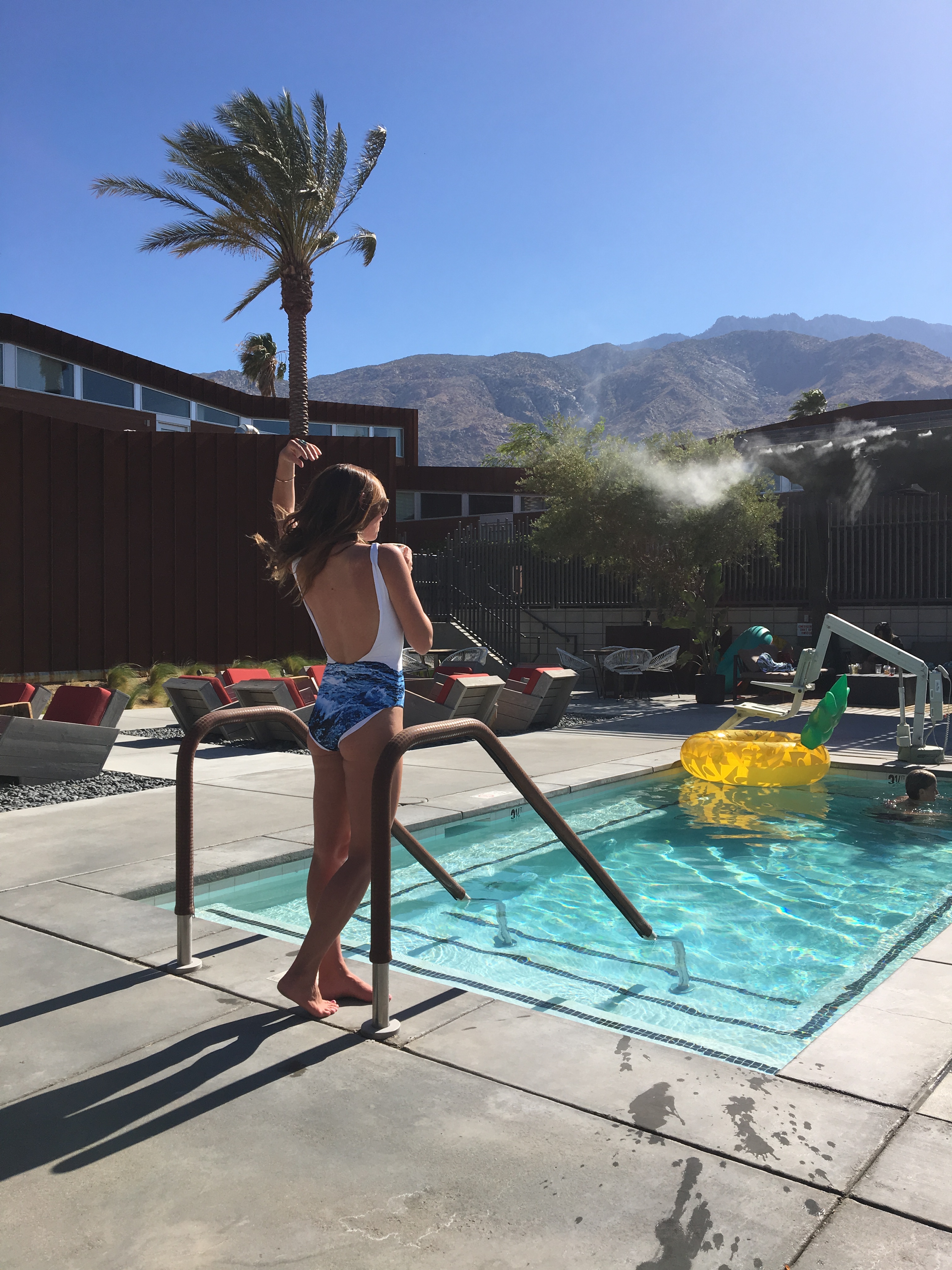 When I got back from my week on the road, I went straight back to work (summer school — being a math teacher is my side gig). "What did you do on your week off?" my coworkers asked. "I went to San Diego…. and LA, and Joshua Tree, and Palm Springs, and then the Grand Canyon and then Las Vegas" I replied somewhat sheepishly, still surprised that this wasn't all a strange fever dream. But impressive as that list may be, and as memorable as the locations were, I had to add to the end of my list, "but the real heart of the trip was the journey itself."
That might sound cliché but I know it to be true: The small moments on the road are what matter. The things that seem insignificant at the time are the ones that take up the most space in your memory. Sitting up in the jumpseat with our impossibly interesting driver AJ, listening to his stories of rock stars and far-flung travel. Singing along to the radio. Watching an endless sea of stars seem to swallow our bus as we headed down a lonely road.
Through close quarters we were forced to share. Just like The Breakfast Club or The Real World, we were ten people who didn't know each other, picked to travel in a bus together, to find out what happens when… you know the rest. Ten people who only made sense in this context (seriously, how is 'On The Roadies' not a reality show?). The coach created the conditions for connection — because true engagement comes from shared experiences. The small moments, like talking about boys with a new friend at edge of the Grand Canyon or taking a commemorative selfie with the Palm Springs Tramway operator who saw I was afraid of heights and calmed me down by letting me stand in the operator booth.
Sunrise over the Grand Canyon is beautiful, and surfing in San Diego was a blast — but the journey is what made it real. In the end, I found that the road is the destination.
Visit here to learn more about Roadies Coach. The Uproxx press trip policy is here.