How far would you drive to get a fresh tomato? Five minutes? Ten? Meet Ron Finley, the guy who got tired of driving 45 minutes for one — so he planted the seeds for a revolution instead.
Finley, known as the "Gangsta Gardener" to some, lives in South Central Los Angeles — "Home of the drive-thru and the drive-by," as he once put it in his TED Talk. "Funny thing is, the drive-thrus are killing more people than the drive-bys."
In 2008, in the middle of the recession, Finley started to reflect on two major health issues in his community — childhood obesity and diabetes. He was angry about the unhealthy food options in South Central, particularly when fresh produce was easy to access in other L.A. communities. Finley was living in what he calls "a food desert."
"A food desert is a place that I feel is designed to have no healthy food and to keep people in very poor health. But I'm sure the USDA and the government has another definition for it. To me, it's food apartheid. It's food slavery — the lack of healthy choices are killing a lot of people and they don't even realize it."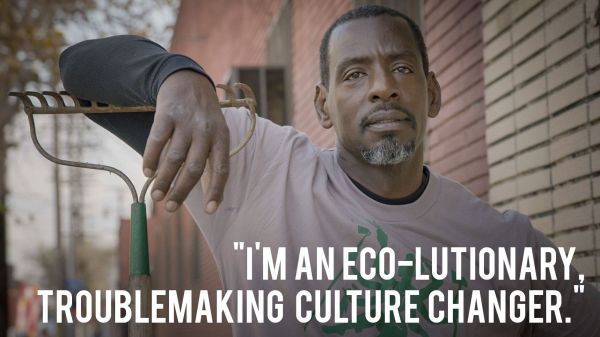 Finley dug in – taking the initiative to plant what he calls a "food forest" on the strip of dirt along the sidewalk outside his home. This so he could eat fresh fruit and veggies when he wanted, and share them with neighbors.
For that public service, he'd naturally be commended by the city for bringing a ray of sunlight to a community fraught with economic hardship, right?
Not so much.
Finley was met by citations from the City of Los Angeles, and when he didn't back down… a warrant for his arrest. "There's something defiant about growing your own foods," says Finley, who had to weigh the idea of being jailed versus the idea of doing something bold for a community and taking a stand.
**Are You A Game Changer? Or Do You Know Someone Who Is? Click Here.**
"I'm not taking it out," Finley decided. "This is too positive of a thing. If you have a problem with it, why don't you try putting some healthy food in here?"
He started a petition on Change.org, and the media caught wind of his story. Eventually, due to all the new exposure, a city councilman got involved and the city ordinance was changed. Finley had fought the law and won. In the City of Los Angeles, you can now plant food in the parkway in front of your house — thanks to the Gangsta Gardener.
Since his shining moment, Finley and volunteers from across the community have teamed up with L.A. Green Grounds to plant close to 20 gardens in South Central on small patches of land. These mini gardens serve as beacons of hope, education, and good nutrition for the South Central community.
As for Finley, he considers himself an artist, and gardening… his graffiti. Three TED Talks later, he's become an unlikely figurehead for a movement starring fresh tomatoes, carrots and sidewalk-adjacent corn.
A superstar in the newly fertile ground that is South Central.
That's a game changer.
—-
When opposing forces collide and stakes couldn't be greater, it takes an exceptional individual to see beyond the challenge, sacrifice everything and change the world. The #GameChangers Campaign celebrates everyday people who tackle great challenges and triumph in the face of adversity. We seek to honor the underdogs who don't just beat the odds, they change the game.
Are you a Game Changer? Do you know a Game Changer? Submit a picture or short video with an explanation up to 500 words about how you (or your nominee) are currently changing the game. Upload proof of your game changer to the Uproxx submission page or via social media using the tag #GameChangerContest @ConcussionMovie. You could win funding for your/their cause.