Champagne, marinated lobster, three-year-aged Comté—oh my! No really, these are just a few of the culinary delights offered on La Compagnie airline's Chefs & Co. September activation. In an era when certain airlines are offering a worse customer experience than ever, all guests aboard every New York-bound flight from Paris with La Compagnie this month will enjoy a four-course menu prepared by 2 Michelin-starred Chef Stéphanie Le Quellec.
Best of all, flights on this French Business-Class-Only airline can be found for less than $2K a pop — a fraction of the cost of current business class upgrades on Delta, United, and other competing airlines (not even counting the initial base fare!). Check out a side-by-side comparison with Delta's business class below: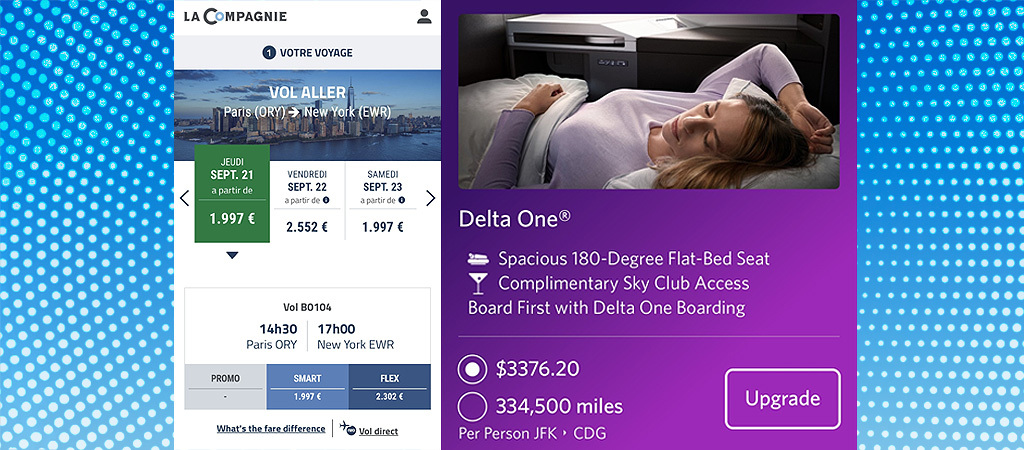 This isn't just about food, either. Beginning September 18th, La Compagnie will also roll out a two-week partnership with Maison Telmont Champagne, in honor of this year's current harvest season. In addition to the standard Telmont Réserve Brut offering on board, guests will enjoy a three-flight tasting featuring the estate's Réserve Brut, Réserve Rosé, and Telmont Vinothèque 2013 — each of which promises to pair beautifully with Chef Le Quellec's meticulously curated menu.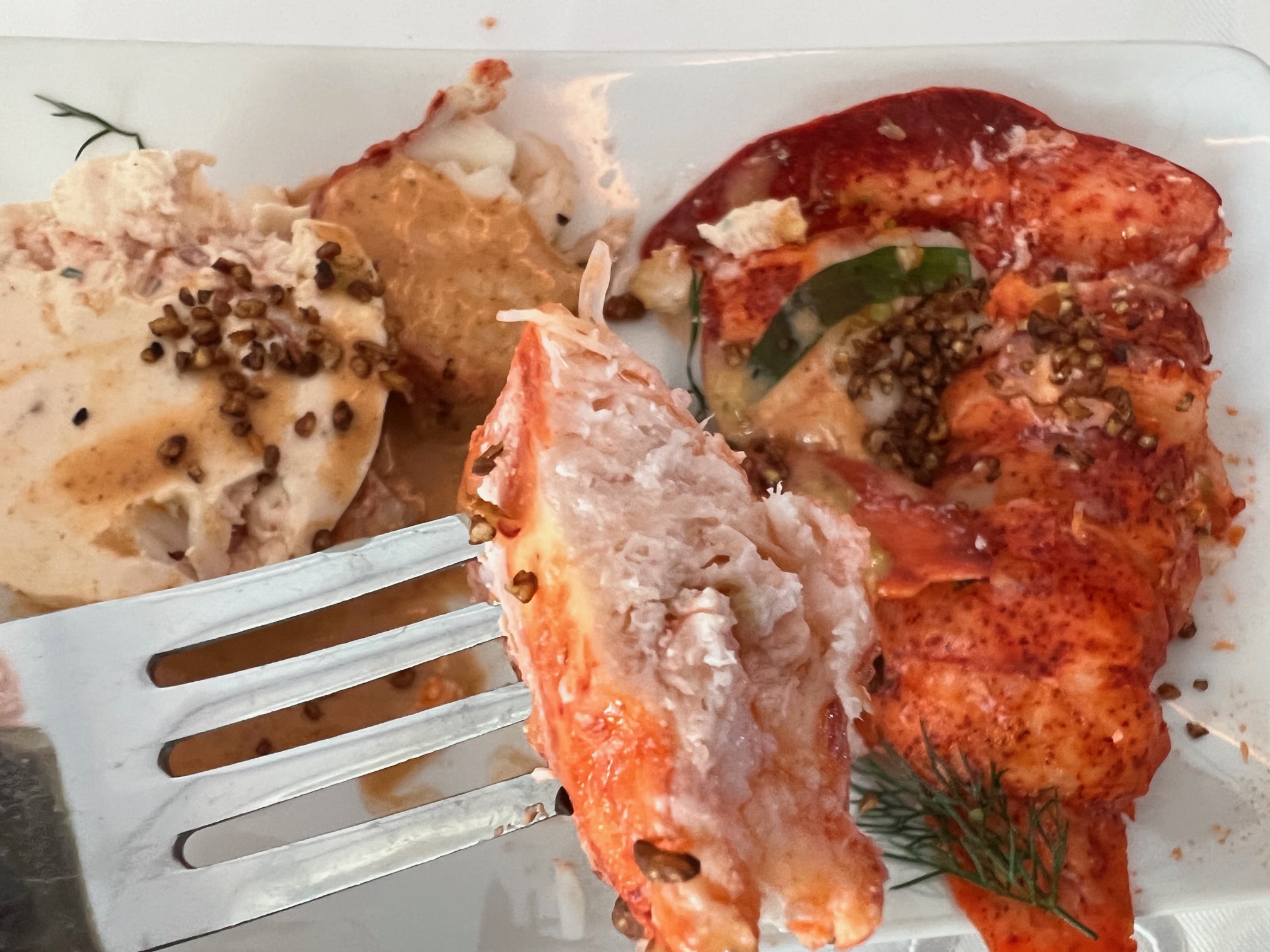 Kinda crazy to think that the above photo is airline food, right? The meal begins with marinated blue lobster and toasted buckwheat (above), followed by a choice of confit veal shank with coffee and porcini ravioli, or a pescatarian alternative of baked cod, porcini mushroom, asparagus, and fresh green peas (I opted for the latter — which is not quite as visually impressive but tasted wonderful).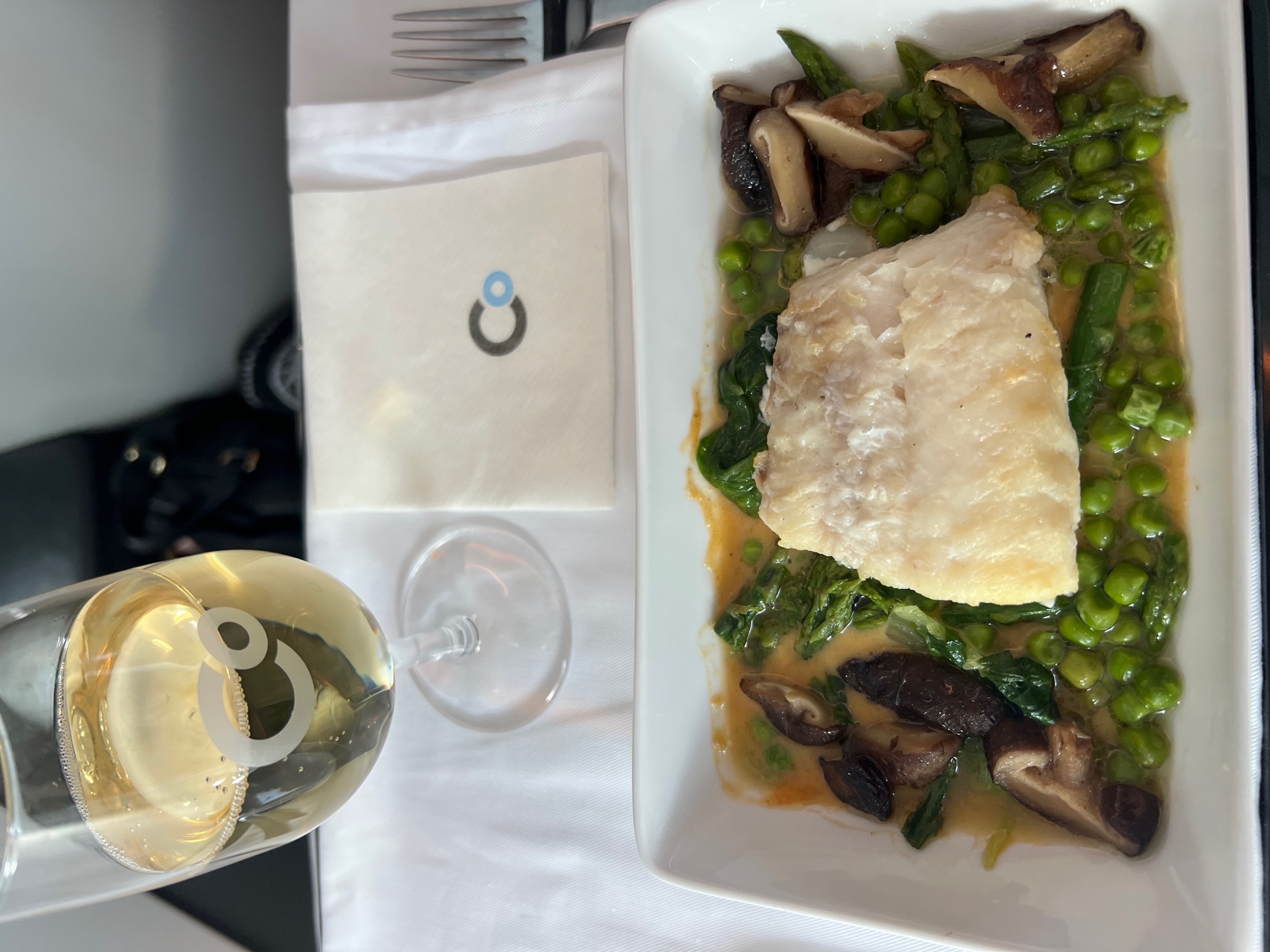 To end on a high note, the meal finishes with a creamy caramel mille feuille and two cheeses selected by Burgundy-born Meilleur Ouvrier de France Joseph Desserprix, who also doubles as the dining room manager for Le Quellec's La Scène restaurant in Paris.
Flying business class is undoubtedly a luxury. But with Le Quellec's menu, it certainly feels like the sort of splurge that is worthwhile. Just check out these ripe cheeses served after the meal — doesn't that just scream France?
WHY NOW?
Le Quellec's menu will only be served on board through September 30th, and the Telmont three-pour wine flight will appear from the 18th to 30th only—though worry not, should you miss the Telmont wine trio, La Compagnie's Brut Réserve will still be flowing. To book your Paris to New York in-flight, Michelin-star-and-Champagne dining experience, visit the airline's site here.