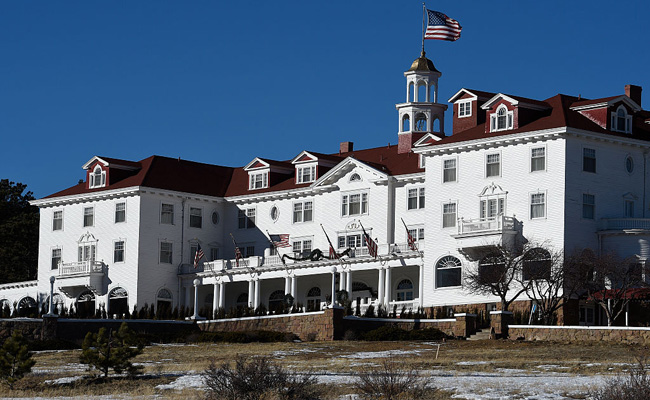 One of the most breathtaking towns in the United States sits at the opening of Rocky Mountain National Park. Estes Park, Colorado, may be little touristy, but it's also a slightly urban area where one can spot elk, deer, and moose across the street from a strip mall. This town is also home to the famous Stanley Hotel, which Stephen King used as inspiration for The Shining. The gorgeous and somewhat imposing building is said to be one of the most haunted places in America, and legend has it that the original owners, F.O. and Flora Stanley, continue to tend to their business in the afterlife.
Certainly, the hotel lucked out to have King vouching for the one terrifying evening he spent in residence. The on-site gift shop sells copies of his most famous novel and will likely survive on his word alone for eternity. Some folks like myself are sad to report no paranormal experiences while visiting the establishment, but many others claim otherwise. One gentleman, Henry Yau, took this photo of the famous staircase. Yau's certain that he observed no human while snapping this picture, but upon closer examination, there's something hanging out at the top of the left banister.

Since the photo's gone viral, media outlets as far away as Houston are dialing up Kevin Sampron, a Denver area paranormal investigator. Sampron did some tests on the photo, which he says doesn't appear to be Photoshopped. He's pretty darn sure that he spots two ghostly figures on the staircase, and he thinks there's every reason to believe this is legit paranormal stuff:
"When we blew up the picture, we immediately saw a second anomaly just to the left of the first figure. To us it looks like the first figure is a lady dressed in black and to the left of her it looks like a child. You see the child's head clearly outlined over the top of the stair railing … We probably rule out about 95 percent what people think are paranormal or ghosts. This could be a legitimate ghost, as far as we can tell."
Well, the ghost expert seems sold on the subject. Yau's Instagram comments mostly agree, but the internet usually wants to believe (until it doesn't).
(Via KHAU in Houston)
Now Watch: People Are Freaking Out About This Demonic Selfie