Thanks in part to visual platforms like TikTok and Instagram, over the past few years quesabirria (or birria tacos) went from a regional Central Mexican phenomenon to America's favorite way of eating tacos. Thanks to its sumptuous red broth, grilled and melted cheese, and braised beef filling, birria is the sort of food that you can taste just by looking at it — which is part of the reason why it spread on social media the way it did.
Because of its popularity, birria taco joints have popped up across the US and, like any super popular food, the big fast food brands want in. So far, it's been a bumpy ride — El Pollo Loco dropped birria tacos last year, kind of botched the job, and returned this year with a slightly revamped recipe that was admittedly, pretty good, but still failed to capture what makes birria so special.
The problem? Birria is a dish made from slow braised meat which is fried in the stewed juices of that meat. Meaning it doesn't exactly fit the fast food model of things that cook quickly and cleanly. But that doesn't mean brands are going to quit trying to crack the code, and the latest attempt comes from Taco Bell which dropped its birria-inspired Grilled Cheese Dipping Taco this month.
"Birria-inspired" because even Taco Bell admits, this isn't birria, but it has some of the touchstones of the dish. It features shredded beef that is slow-braised and juicy, sports grilled melted cheese on the inside and outside of the tortilla, and is designed to be dipped. Unfortunately, you won't be dipping this taco in birria consommé like El Pollo Loco. Instead, Taco Bell wants to you dip it in either its red sauce or nacho cheese sauce, and the tortilla, while fresh fried, is not cooked in the broth of the braised beef.
But even though this isn't birria by any measure, it's certainly interesting enough to inspire curiosity. We ordered the taco to see how it stacks up to the real thing. Check our full review below!
Taco Bell Grilled Cheese Dipping Taco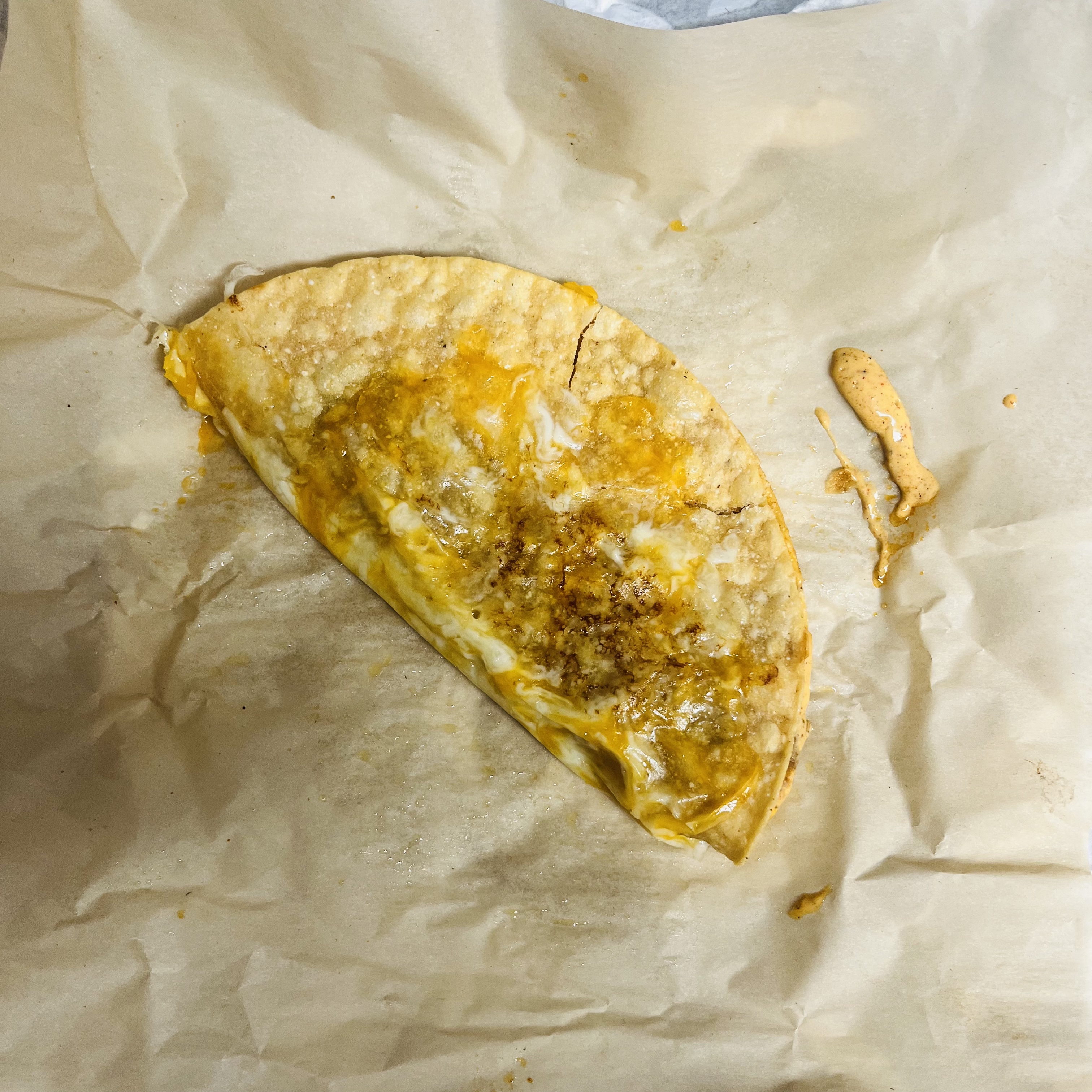 Thoughts & Tasting Notes:
It's a sad sight and a far cry from birria. Luckily, it tastes better than it looks. After the initial explosion of grease, your taste buds will be met with a savory beef flavor backed by a creamy jalapeño-infused sauce, and Taco Bell's nutty, creamy, and salty three-cheese blend. The tortilla is super light and crispy — serving as mostly texture and making way for the richer flavors of the ingredients. Dipping the taco in nacho cheese sauce or red sauce doesn't really enhance the experience, which is unfortunate because this is designed to be a dipping taco.
I found both sauces pretty one-dimensional, the cheese sauce just adds a salty component to the mix, while the red sauce adds an ultra mild sense of heat, like enchilada sauce, but not quite as spicy as one of Taco Bell's hot sauce packets. If you're going with one sauce, I'd say hit the red sauce, but truthfully the taco doesn't really need it, the jalapeño sauce that comes in the taco is more than enough.
Taco Bell's shredded braised beef is a significant improvement over its ground meat and carne asada, it's the brand's best take on beef so far. Hacks with this mean in other dishes are sure to come soon. While I don't think the Grilled Cheese Dipping Taco will earn permanent menu status, the beef is used in a few other dishes and deserves to be on the menu permanently.
Will it in any way remind you of birria? Not at all, but for what it is, it's pretty damn good and my current go-to at Taco Bell.
The Bottom Line:
If you divorce it from its inspiration — the birria de res taco — this thing is delicious. It's greasy, juicy, beefy, and cheesy, easily Taco Bell's best taco currently on the menu. That said, the best fast food version of the birria taco is still El Pollo Loco's Shredded Beef Birria,
Find your nearest Taco Bell here.